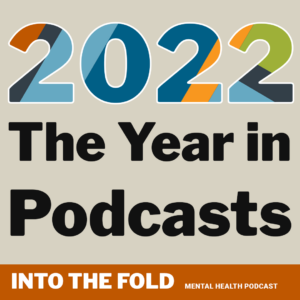 Our podcast series, Into the Fold, is a way for us to move from simply talking about our grantmaking to influencing dialogue and learning about mental health and well-being.  
Hosted by "Ike at the Mic," our public affairs representative Ike Evans, the series captures the human implications of mental health and the factors that influence it, bringing you conversations with mental health experts, consumers, advocates, practitioners, researchers and community leaders from across Texas and beyond.  
In today's blog, we're presenting a retrospective of our podcast episodes from 2022. 
What Happened to You?
Amidst a lingering pandemic, ongoing calls for racial justice, and horrific gun violence, traumatic events continue to cast a shadow over our daily lives.  Learn more about the relationship between trauma and well-being in this series of episodes. 
Threats to LGBTQ+ Mental Health
Our podcast guests describe how public policies that exclude and infringe upon the rights of LGBTQIA+ youth have a detrimental impact on their mental health and why access to inclusive and safe mental health services is vital for their well-being. 
Our Voice in Public Policy
The Hogg Foundation's work has long informed state-level policy that affects the mental health and well-being of Texans. These episodes explore our historical impact as well as our present-day work.  
Building Resilience in Children and Youth
Ensuring the well-being of children and youth has never been more important. Listen to learn more about supportive learning environments and empowering self-advocacy. 
Structural Oppression and Mental Health
In 2020, the Hogg Foundation declared that not only is racism a public health crisis, but it is also a mental health crisis. In these episodes, our guests address both personal experiences with and community responses to structural racism. 
---
Related content