The expression "moral injury" may be new, but the experience is not. As a form of psychological trauma, moral injury results when individuals must make problematic decisions that conflict with their personal moral values.
In the third of our series of podcasts addressing the relationship between trauma and well-being, we use the lens of moral injury to understand the trauma experienced by healthcare workers during the COVID pandemic. Dr. Read Pierce, associate professor in the Department of Internal Medicine and associate chair for Faculty Development and Well-being at Dell Medical School at the University of Texas at Austin, and Dr. Robert Prentice, professor of business ethics at the McCombs School of Business at the University of Texas at Austin, join us to discuss the scope of moral injury, the heightened moral distress felt by healthcare providers during the pandemic, and the challenge of preparing them to confront and cope with the moral injury.
Moral Injury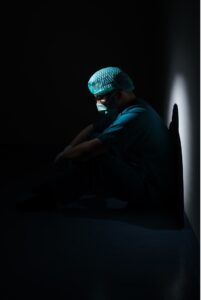 Moral injury is commonly defined as "the lasting psychological, biological, spiritual and social impact of perpetrating, failing to prevent, or bearing witness to acts that transgress deeply held moral beliefs and expectations".
Dr. Robert Prentice describes two different types of conduct that may cause moral injury: acts of commission and acts of omission. The wartime killing of civilians is one example of an act of commission, while failing to come to the aid of civilians in danger exemplifies an act of omission.
And although it is often associated with wartime traumas, moral injury is also sustained by individuals who face morally problematic choices in dire, non-military occupations, such as first-responders, faith leaders, and journalists. Healthcare workers also frequently face stressful conditions that may lead to moral injury.
Caretaking During COVID
"We've seen examples of [moral injury] in healthcare and in the healing professions for a long time," says Dr. Read Pierce, associate professor in the Department of Internal Medicine and associate chair for Faculty Development and Well-being at the University of Texas at Austin Dell Medical School. "We didn't necessarily have the same name for it ten or twenty or thirty years ago…but we know there are lots of instances where people who are in caregiving positions may face the kind of conflicts between their own moral compass and what's being asked of them or by the situations they're put in."
The onset of the COVID pandemic only intensified the moral dilemmas faced by healthcare workers. While emergency care has always been complex and stressful, before COVID, caregivers generally shared a common understanding of what it meant to provide good care, says Pierce.
The pandemic changed that. As an example, he describes the conflicting opinions that arose around the distribution of N95 respirators. With only a limited supply of respirators available, caregivers faced the question of how to best take care of others well while also taking care of themselves.
"When the pandemic came along, we found a lot of the values that people carried into work every day were in direct tension with the experiences they were having," he says. "The level of moral distress and moral injury that was experienced by everyone who was out there caring for patients with COVID-19 was extraordinarily high."
Care for Caregivers
Unfortunately, students entering the healthcare professions are rarely prepared for confronting and coping with moral injury.
"It is not in any way sufficiently covered as part of the curriculum. We don't really talk about the emotional experience of the [students] who subsequently end up in the healing professions," says Pierce. More can be done to equip students early in their professional training that could protect them from moral injury, help them make sense of morally injurious experiences, and cope healthily, he adds.
Moral injury due to COVID has also been a likely precursor to professional burnout. Rates of burnout among practicing physicians reached 63 percent in 2021, up from 38 percent in 2020. More could also be done for practitioners who went through COVID pandemic, experienced moral injury, and now need help
"There are no currently defined or identified ways of best treating moral injury," says Pierce. "But different therapeutic approaches and clinical trials are being explored."
Treatments that support people experiencing post-traumatic stress disorder, group therapy, or cognitive behavioral therapy may prove helpful. Other therapeutic approaches might focus on "making sense of your own story and shared forgiveness as forms of healing," he says.
Despite this new urgency, moral injury as a concept has deep historical precedents, says Prentiss.
I haven't taken a philosophy class for a very long time myself, but it turns out that 2500 years ago, Sophocles wrote a play that featured military moral injury as kind of its key point," Prentice says. "And if you look through the history of both military history and philosophy books, both philosophers and military leaders have struggled with [moral injury] throughout the last 2000 years."
---
Related posts: