April 22 is Earth Day. It is an opportunity to assess the current health of our physical environment and explore ways to protect and improve it. As young people increasingly express concern about the impacts of climate change Earth Day is also a natural opportunity to explore the connection between climate anxiety and mental health.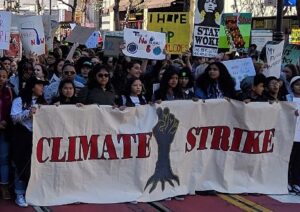 In this episode of Into the Fold, we speak with two passionate community activists from Mi Familia Vota, a grassroots organization working to build Latino political engagement on a variety of civic issues, including environmental justice. Texas Director Angelica Razo, along with Environmental Justice Organizer Esmeralda Gonzalez, discuss their work mobilizing young people to address environmental challenges and advocate for systemic change.
The Meaning of Earth Day
As Earth Day approaches, both Angelica and Esmeralda have considered how best to convey its significance to their communities.
For Angelica, Earth Day brings together two ideas. On the one hand, it's a singular moment. "It's a moment of celebration, of being in community and enjoying the Earth's resources," she says. At the same time, she sees it as part of a larger environmental movement that must acknowledge "a sense of urgency" about the impacts of climate change.
Esmeralda agrees. "When we think of Earth Day, we [generally] think of spending the day planting trees, picking up trash, recycling, etc.," she says. "And although this is really important, it makes a small impact on the greater problem that we have. I would want to extend the message [of Earth Day] throughout the year to focus more on a macro scale, on environmental advocacy that creates larger change."
Mi Familia Vota
Mi Familia Vota takes this micro-macro approach to heart. Small-scale projects that alleviate individual climate concerns include weatherizing homes to protect against future severe weather events.
"Houston is increasingly on the front line of climate disasters," says Angelica, "and the impact of these disasters is compounded for folks who are already marginalized."
The organization also takes on larger projects that impact the environmental concerns of entire communities, like increasing the electorate through voter registration drives.
"We want people to know why elections matter to them and how to engage on environmental justice issues at all levels of government," Angelica says.
Strategies to Increase Citizen Participation
Motivating individuals and communities to combat an overwhelming issue like climate change, however, can be a challenge, especially for those already struggling to cope with significant problems and concerns in their day-to-day lives.
To address this challenge, Mi Familia Vota has begun a new initiative to identify and communicate with targeted populations, including young people, about their unique environmental concerns.
"We can talk about [environmental justice issues] all day long and sometimes we just miss the mark. Sometimes we get too technical or too negative," says Angelica. "And so, it's really important … that we pause and really take the time to listen to community members and gather their responses."
Finding Relevance
Taking an abstract global problem and making it tangible to people's personal experiences is also necessary. The devastation of Hurricane Harvey, for example, brought the urgency of climate change home to Houstonians.
"For a lot of folks, [Hurricane Harvey helped them understand that severe weather] isn't just something out of the blue. It is actually a pattern we've seen reoccurring, but local leaders have just neglected the policies that they need to put in place to make Houstonians resilient against it," says Angelica. "The climate crisis is already at [Houston's] doorstep literally with flooding waters."
And although climate change can feel overwhelming, Mi Familia Vota helps people identify its tangible impact on their lives and the specific issues they can address to improve their quality of life.
"That's the great part about grassroots organizing," says Angelica. "You get to know people and you get to speak to them honestly. Then you can [identify] a real issue and a real policy and decision maker attached to it. You hear what people are going through and then take them along this journey of identifying the people that are responsible for their quality of life and the outcomes they're
Climate Anxiety
In addition to the physical impacts of climate change, Esmeralda has also seen the mental and emotional impact of climate anxiety, especially in young people like herself.
"(My peers and I) consume a lot of media. We're constantly consuming media of how these climate disasters are impacting people across the globe," she says. "And it can take a toll on you. It creates an environment of anxiety when you go about your day, your week, your life worrying about the smallest things that you do and how it can impact someone across the world or right in your own backyard."
She's also noticed her peers responding with apathy, questioning the value of setting long-term environmental goals when they may be unattainable. "It's just a constant cycle of being hyper-aware of your surroundings and what's going on," says Esmeraldo. "It makes an impact on your body and your mind."
Opportunities for Youth Leadership
In her work as an environmental justice organizer at Mi Familia Vota, however, she seeks to provide an alternative perspective by educating and informing young people about how they can use their voice and their vote to address their concerns.
"[Advocacy] is not something that only people who have years of political experience can do," she says. "If you're interested or you have concerns, as a citizen of the state of Texas, you are entitled to speak your opinion in front of the legislature. I'm just informing my peers on what power they have."
Angelica also emphasizes that opportunities for youth leadership do exist.
"One of our youth leaders actually got to sit on the task force for the city of Houston's Climate Action Plan," says Angelica. "[students working with us) start to really change their lives' trajectories in terms of like what they want to study in college, what type of internships they want to do, what kinds of journalism and narratives they want to get out there."
Getting Involved
For young people who want to help, Angelica and Esmeralda stress the importance of just getting involved in whatever capacity is possible.
"Get involved, move your feet, make [your] voice heard," says Esmeralda. "Talk to your friends [and learn] what they have to say. Then look for organizations in your community. If you don't see any, create one yourself."
Indeed, as we celebrate Earth Day this year, the work of Mi Familia Vota shows us the possibilities for finding our voice, making it heard and using it to create positive change in both environmental and mental well-being.
Related content
Episode 124: Changing the Landscape: People, Parks and Power