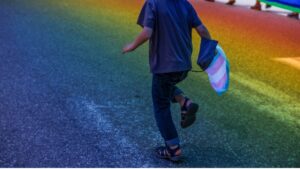 Pride Month is a time for celebration. We celebrate the diversity of the LGBTQ+ community, their innumerable contributions and achievements, and the progress made toward gaining social acceptance and equality under the law. As we celebrate, however, we must also remain vigilant to ongoing bigotry and discrimination. Indeed, Texas falls in the bottom quarter of state rankings for support and acceptance of its nearly one million LGBTQ+ youth and adults.
Texas's  trans youth and their families are currently facing particular hostility. Indeed, with their efforts to pass legislation defining gender-affirming care as child abuse, our elected officials are endangering the health and well-being of youth and traumatizing families across the state.
In this episode of the podcast, we speak with Eli Lawrence, LCSW, clinical supervisor of behavioral health and counselor at the Waterloo Counseling Center and Andrea Segovia, senior policy and field advisor at the Trans Education Network of Texas to discuss the trauma caused by transphobia and the politicization of trans people, the necessity of addressing trauma as part of gender-affirming care, and the work to reduce experiences of trauma through education and activism.
Waterloo Counseling Center
"Every single day I field calls from families with trans children, trans children themselves, teenagers, adults, who have traumatized by lack of supportive [care]," says Eli Lawrence, LCSW, clinical supervisor of behavioral health and counselor at Waterloo Counseling Center (WCC).
WCC counselors have special expertise serving the lesbian, gay, transgender, queer, intersex, and asexual (LGBTQ+) community and providing gender-affirming behavioral health care. Defined as a supportive healthcare services that may include medical, surgical, mental health, and non-medical services, gender-affirming care is widely supported by the medical community and considered the standard of care for transgender people.
Bringing trauma-informed practices to gender-affirming care is also an essential element of WCC's work. In comparison to heterosexual and cis gender people, members of the LGBTQ+ community are significantly more likely to experience traumatizing life experiences due to their sexuality or gender identity. Trauma-informed care recognizes the need to understand and address these painful life experiences in order to provide effective treatment.
"By affirming a person's [gender identity] you are mitigating the pain, but you first have to be trauma-informed to recognize that there is pain there," says Eli. "As counselors, we pick up the pieces from all of those experiences, all of the history of trauma, and try to help [transgender people] find some sort of way to either heal or to mitigate the consequences of those traumatic experiences."
Lived Experience
I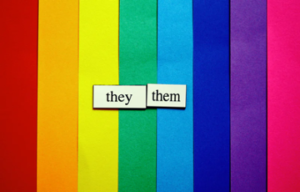 n addition to having addressed trauma as a professional counselor, as a trans person themselves and a parent to a trans son, Eli has first-hand experience of the day-to-day discrimination that can lead to lasting trauma.
As a high school student, Eli's son endured bullying from teachers and administrators as well as his peers. Prohibited from using the restroom that matched his gender identity, he avoided using the restroom altogether. As a result, he developed multiple kidney stones and other negative long-term health consequences as a young adult.
"Gender-affirmation is not a nicety. It's not an 'extra'," Eli says. "It's not something that should be seen as 'special treatment'. The impact [of refusing gender-affirming care], especially in teenagers and children, really can be a matter of life and death."
Indeed, research consistently demonstrates that gender-affirming care protects mental health and well-being and leads to lower rates of adverse health outcomes, especially in trans children and adolescents.
Transgender Education Network of Texas
As an organization dedicated to furthering gender-diverse equality in Texas, the Trans Education Network of Texas (TENT) combats discrimination through education and legislative activism. In a sense, they are working to prevent the traumatizing experiences that necessitate the therapeutic services provided by WCC.
"Our goal and hope is that trans people can thrive in a state like Texas," says Andrea Segovia, senior policy and field advisor at TENT. "But currently it's about survival."
She describes the focus of TENT's civic engagement as falling into "three buckets": ensuring trans people know their voice is powerful, combatting anti-trans legislation, and encouraging trans allies to provide support. In addition, they are the only trans organization in the country that focuses on getting trans people and allies out to vote.
"People have the power to change this [politicized] narrative around trans people," she says. "During last legislative session, we beat almost 80 anti-LGBTQ+ bills, most of them anti-trans bills."
Providing Support
Andrea looks to a future when transgender identity is not politicized and "being who you are" is no longer a traumatizing experience.
"What we see is that the [problem] is not with the youth. It's with the adults," she says. "This is adults bullying kids."
Until that time comes, however, both Andrea and Eli stress the importance of allying with the trans community. Even small, everyday actions, like accompanying a transgender friend to the restroom or committing to using a trans person's chosen pronouns, can make a big difference.
And while it's essential to acknowledge and address the ongoing trauma experienced by trans people, recognizing that trans people are more than their trans identity is another valuable way to provide support.
Perhaps most importantly, cisgender people must play a crucial role in challenging transgender discrimination among family, friends, or co-workers.
"When you have the ability to speak, do it," says Eli.
Related episodes
More Pride Month Content