The arts present a fantastic opportunity to highlight both the unique voices and profound resilience of people with lived experience of mental health challenges. Likewise, valuing the dignity of all mental health consumers is one of the Hogg Foundation's core values.
In this episode of the podcast, we speak with Velta Breyna, a recent graduate of the University of Texas at Austin (UT) and creator of the Double Diversity Digital Art Gallery, a project she initiated to give voice to and raise awareness of neurodiverse students of color like herself. Participating as a co-author, she shares their stories through her illustration and photography.
Neurodiversity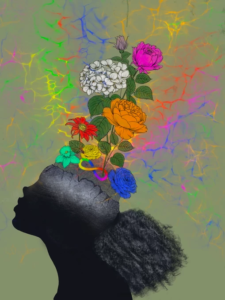 With the onset of the COVID-19 pandemic, Velta found herself struggling. As the challenges of online learning and stress of social isolation intensified, she became depressed and sought help from a mental health professional. During her treatment she also received an additional, unexpected diagnosis: attention-deficit/hyperactivity disorder (ADHD).
Although ADHD often presents in school-age children, it is common for it to remain undiagnosed until adulthood. Once considered a behavioral and cognitive deficit, ADHD is coming to be understood as an example of neurodiversity. As an "umbrella term",  neurodiversity also describes neurological conditions such as autism spectrum disorder, dyscalculia, dyslexia, and Tourette's syndrome, and understands them as unique ways of thinking, learning, and behaving rather than impairments.
"Oftentimes people think we're impaired, we're limited, we can't defy the odds, we're not smart," says Velta. "But then you see us graduating from the best public institution [of higher education] in Texas with much success."
Wanting to understand as much as possible about her new diagnosis, Velta was disappointed to find scant research and few resources specific to the Black experience of neurodiversity. Hoping to fill this gap and increase awareness and understanding among her peers in the Black community, she began looking for an opportunity to create her own resources that reflected the neurodiverse experiences of people of color.
Double Diversity Digital Art Gallery
Velta found that opportunity as a participant in UT's Engaged Scholar Initiative (ESI). One of a number of UT programs focused on enhancing and expanding the relationship between the university and the community, the ESI enabled her to create a community-based research project using her choice of methodologies.
For Velta, that meant combining her long-standing interest in the visual arts with her newly discovered passion for understanding neurodiversity in the Black community, or "double diversity." Designing a digital art gallery that paired her images with the stories of neurodiverse people of color in their own words, she created a unique avenue to increase awareness of the neurodiverse experiences of people of color and highlight the importance of navigating those experiences with mental health support.
"I wanted to bring their invisibility into the light and see beauty in their support systems," she says. "I also wanted to increase awareness so that people can see [neurodiversity] not as a deficit, but as a unique ability."
Countering Cultural Stigma
Velta also envisioned the Double Diversity Art Gallery as a way to address cultural stigma surrounding mental illness in the Black community.
"Often in the Black community there's a tendency to brush things under the rug," she says. "If we try to confront [mental health issues] people will say 'there's something wrong with you,' or 'you just need to pray.'"
Countering this attitude, the gallery serves to both educate the community about various types of neurodiversity and help it see these differences as strengths rather than weaknesses.
Looking Ahead
Having recently completed her degree, Velta is prioritizing her career goals for the time being. She doesn't consider her work on the Double Diversity Digital Art Gallery to be entirely over, however, and has considered interviewing more students, adding to the gallery, and gathering more mental health resources for people of color in the future.
"I'm going to come back," says Velta.
---
Related content