This post was guest authored by Aviv Rau, archival graduate research assistant for the Hogg Foundation for Mental Health.
Gender Dysphoria Research and Service Program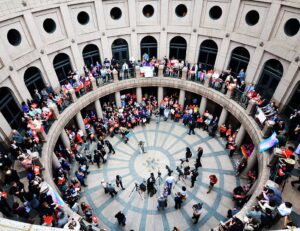 Earlier this year, while organizing records for the Hogg Foundation's archives, I stumbled upon a single sheet of paper. Yellowed with age and nestled deep in a folder among dozens of other pages, it described a small grant awarded in the 1970s to the Gender Dysphoria Research and Service Program at the University of Texas Medical Branch in Galveston (UT Medical Branch). Led by Dr. Paul Walker and earmarked for the "establishment of data archives and services for treatment of gender dysphoric patients," the grant immediately piqued my curiosity.[1]
As a transgender Texan, I am fascinated by my community's history in the state – a much longer history than many of us realize. I have spent countless hours exploring the topic through digital archives, zines, oral histories from transgender elders, and the work of historians such as Susan Stryker and Jules Gill-Peterson. Yet I have never come across a reference to a transgender health clinic in Texas as early as the 1970s.
Pioneering Gender-Affirming Care
Because this was the lone reference to the clinic in the foundation's collections. I reached out to an archivist at the UT Medical Branch's Moody Medical Library to learn more. As I studied their collections, more details emerged.
Known as the UT Medical Branch Gender Clinic (Gender Clinic), the treatment center was established in 1965. Funded entirely through private philanthropists like Reed Erickson, the clinic performed gender-affirming surgery on its first known patient, a transgender woman, the following year.[2]
In a 1976 newspaper interview, the Gender Clinic's Dr. Walker asserted that being transgender "is not a form of mental illness."[3] Yet four years later, the American Psychiatric Association listed a new diagnosis of gender identity disorder, later known as gender dysphoria, in the fourth edition publication of the Diagnostic and Statistical Manual of Mental Disorders (Diagnostic Manual). [4]
The diagnosis was "very controversial within transgender communities," notes historian Susan Stryker. Some hoped a medical diagnosis would legitimize transgender identity and lead to more insurance coverage for gender-affirming health care. However, insurers continued to deny such coverage, classifying it as "'elective,' 'cosmetic,' or even 'experimental.'" [5] The inclusion of gender identity disorder in the Diagnostic Manual also had another unintended consequence—the closure of many gender clinics across the country,[6] including the UT Medical Branch.[7]
However, physicians at the UT Medical Branch continued to provide some forms of transgender healthcare in the decades that followed, seeing at least 121 trans women patients between 1980 and the early 1990s. Despite this example of pioneering care, historian Zagria notes that most transgender healthcare at that time had stringent and often discriminatory guidelines. For instance, most clinics refused to treat transmasculine people who experienced same-gender attraction even though treatment for transfeminine patients with same-gender attraction was allowed. Remaining records of the UT Medical Branch patients from this time indicate that patients were also overwhelmingly—if not exclusively—white. And pursuing gender transition at a time when resources were scarce also meant that early patients were primarily wealthy.
Gender-Affirming Care and Mental Health
Today, our understanding of the relationship between mental health and gender-affirming care has grown. We now understand how the structural oppression faced by transgender people in employment, education, and housing opportunities, as well as discriminatory legislation, can result in poor mental health outcomes.
In recent testimony to the Senate State Affairs Committee, members of the Hogg Foundation's policy team described research into this relationship, noting that: "several peer-reviewed studies show that gender-affirming care can significantly reduce mental health conditions, such as moderate to severe depression, and suicidality in transgender and nonbinary" people.[8] At the same time, however, the current wave of anti-transgender legislation and violence "has led to the fortification of barriers that have made access to adequate housing, jobs, healthcare, and identity documents nearly impossible," in the words of a recent Equality Texas statement.
Uncovering Marginalized Histories
The Hogg Foundation's grant to the UT Medical Branch Gender Clinic in the late 1970s demonstrates an intersectional understanding of mental health. It recognizes that societal and cultural oppression leads to negative physical and mental health outcomes for marginalized people. And it has been at the heart of the foundation's philanthropy for nearly half a century.
My exploration of this grant also shows how it is often necessary to bridge together bits of information from disparate sources to uncover marginalized histories and form a historical narrative. Had I been searching for the terms I use today to understand my community, like "transgender" or "nonbinary," I would have missed these valuable historical resources. Indeed, changes in the language used to refer to the LGBTQ community over time, for whom euphemistic or slang terms have frequently been used, often keep archival records obscured. It was only through my happenstance decision to search for the word "gender" in the foundation's archive that I discovered this unexpected record.
Finding this reference to a gender identity clinic in the foundation's archive was also a moment of personal significance. At a time when transgender rights are under legislative attack, finding this reference to my marginalized community is an example of what archival scholars Michelle Caswell, Marika Cifor, and Mario H. Ramirez call "representational belonging." It demonstrates how non-traditional archives "empower people marginalized by mainstream media outlets and memory institutions" by seeing themselves reflected in "complex, meaningful, substantive, and positive" ways.
In times of struggle, learning from our elders can be a powerful way of learning about ourselves. At a time when our allies seem few, unearthing evidence of historical support structures that sustained transgender healthcare serves as a welcome reminder that we transgender people have always had supportive individuals and organizations in our corner, and we aren't going anywhere.
Related Content
---
References