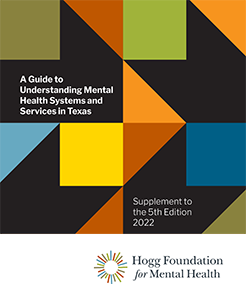 A Guide to Understanding Mental Health Systems and Services in Texas
Navigating mental health systems and services in Texas can be daunting, even for advocates and policymakers. The maze of behavioral health services is complex, making it difficult to understand and difficult to improve. The Hogg Foundation prepares a new edition of the Mental Health Guide to coincide with each Texas legislative session to help inform mental health and substance use policy analysis, development and decision-making.
A Tool for Everyone
We aim to support advocates, policymakers, consumers and their families as they navigate mental health systems and services in Texas. The intended audience for this guide includes legislators, legislative staff, state agency staff, advocates with lived experience, family advocates, mental health providers and other stakeholders interested in mental health and substance use policy.
The Important Role of Communities
While this guide focuses primarily on state policies and programs, the foundation recognizes the important role of communities. Many communities and local providers throughout the state are engaged in the development, implementation and oversight of locally funded and operated programs and services that are specifically designed to meet the needs of those communities. We encourage communities to engage in local collaborative efforts aimed at addressing the mental health needs of Texans from a population health perspective, and to place particular emphasis on identifying and supporting individuals who have been historically underrepresented in mental health policy discussions, as well as those who experience significant health disparities.
Policy Priorities 2023-2024
We envision a future in which the people of Texas thrive in communities that support mental health and well-being. We believe it's possible to transform how communities promote mental health in everyday life. We support research and learning, practice and implementation, and policy initiatives to achieve this vision.
Policy Priorities
Our recommendations provide context for Texas policymakers as they work to strengthen mental health supports.
86th Legislative Session Summary
Our summary of key mental health legislation considered during this past session.
Response to Legislative Interim Charges
Our responses to legislative interim charges.