"There is a lack of emphasis on humanizing of education for the individual so that he has a better understanding of himself and others." — Ima Hogg
Get news, insights and ideas from foundation staff and allies related to our initiatives and the state of mental health in Texas.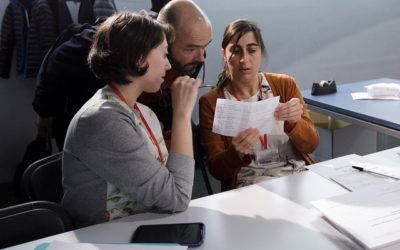 The Hogg Foundation is expanding eligibility for the Frances Fowler Wallace Memorial Award to include doctoral students at all institutions of higher education in Texas. Applicants must be pursuing a PhD in nursing, psychology, social work or another field relevant to...
Podcast
Listen to conversations with mental health consumers, advocates and other experts.
Video
Watch informative interviews,
in-depth features, clips from
events and more.
News
Get mental health news from Texas and beyond delivered directly to your inbox.
Access a variety of free publications that provide information, tips and tools to advance mental health in Texas.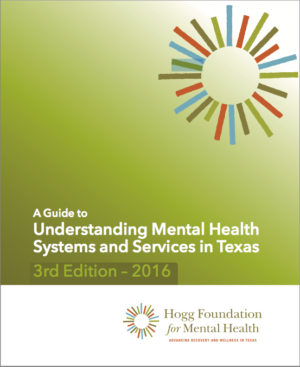 Mental Health Guide
This comprehensive resource is designed to help advocates, policy makers, families and individuals navigate mental health systems and services in Texas.
Austin Area African American Behavioral Health Network
Finding the right behavioral health services can be challenging. For African-Americans who desire providers with awareness of their particular needs, the challenge is even more daunting. The Austin Area African American Behavioral Health Network, or 4ABHN, is a group of people interested in the behavioral health and well-being of African Americans in Greater Austin.
Texas Mental Health Information
MentalHealthTx.org
A web portal for Texas residents who may have mental health related needs or who want to support someone who does.
2-1-1 Texas
Find Texas mental health services including crisis helplines, counseling, support groups and more.
Texas Veterans Portal
A resource for veterans, their families, and their survivors, with helpful information from many government agencies here so you can find the assistance, services, and benefits you need.
National Suicide Prevention Lifeline
By calling 1-800-273-TALK (8255) you'll be connected to a skilled, trained counselor at a crisis center in your area, anytime 24/7.
National Alliance on Mental Illness (NAMI) of Texas
Offers a variety of education and support programs for individuals living with mental illness, family members, friends, professionals, other stakeholders, and the community at large.
Mental Health America (MHA) of Texas
The state's largest and longest-serving mental health education and advocacy group.
Via Hope
Provides training, technical assistance and consultation to individuals in recovery from mental health concerns, their family members, youth who are interested in mental health, and mental health professionals throughout the state of Texas.
Speak Your Mind Texas
Learn how to support teens and young adults who have mental health and substance use issues.
One in Five Minds
Raises awareness about mental illness, breaks stigma, and increases access to treatment for children regardless of their ability to pay.
Say No To Stigma
A blog of The Menninger Clinic, one of the country's leading psychiatric hospitals.