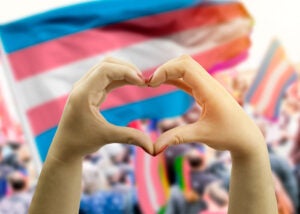 Social workers have always been a crucial part of the mental health workforce. And they're increasingly playing a crucial role in the policy arena as Texas lawmakers target LGBTQ+ rights. How is this challenging call to advocacy affecting the mental well-being of social workers in Texas? How is it clarifying their understanding of professional ethics? And how is it shaping their commitment to the future of competent care?
We spoke with two Texas-based social workers to explore their perspectives on practicing social work in a time of division. Kimberly Goodwin is a licensed clinical social worker and LGBTQ+ advocate based in San Antonio. Her professional recognitions include the 2020 Jonas Award for "individuals who go above and beyond to move equality forward for the LGBTQ+ community" from PFLAG San Antonio, and the 2014 Innovator in Recovery Award from Via Hope. Kurt Ostir, is a licensed clinical social worker, president and CEO of Von Ostir Innovation Services, and LGBTQ+ advocate based in Dallas. He also serves as the board chair for the Committee for Sexual Orientation, Gender Identity, and Gender Expression with the Texas chapter of the National Association of Social Workers (NASW).
Remaining Vigilant
Kimberly and Kurt are watching with mixed feelings as Texas lawmakers move forward this legislative session. They're well aware that several proposed bills have the potential to negatively impact the LGBTQ+ community they serve.
"I'm energized and ready to go because there's so much work to do. But I'm also feeling appropriately somber," says Kimberly. "A lot of what I'm seeing is a sense of desperation and urgency in terms of access to care. I also sense a lot of fear from clients with questions like, 'If I do access care that I need, that is really life-saving such as mental health care services, will I be reported to the Texas Department of Family and Protective Services (TDFS)? Will my family be safe? Will I be safe at school?'"
Kurt agrees, adding that although it is exhausting to remain constantly vigilant of policy work, it's both a professional and ethical obligation.
"Social workers are agents of change. We are ambassadors to systems change and at times we have to be vigilant," he says. "When I'm in private practice and working with my clients, I have to know what's going on with policy. I have to be vigilant, because the way I practice may change in a matter of minutes if the legislature passes a policy that could affect the way we provide services for our clients."
The Connecting Piece
Social workers like Kimberly and Kurt not only feel the impact of lawmakers' decisions, but they also make an impact. Indeed, their unique skill sets bridge the worlds of clinical care and policymaking.
"Without social workers, essential knowledge would be lacking," Kurt says. "Because we're trained to work within systems and can interface at any level of those systems, without a social worker present, there's a challenge to understanding the whole."
Kimberly shares this view.
"I often talk of social workers as being this 'connecting piece' between the communities that we're serving and the policy decisions that are being made and playing out in reality," she says. "Our lawmakers are concerned with the care of our state and the people in our state. So, for lawmakers to make a decision about what will help or harm them it's important for social workers to be there because we're right there seeing what it does, what happens, how it plays out in people's lives."
Increasing Access to Competent Care
Their experience as clinical care providers also informs their understanding of mental health needs in the LGBTQ+ community.
"There's very little access to competent care here in Texas," says Kimberly. "The biggest contribution that I focus on in my professional career is developing a local workforce here in Texas of really great providers in a variety of areas, including the LGBTQ+ community. We need to increase access to care based on good research, evolving research, on lived experience of the people we're providing the services to, and centered around their needs as expressed by them, including them in the process of developing services and implementing services."
With a waitlist of patients seeking care in his clinical practice, Kurt also recognizes this lack of access to competent care.
"My waitlist helps me understand where our disparities are, where we're still needing services. So, everyday I'm sitting down and strategizing my approach."
In his role at NASW, he also prioritizes getting the word out.
"We work to make sure we're doing a 'whole community approach' to mental health and making sure clients can get the services they need without barriers," he says.
What Lawmakers Need to Know
Kurt hopes lawmakers come to understand how essential the social worker's role is in the community.
"Our work – social work – is not going to go away," he says. "We're here to help families navigate systems. We're here to help address their mental health concerns. With our training, we are helping these families understand these challenges. We are helping communities. We are helping organizations."
Kimberly agrees.
"As a clinical social worker, I'm always going to be focused on mental health, so if I could tell lawmakers one thing it would absolutely be that mental health is healthcare," she says. "And it is lifesaving care."
Advocacy and Activism
It's likely that anti-LGBTQ+ policies will be in the spotlight for the foreseeable future. And Kimberly and Kurt are prepared to continue serving as 'connecting pieces' between people and policymaking.
"Social workers have a professional imperative. No matter what kind of role we're serving in, we have an imperative to do advocacy and activism," says Kimberly. "That is a part of being a social worker no matter what job title you have. So, in any role a social worker is in, there should be advocacy and breaking barriers."
Related Episodes