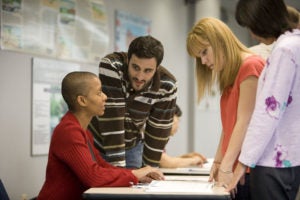 The Hogg Foundation is focusing on the following mental health and substance use issues as the 2019 Texas legislative session approaches. Our policy priorities provide context for policymakers as they work to strengthen the following key issue areas:
Telehealth Expansion 

 

First Episode Psychosis 

 

Intersection of Mental Health and Intellectual Disabilities 

 

Mental Health and Substance Use Funding
Mental Health in Schools 

 

Housing

Barriers to Accessing Substance Use Services

Public Health Approach to Substance Use Services

Population Health Disparities 

 

Child Welfare Services
Criminal Justice: Mental Health and Substance Use Diversion
Mental Health and Substance Use Peer Support Services
Mental Health Workforce Shortage

 
For more info, contact Colleen Horton or Shannon Hoffman.  
A Guide to Understanding Mental Health Systems and Services in Texas
The Mental Health Guide helps policymakers, advocates and consumers navigate systems and services.
Mental Health Parity: Your Rights and How to get Help
We know that when mental health care is accessible, people have better recovery outcomes. Mental health parity is one way to address barriers for people seeking care.
A state investment in early psychosis treatment would benefit patients — and Texas, too
Nationwide, about 100,000 young people experience psychosis each year. Psychosis is defined as a disruption in a person's thoughts and perceptions that makes it difficult for them to realize what is real and what isn't.
Raising the Voices of Individuals with IDD
Earlier this year, National Public Radio aired a five-part series on the "hidden epidemic of sexual assault" against individuals with intellectual and developmental disorders (IDD), for whom the prevalence of sexual assault is seven times greater.