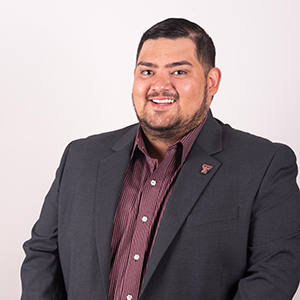 Zachary Treviño, a doctoral student in the Community, Family, and Addiction Sciences Department at Texas Tech University, has been selected to receive the 2023 Frances Fowler Wallace Memorial Award by the Hogg Foundation. The award supports research expenses for his work to gain deeper insight into the experiences of Latino men who have sought mental health services. This research explores their encounters with mental health providers and what they have gained through help-seeking.
Frances Fowler Wallace, the award's namesake, was married to John Forsythe Wallace, a member of the Texas House of Representatives and the State Board of Control during the 1920s and 30s. Ms. Wallace died in Austin on July 18, 1972, at the age of 80. As directed in her will, the Wallace Award provides partial support for doctoral students' dissertation research on "the cause, treatment, cure, and prevention of mental disease, mental illness, and mental disorders."  The award provides up to $3,000 for research-related expenses.
We spoke with Zachary about his research:
Tell us about yourself. At what point did you decide to pursue a career in mental health research, and what influenced that decision?
My passion and desire to be a licensed therapist and researcher began long before my formal training. As a first-generation college student and Latino, my personal and professional experiences have profoundly influenced my career path. Embracing my cultural identity and navigating the challenges of higher education have fostered a deep sense of resilience and determination in my academic pursuits.
Also, as a therapist working with diverse Latino individuals, couples, and families, I've gained invaluable insights into the specific mental health needs and disparities faced in my community. This has further fueled my passion for advocating for culturally attuned and accessible mental health services.
Your dissertation is titled, "Understanding the Therapeutic Experience of Latino Men: An Interpretative Phenomenological Inquiry." What questions are you trying to answer with this work?
I aim to bring together the voices of Latino men who have participated in professional counseling services. My goal is to learn about their experiences and how they found the courage to ask for help despite cultural and social narratives that often discourage them from doing so.
I hope to gain insight into their therapeutic encounters to shed light on factors that contribute to meaningful therapeutic relationships between Latino men and their therapists. Ultimately, I seek to contribute to the scarce body of knowledge that advocates for more inclusive and culturally responsive mental health services that positively impact Latino individuals, couples, families, and communities.
What led to your taking a professional interest in this particular topic?
As a Latino male who has benefitted from counseling, I understand the transformative impact of mental health support. My personal journey has sparked a deep sense of empathy and a determination to contribute to mental health research on Latino men's experiences. In addition, my clinical experiences as a therapist to members of my community have shown me the unique mental health needs and barriers they face in accessing appropriate care.
Recognizing the importance of representation in research has also driven my professional interest. I'm committed to bridging the gap between research and clinical practice by actively engaging with the community I seek to understand. I firmly believe that researchers should come from the communities they study to foster a deeper understanding and more respectful approach to mental health research.
How do you think your research methods and approach will help you to answer the questions that you'reposing?
I believe qualitative research will always be at the leading edge of under-studied topics because people's accounts of their own lives on their own terms takes us beyond theory. Using qualitative methods, I can ensure that the voices and perspectives of Latino men are heard, and that their personal experiences contribute to advancing the field of mental health. Ultimately, I believe my research approach will lead to a more comprehensive understanding of the therapeutic journey of Latino men and guide the development of more meaningful and inclusive mental health services for this community.
Are there any suggested readings you can recommend for those who might be interested in learning more about this topic?
I believe that "learning is doing," thus, I encourage people to take inventory of those in their inner circle and at their tables. I encourage people outside the Latino community to expose themselves to people who are different from them. There is much to be learned by doing so.
I also believe that Latino people heal in communities, thus, I encourage scholars to become familiar with community-based participatory research approaches that allow Latino voices a seat at the academic table.
Books
Articles
Bermudez, J. M., Kirkpatrick, D. R., Hecker, L. L., & Torres-Robles, C. L. (2010). Describing Latinos families and their Help-Seeking attitudes: Challenging the Family therapy literature. Contemporary Family Therapy, 32(2), 155–172.
Jared M. Hawkins, Lorena Posadas, Ashley Manale & Roy A. Bean (2021). Culturally Competent Therapy with Latinxs: Addressing Isolation. The American Journal of Family Therapy, 49:2, 109-129, DOI: 10.1080/01926187.2020.177791.
Resources
Related content