The Texas legislature, advocates, and other stakeholders continue to recognize the importance of improving mental health and substance use services and supports within the state. The past legislative session yielded both successes and lost opportunities for individuals with mental health and substance use conditions. Overall, the 2016-17 state budget appropriated $2.7 billion in General Revenue-Related Funds ($3.6 billion in All Funds) for behavioral health and substance use services. The Department of State Health Services (DSHS) behavioral health budget increased by approximately $87 million over the prior biennium. Further, mental health spending is not concentrated in one or two state agencies. In 2015, the Office of Mental Health Coordination recognized 54 cross-agency mental health initiatives spanning a total of 18 state agencies. In this section, important areas of Texas behavioral health systems are highlighted.
Select Committee on Mental Health
On November 9, 2015, House Speaker Joe Straus announced the creation of a select committee on mental health to take a comprehensive look at Texas's current behavioral health system. The committee was charged to review and make recommendations on issues including substance use, care for veterans, prevention of mental illnesses, and improving the delivery of mental health care. Speaker Straus appointed the following legislators to serve on the committee:
Rep. Four Price (Chair)
Rep. Joe Moody (Vice Chair)
Rep. Greg Bonnen
Rep. Garnet F. Coleman
Rep. Sarah Davis
Rep. Rick Galindo
Rep. Sergio Muñoz, Jr.
Rep. Andrew Murr
Rep. Toni Rose
Rep. Kenneth Sheets
Rep. Senfronia Thompson
Rep. Chris Turner
Rep. James White
The first committee hearing was held in February 2016. Topics covered by the committee include: children's mental health, veterans' issues, insurance and parity, homelessness, substance use conditions, and the state hospital system. The committee continued to meet through September 2016 and will release a report with recommendations to the legislature before the start of the 85th legislative session in January 2017. Get more information on the committee, including archived recordings of the hearings.
Office of Mental Health Coordination
In recent years, mental health and substance use have become major topics of national dialogue. Recognizing the need to be more strategic in behavioral health service delivery and funding, the Texas Legislature took steps to increase and improve cross-agency planning, coordination, and collaboration. In 2013 the legislature created the Office of Mental Health Coordination, which it tasked with providing broad oversight for state mental health policy as well as managing cross agency coordination of behavioral health programs and services. The office is housed within HHSC with a vision "to ensure that Texas has a unified approach to the delivery of behavioral health services that allows Texans to have access to care at the right time and place." Under the new organizational structure, this office reports to the deputy executive commissioner of the Medical and Social Services Division. The office has developed a website to provide consumers, families and providers up-to-date information on mental health and wellness. According to the site, it was "developed with the goal of providing information, resources, and direction to Texas residents who may have mental health related needs or who want to support someone who does."
In 2015, the office documented 54 cross-agency mental health initiatives spanning a total of 18 state agencies. Download the report on these cross agency behavioral health initiatives.
Statewide Behavioral Health Coordinating Council
Also in 2015, as part of the state's ongoing efforts to coordinate services across agencies and departments (including those outside of the HHS enterprise), the legislature established the Behavioral Health Coordinating Council, which it tasked with establishing a statewide strategic plan for mental health programs and services. The HHSC assistant commissioner in the Office of Mental Health Coordination at HHSC served as chair of the council. Eighteen agencies and departments worked together under the direction of the Office of Mental Health Coordination to develop the goals and strategies included in the plan.
In addition to development of the behavioral health strategic plan, the Behavioral Health Coordinating Council was directed to develop a "coordinated statewide expenditure proposal" for mental health services for FY 2017. The legislative directive required approval of the proposal by the HHSC executive commissioner and the Legislative Budget Board. FY 2017 appropriations could not be expended until the budget was developed and the required approvals were obtained.
As a result of the legislative directive, the Behavioral Health Coordinating Council developed the Coordinated Statewide Behavioral Health Expenditure Proposal, Fiscal Year 2017. Figure 1 below summarizes the proposed budget.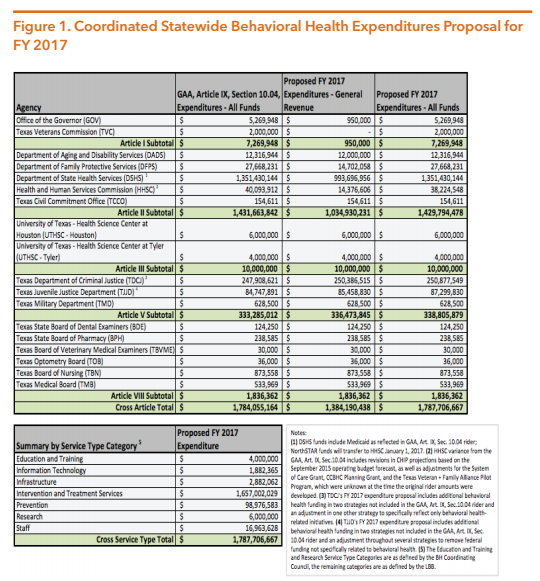 Source: Health and Human Services Commission, (July 2016). Coordinated Statewide Behavioral Health Expenditure Proposal for FY 2017.
Mental Health Workforce in Texas
Mental health workforce challenges are not new to Texas or to the nation. Challenges include insufficient reimbursement rates, lack of residency slots and internship sites, an aging mental health workforce, and inadequate mental health training for primary care providers. A number of factors make it difficult to address these challenges including the diverse Texas population, the lack of cultural and linguistic competency among providers, the lack of license reciprocity, and the unwillingness of providers to accept patients with Medicaid.
The federal government's measure of healthcare workforce shortages is known as Health Professional Shortage Areas (HPSA). The federal government uses a ratio of 1 psychiatrist for every 30,000 individuals in the general population as the threshold for designating a Mental Health HPSA, and this ratio is considered a valid measure of mental health workforce adequacy. Texas' growing population, and widespread rural geography have created an environment where mental health professional shortage areas far outnumber areas of adequate access. The maldistribution of mental health providers across Texas demands unique strategies.
As of July 2015, 206 out of 254 (81.1%) Texas counties were designated as full or partial Mental Health HPSAs. Partial HPSA designations typically occur in large metropolitan areas, like Harris County and Travis County, where there is disproportionate access to mental health services in different parts of the city. In 2011, twenty-five counties that were not previously designated as Mental Health HPSAs now hold the designation, and 181 other counties that were Mental Health HPSAs in 2010 still held that designation in 2015. Further, 185 Texas counties did not have a single psychiatrist in 2015, which left over three million Texans in counties without access to a psychiatrist. The rates are better for psychologists and social workers, but still far below what is needed. In 2015 there were 149 counties without a single licensed psychologist, while 40 counties did not have a licensed social worker. Figure 2 below details the Mental Health HPSAs by county as of July 2015.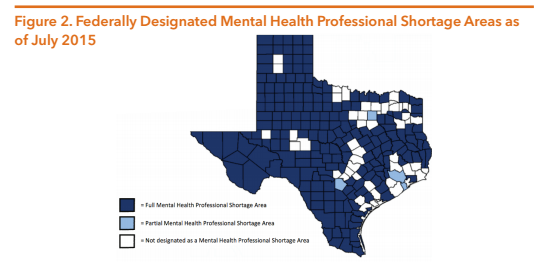 Source: U.S. Department of Health and Human Services, "Health Professional Shortage Area Data Download." Health Resources and Services Administration Data Warehouse. (2015). Data by Geography – Texas.
Considering only psychiatrists, the graph below shows the drastic difference in the number of psychiatrists available in urban versus rural communities. This graph also highlights the reality that, due to the fact that urban areas have the vast majority of Texas' population, focusing only on statewide data can hide the true severity of the problem in rural counties.  Figure 3 below details the distribution of psychiatrists across the state from 2006 to 2015.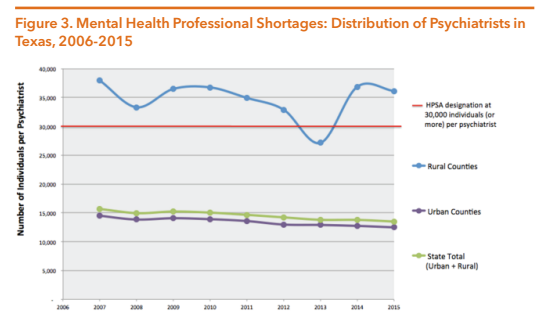 Texas has not adequately invested in developing a strong mental health workforce, and the consequences are increasingly evident.  Critical shortages will likely continue unless Texas prioritizes the mental health workforce shortage and develops a comprehensive plan to address capacity problems.
Contributing Factors to the Workforce Challenges
Many variables converge to create mental health workforce challenges, including an aging mental health workforce, inadequate reimbursement rates, the unwillingness of mental health providers to accept patients with Medicaid, insufficient internship sites and residency slots, insufficient retention and recruitment practices, outdated education and training practices, linguistic and cultural barriers, and more. These issues will need to be addressed collectively in order to make a significant impact.
The percentage of mental health providers accepting Medicaid continues to decline, making it difficult for managed care organizations to build adequate networks of providers. In 2014, 76 percent of psychiatrists in Texas reported not accepting new clients who are recipients of Medicaid. To increase the number of practicing mental health care providers willing to provide services to consumers with Medicaid, reimbursement rates should be evaluated and improved. While reimbursement rates are not the only incentive available to attract Medicaid providers, low rates are the most frequently identified barrier to expanding network participation.
Additionally, the state is experiencing a massive shift in the mental health workforce as a large number of skilled mental health providers reach retirement age. The median ages for mental health professionals range from Licensed Clinical Social Workers (45 years old) to Licensed Marriage and Family Therapists (59 years old). At the same time, educational institutions are not producing enough graduates in mental health fields to meet the predicted demand.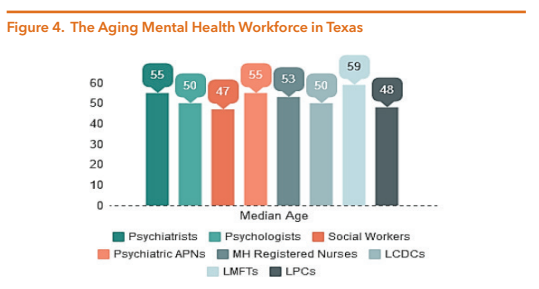 Source: Statewide Health Coordinating Council. "2015-1016 Update to the State Health Plan". (2015).
The composition of our psychiatric workforce does not mirror the Texas population. It is important that the state builds a diverse workforce to meet the needs of Texans by promoting more of a shared experiential base. Only 9.8 percent of psychiatrists in Texas are Hispanic/Latino and 5.7 percent are African American. However, Hispanic/Latinos make up 39.5 percent of the Texas population and African Americans make up 11.5 percent. There is evidence that health care consumers who share a culture and race with a provider develop a stronger therapeutic alliance and have higher treatment retention rates. One way to prioritize culturally relevant care is to assist mental health providers in developing a sensitivity to cultural differences in perceptions about illness, treatment, and recovery, as well as their ability to adapt care to the personal goals, cultural beliefs, and primary language of each consumer.
Texas' mental health workforce challenges are very real. The solutions are not always easy to implement and they often require additional resources. However, the cost of ignoring the problem will be great. The growing Texas population coupled with the aging mental health workforce will continue to strain the behavioral health workforce.
Loan Repayment Program for Mental Health Professionals
The number of counties in Texas with an insufficient number of mental health providers remains a concern. In 2013, the Texas Legislature passed HB 1023 (83rd, Burkett/Nelson), requiring DSHS to conduct a study and develop a legislative report on the mental health workforce. The HB 1023 report, published in 2014, confirmed the critical workforce environment and offered recommendations. Additionally, both the Texas House and Senate were assigned interim charges targeting the mental health workforce.
Despite considerable discussion about the mental health workforce during the previous interim, little legislative action took place during the 84th legislative session. One notable action was SB 239 (Schwertner/Zerwas), which created a student loan repayment program to encourage mental health professionals to work in rural and underserved areas of Texas. SB 239's loan repayment program aims to address mental health professional shortage areas where there are gaps in services due to lack of providers.
The funding for SB 239's loan repayment program is currently available through the 2016-17 biennium. The program serves eligible mental health professionals such as licensed clinical social workers, psychiatrists, psychologists, licensed professional counselors, psychiatric mental health advanced practice nurses who work in rural and underserved areas where there are significant workforce gaps. The program, coordinated by the Texas Higher Education Coordinating Board (THECB), requires that these professionals assist only people enrolled in Medicaid or Children's Health Insurance Program (CHIP).
THECB reported they had received 497 applications by the May 31, 2016 deadline.
Peer Support Services/Peer Re-entry Pilot
According to the Centers for Medicare and Medicaid Services (CMS), "peer support services are an evidence-based mental health model of care which consists of a qualified peer support provider who assists individuals with recovery from mental illness and substance use disorders." According to research sponsored by SAMHSA to assess evidence-based services, "peers are individuals with histories of successfully living with serious mental illness who, in turn support others with serious mental illness." Certified peer specialists have both the lived experience and have achieved the education and examination requirements for certification. Peer support services generally fall into three categories:
 A distinct set of activities or a curriculum that includes education and the development of coping and problem-solving strategies to facilitate self-management of a person's mental illness and reinforce daily living skills (for example, rehabilitative services);
Activities that are delivered as part of a [recovery] team that may include non-peers (for example, an assertive community treatment team); and
Traditional activities that are delivered in a way that is informed by a peer's personal recovery experience.
Peer specialists assist individuals experiencing mental illness by helping them focus on recovery, wellness, self-direction, personal responsibility and independent living. While peer services are not intended to supplant other existing mental health/ substance use services, the frequency of other services can be reduced when an individual is supported by a peer, often resulting in lower costs and better outcomes. The behavioral health service array is not complete unless these services are included. Peer and recovery specialists play a critical role in supporting individuals experiencing mental health/substance use conditions who are working toward recovery.
Research shows that recovery-oriented peer support services produce positive outcomes. For example, peer support may increase feelings of personal empowerment and reduce negative clinical symptoms among behavioral health consumers. Recent randomized controlled trials also demonstrate that peer service delivery can decrease hospitalizations and improve treatment engagement among participants.
In Texas, certified peer providers serve individuals with behavioral health conditions in a variety of settings, including state hospitals, halfway houses, and all 39 local mental health authorities (LMHAs) located across the state. A peer provider may work as a mental health peer specialist or a substance use recovery coach to directly engage with others who are navigating the recovery process. In FY 2014, the top five services provided by peer providers in Texas included:
One-on-one support
Helping people advocate for themselves
Goal setting
Connecting people to community resources
Facilitating support groups.
To perform the services listed above, peers require more than lived experience within the behavioral health system. Mental health peer specialists and family partners must also complete a training and certification process during which they learn about the nature of serious mental illness and acquire rehabilitative practice skills. In Texas, the nonprofit Via Hope operates a statewide peer specialist and family partners training program. The trainings consist of interactive classroom courses, as well as a written certification exam. To maintain this certification, mental health peer specialists and family partners must earn 20 continuing education units (CEUs) every two years. Additionally, peers and family partners may participate in endorsement trainings in which they develop specialized skills in areas such as trauma-informed care, intentional peer support, special education, and co-occurring disorders. In FY 2016, Via Hope certified 115 individuals as peer specialists and 26 individuals as family partners. At the end of FY 2016, there were 560 individuals in Texas with active peer specialist certifications and 121 individuals with active family partner certifications.
DSHS and the Texas Certification Board of Addiction Professionals (TCBAP) provide similar training and certification opportunities for substance use recovery coaches. DSHS manages a 46-hour training curriculum for recovery coaches, which includes skills-based activities such as motivational interviewing and role clarity workshops. If individuals wish to be certified through TCBAP, they must provide documentation that they have completed 46 hours of training across five specific domains (including advocacy, mentoring, education, recovery support, and ethics), as well as undergo 500 hours of supervision. Between 2013 and 2016, over 1,450 individuals completed training as recovery coaches in Texas. In FY 2016, DSHS used $4.4 million in block grants to fund 22 agencies that provide recovery coach services, including 14 substance use treatment providers, six community-based programs, and two stand-alone, peer-run centers. Currently, there is no Medicaid reimbursement option for recovery coach services.
In 2015, the Texas Legislature approved a pilot program to reduce individuals involved in the criminal justice system from returning to jail or prison through the use of peer support. Research shows that reentry challenges are amplified for people with mental illness, who experience higher rates of disrupted treatments, homelessness, unemployment, and criminal activity upon release from incarceration.
This peer pilot program aimed to address some of these issues with a $1 million budget rider. Rider 73 to the DSHS budget created a reentry peer support pilot to connect incarcerated persons with mental illness to peers with similar life experiences. Peers with dual mental health and criminal justice experience were recruited to help design and serve within the pilot program because they are particularly well-placed to assist formerly incarcerated persons through the recovery and reentry processes. Stakeholders in Texas developed the pilot after researching a similar program in Pennsylvania, where participants reported a threeyear re-incarceration rate of 24%, compared to a 46% rate among other formerly incarcerated individuals in the state.
DSHS selected three LMHAs to administer the pilot program: the Harris Center for Mental Health and IDD (which serves Harris County), MHMR Tarrant (which serves Tarrant County), and Tropical Texas Behavioral Health (which serves Cameron, Hidalgo, and Willacy counties).  Hogg Foundation for Mental Health is funding an evaluation of the pilot program.
Also in 2015, during the 84th legislative session, Rep. Burkett filed HB 1541 hoping to expand access to peer provided services. The legislation passed the House, but did not get through the Senate. The legislation directed the Health and Human Services Commission to develop and adopt:
rules that establish training requirements for peer specialists so that they are able to provide services to persons with mental illness and services to persons with substance use conditions;
rules that establish certification and supervision requirements for peer specialists;
rules that define the scope of services that peer specialists may provide;
rules that distinguish peer services from other services that a person must hold a license to provide;
any other rules necessary to protect the health and safety of persons receiving peer services; and
rule to allow services provided under the medical assistance program (Medicaid) to include peer services provided by certified peer specialists to the extent permitted by federal law.
This legislation would have allowed more Medicaid recipients to use peer support services in a variety of settings.
Mental Health and Substance Use Parity 
Per federal regulations in the Mental Health Parity and Addiction Equity Act (MHPAEA), all health plans that offer mental health or substance use benefits must provide those benefits at the same level ("parity") as surgical and medical benefits. To read more about the federal legislation requiring parity, please refer to the National Context section of this guide.
In 2011, the Texas Department of Insurance (TDI) adopted rules in response to MHPAEA. TDI's rules detail that mental health and substance use benefits must be offered at a comparable level to medical and surgical benefits. The rules do not address certain federal parity rules, including non-quantitative treatment limitations (NQTLs). While quantitative treatment limitations are numerical, like the number of visits per year or the number of days covered for inpatient treatment, NQTLs include "non-numerical limitations" like step-therapy or preauthorization. A MHPAEA rule issued in 2013 requires parity in NQTLs, but TDI rules do not reflect this federal update. TDI's rules prohibit financial requirements and treatment limits from being more restrictive than the requirements or limits applied to medical and surgical benefits offered by the plan. TDI's rules also require out-of-network benefits for mental health and substance use conditions if the plan also covers out-of-network benefits for medical and surgical procedures. Further, TDI's parity rules mandate coverage for necessary care and treatment of substance use conditions for employers of over 250 employees.
Parity is enforced by different agencies (both state and federal, including the federal Departments of Health and Human Services, Labor, and the Treasury) depending on the type of plan, which can make parity enforcement and oversight complex. TDI only has the regulatory control to enforce parity for "fully insured" individual and employer health insurance plans and HMOs. "Self-funded" employer plans are regulated by the Department of Labor. TDI has considered their parity enforcement as "responsive" rather than "proactive".
TDI's parity regulation is a dual approach. TDI reviews group health policy forms for compliance with Texas requirements (including coverage for serious mental illnesses (SMI) and quantitative parity). TDI also reviews plans for network adequacy, which is meant to ensure that all covered services are accessible and available with an adequate number of providers. Federal regulators review individual and small group policies (which TDI does not regulate) for compliance with ACA's essential health benefits. Federal regulators also enforce parity consistent with rules that address quantitative and non-quantitative treatment limitations.
Although Texas has its own parity rules and regulations, many consumers continue to struggle with their health plans to receive needed mental health and substance use services. National reports have indicated that the nation has serious barriers to true mental health parity. For example, a 2015 NAMI report found that people report being denied mental health care nearly twice as often as they report being denied general medical care. Consumers face parity-related barriers including denials based on medical necessity, lack of access to an adequate provider base, and prescription cost and accessibility. Parity is meant to ensure the equal treatment of mental health and substance use condition benefits to medical and surgical benefits, but consumers continue to report issues in accessing services. However, TDI reported that the agency only received seven total complaints related to parity in 2014 and ten complaints through June 2016. This could be due to individuals reporting parity complaints to the Department of Labor or not labeling a complaint as a violation of parity. More work is needed to ensure that individuals with mental health and substance use conditions can access needed services at parity with medical and surgical benefits.
Lawsuit Against the Department of Family Protective Services on Behalf of Long-Term Foster Youth 
In 2011, a class-action lawsuit was filed against the Department of Family Protective Services (DFPS) on behalf of all Texas children in foster care on a long-term basis. The case was originally brought forth by two advocacy groups — Children's Rights and A Better Childhood — but over a dozen other advocacy organizations have since joined as plaintiffs in the case. The lawsuit addressed how the Child Protective Services (CPS) division of DFPS treats children in the state's Permanent Managing Conservatorship (PMC) program, which serves children who have been unable to find a permanent placement within a year of their initial removal from their home. The advocacy groups amended complaint stated that children in PMC's rights were violated, including their right not to be harmed while in state custody and their right to familial association. The lawsuit against CPS increased public attention to the quality of care provided to the roughly 28,000 children who are under the care of the state at any given time. In 2011, when the lawsuit was first brought against CPS, there were approximately:
12,000 children in Permanent Managing Conservatorship (PMC),

6,400 children in PMC for three or more years,
500 children in PMC for more than 10 years, and
More than 1/3 of children in PMC experiencing five or more placements.
Since the lawsuit against DFPS began, the 84th Texas Legislature made some initial reforms to DFPS' foster care system and increased CPS funding by $231 million. However, a lack of available foster care homes that fit children's specific needs has continued to make it difficult to quickly find children in foster care a permanent placement — especially a placement that is close to the child's home community. This shortage was further exacerbated by a series of increased caregiver eligibility requirements that were put into place at the beginning of 2015, making it more difficult for children to be placed in kinship placements (i.e. with extended family members). After these stricter safety-screening standards were put into place, CPS removals of children from their homes grew by 37 percent and short-term informal kinship placements fell by 56 percent during the same time.
U.S. Federal District Judge Janis Graham Jack of Corpus Christi issued a ruling on the CPS case in December 2015. Judge Graham ruled against CPS, finding that the state had systematically violated the Fourteenth Amendment rights of children in the PMC foster care program to be free from an unreasonable risk of harm while in state custody. In her decision, Judge Jack described the foster care system run by DFPS as one where:
"…Foster children often age out of care more damaged than when they entered… Years of abuse, neglect and shuttling between inappropriate placements across the state has created a population that cannot contribute to society, and proves a continued strain on the government through welfare, incarceration or otherwise. Although some foster children are able to overcome these obstacles, they should not have to." 
The state appealed Judge Jack's ruling but as of October 2016 those appeals have been unsuccessful. The implementation of several of the ruling's reforms to improve the PMC program began in early 2016. Most importantly, Judge Jack appointed two special masters in March 2016 to help guide and oversee changes to DFPS' foster care system — mediator and specialist attorney Francis McGovern and Kevin Ryan, former Commissioner of Children and Families for New Jersey. At an estimated cost of $3 to $4 million per year, the co-transition special masters will create a plan for addressing capacity and workforce issues in CPS (e.g. defining "manageable" caseload sizes and addressing the amount of time children spend in PMC). Judge Jack also addressed immediate concerns of child safety in foster care placements by prohibiting the placement of children in foster group homes without 24-hour awake supervision. While that order is in place, the co-transition special masters will make a recommendation about whether group homes should continue to operate at all, depending on their determination as to whether group homes cause "an unreasonable risk of harm" to foster children.
The main mission of the co-transition special masters is to help DFPS and CPS define a reasonable caseload size and improve caseworker turnover and overall conditions. CPS caseworker turnover and high caseloads make it difficult for cases to be processed quickly and in some cases thoroughly, which leaves children in the foster care system longer and at greater risk of experiencing instability in their placements.  Average CPS caseload sizes in Texas have fallen some in recent years — from 31 cases in 2014 to 28 in 2015 — but that still far exceeds the maximum number of cases (17) recommended in national best practices. Caseworker turnover also remained high throughout 2015, with workers citing management concerns and overwhelming demands of the job in addition to low pay as reasons for leaving.
In an effort to expand the caseworker applicant pool and reduce turnover, DFPS reduced hiring requirements for caseworker positions in June 2016. The new requirements allow individuals with relevant work experience and an associate's degrees (or two years of a bachelor's degree completed) to be eligible for employment as a CPS caseworker. Prior to this change only individuals with bachelor's degrees or higher were eligible for these positions. Texas Speaker of the House Joe Strauss also declared that fixing the foster care system will be one of his top priorities for the 85th Legislature.
Behavioral Health Integration Advisory Committee (BHIAC)
People with mental health and substance use conditions may have poorer health outcomes than the average person. This is mostly from untreated and preventable chronic physical conditions like hypertension, diabetes, obesity, and cardiovascular disease that can be aggravated by poor health habits such as lack of physical activity, poor nutrition, smoking, and substance abuse. Fragmentation of mental and physical health care services is one of the primary barriers to realizing optimal health outcomes for individuals with mental illness. Integrated behavioral health care seeks to eliminate fragmentation through the systematic coordination of mental health and substance use services with general healthcare. This care may address health behaviors (including their contribution to chronic medical illnesses), life stressors and crises, stress-related physical symptoms, and ineffective patterns of health care utilization.
In recent years, Texas has taken steps to coordinate mental and behavioral health services across the various HHS agencies in order to improve service delivery for Texans with mental illness. The Behavioral Health Integration Advisory Committee (BHIAC) was created by SB 58 (Nelson/Zerwas) in the 83rd Legislative Session. The BHIAC was charged with addressing planning and development needs to integrate Medicaid mental health and substance use services, including targeted case management, mental health rehabilitative services and physical health services. Further, the committee was directed to seek input from consumers and providers within the behavioral health committee on the issues and provide formal recommendations to HHSC on how to best accomplish integrating behavioral health and physical health within Medicaid managed care.
More on the BHIAC's presentations and reports.
Boarding Homes and Housing Choices
In 2009, the Texas Legislature directed the Health and Human Services Commission (HHSC) to establish model boarding home standards with HB 216 (81st, Menendez/ Shapleigh). The legislation gave local governments the option to adopt the model standards, as well as to require boarding home permitting, fees, and inspections.
HHSC released its model standards in 2010. The state does not require localities to adopt the model or permitting standards, but those who do must submit a report to HHSC with the number of homes in their jurisdiction. DADS has had responsibility for compiling those reports and has published them biennially. Only a few local governments have adopted the HHSC standards for boarding homes in their jurisdiction. In 2014, DADS reported that only four municipalities had adopted the standards: Brenham, Dallas, El Paso, and San Antonio. Advocates have expressed concern that few municipalities are adopting the standards and that boarding homes in most cities continue to be unregulated and unsupervised. In November 2015, the House Committee on Human Services and House Committee on Urban Affairs received a joint interim charge to investigate the operation and regulation of boarding homes and identify communities that have adopted local standards. Learn more on the Mental Health America – Greater Dallas website on boarding home regulations.
In 2013, the Legislature passed HB 1191 (83rd, Burkett/Zaffirini), which added housing resources specifically for people with mental health conditions to the online Texas Information and Referral Network (TIRN, also known as 2-1-1). Information about housing options for individuals with mental illness is currently available on the 2-1-1 website.
Services for Individuals with Intellectual/Developmental Disabilities Experiencing Co-occurring Mental Health Conditions
Individuals with intellectual and other developmental disabilities (IDD) often experience mental health conditions as well as the harmful consequences of trauma. Analysis of recent data from the National Core Indicators suggests that approximately 34% of adults living with IDD also have a co-occurring mental health condition. People with IDD experience abuse, neglect, exploitation, isolation, institutionalization, bullying, restraint, seclusion, violence, and other forms of trauma, yet rarely are IDD or special education systems and policies built on recovery and trauma-informed principles. Goals and objectives of these systems rarely address mental wellness. While we know that recovery from mental illness and trauma is possible, the developmental disabilities too often overshadow attention to possible mental health conditions or any consideration of the impact of past trauma.
Depression and anxiety seem to be two of the most frequently identified mental health conditions in people with IDD but are certainly not the only ones. Research has also indicated an over-representation of schizophrenia in people with IDD compared to the general population. Post-traumatic stress disorder (PTSD) has also been identified as a significant cause of mental health concerns in people living with IDD. Studies indicate that individuals with reduced developmental levels are more at risk for experiencing PTSD and that their PTSD symptoms can be more severe.
There can be challenges associated with assessing and treating individuals with IDD who experience mental health conditions such as communication differences, time required for assessment, lack of mental health providers who understand the IDD population, limited resources, professional biases, overuse of pharmacology, and the lack of consideration of people with IDD when developing state mental health policies. The challenges, however, are not insurmountable and both the state and national dialogue indicate a recognition of the need to take action.
Texas is beginning to understand the current gap in our systems of supports and services for individuals with IDD living with co-occurring mental health conditions. HB 2789 (84th, Raymond/Zaffirini) required web-based trauma-informed care training for new employees hired at state supported living centers and intermediate care facilities for people with intellectual disabilities. As a result of the legislation, the Department of Aging and Disability Services and the Department of State Health Services developed a series of web-based training modules designed to help families and providers consider the mental health and wellness support needs of individuals with IDD as opposed to limiting their efforts to managing "challenging behaviors." Efforts have also been made in Texas to address the need for crisis intervention services for individuals with IDD experiencing a mental health crisis. This is a start, but does not address the inability of individuals with IDD to access quality mental health treatment and supports that could prevent a crisis.
As a result of Sunset legislation passed during the 84th Texas Legislative Session, the health and human services system is being re-structured and one of the changes combines IDD and mental health services in one division. Additionally, new HHS divisions will have units devoted to cross-division coordination. This offers opportunities to more comprehensively address the needs of the IDD population. At the same time, the state continues to expand the scope of health services included in the publicly-funded managed care system. The resulting integration of services will also offer opportunities for more holistic supports for individuals with IDD.
Recently the Hogg Foundation for Mental Health partnered with the National Child Traumatic Stress Network (NCTSN) to develop a training toolkit, Road to Recovery: Supporting Children with Intellectual and Developmental Disabilities Who Have Experienced Trauma. The toolkit was developed over two years with the guidance of national mental health experts and IDD experts. It is designed to be a two-day, train-the-trainer resource and is available free of charge.
The dearth of mental health services and supports for individuals with IDD requires ongoing efforts at the national, state, and local levels. Efforts to increase awareness, build capacity, and increase access to quality mental health services should be part of the state's overall mental health plan.
Health and Human Services System Transformation 
The Health and Human Services Commission and the HHS system are currently undergoing significant reorganization. Prior to the 84th session, the Texas Sunset Advisory Commission performed a comprehensive review of the system and recommended that the legislature consolidate agencies in order to improve efficiency and service delivery. The 2014 Sunset Commission recommended further consolidation as a step toward achieving the state's 2003 vision for efficient, streamlined health and human services. According to the 2014 Sunset Commission, further system reorganization was also necessitated by recent developments in Texas healthcare, such as the transition to Medicaid managed care, the integration of behavioral health services into managed care, and the implementation of the federal Affordable Care Act (ACA).
Informed by the commission's recommendations, the 84th Legislature directed the transfer of behavioral health and regulatory functions previously administered by DSHS and DFPS to HHSC, as well as a complete transfer of services and the ultimate elimination of DADS and DARS as separate entities. The 84th Texas Legislature directed a reorganization of the entire HHS system, requiring that many programs and services transfer to HHSC from the other four HHS agencies. Implementation began in 2015 and will continue over the course of several years, although the majority of the structural reorganization is expected to be complete by September 1, 2017.
In addition to the transformation, HHSC is implementing many legislative directives passed during the 84th Legislative Session that address a number of policy and program areas such as the Medicaid substance use benefit, network adequacy in Medicaid managed care, and the discontinuation of the NorthSTAR managed care program. The commission also continues to implement directives from the 83rd Legislative Session, such as integrating behavioral health services with Medicaid managed care.
Finally, as part of the transformation plan for health and human services, SB 200 (84th, Nelson/Price) created the new Division of Transformation, Policy and Performance within HHSC. Among other duties, the Policy and Performance Office is responsible for:
Evaluating current HHSC (and DSHS) performance measures,
Developing "new and refined" measures, and
Establishing targeted system-level measures that evaluate and communicate overall system performance.
HHS Transformation
During the 84th Legislative Session, the legislature adopted the Texas Sunset Commission's recommendation to reorganize the HHS enterprise (SB 200, 84th, Nelson/Price). The HHSC Sunset legislation requires the five HHS agencies to consolidate into three, discontinuing DARS and DADS and maintaining DSHS and DFPS as separate agencies until further legislative review in 2018.
Highlights
SB 200 (84th, Nelson/Price) directed the state to transfer many of the programs and functions currently housed across the four other HHS agencies over to HHSC.
Phase one of the transformation focused on reforming the enterprise's broader organizational structure, with major changes effective on September 1, 2016 and continuing through September 1, 2017.
Behavioral health programs at DSHS and DADS, as well as select client services at DARS, were transferred to HHSC; DARS was discontinued as a separate agency on September 1, 2016.
DARS general vocational rehabilitation services, vocational rehabilitation for individuals who are blind, Independent Living Services for older individuals who are blind, and Business Enterprises of Texas program was transferred to the Texas Workforce Commission on September 1, 2016.
Phase two will focus on reforming program operations within the new HHS structure.
Regulatory functions at DSHS, DADS, and DFPS, as well as operation of the state supported living centers (SSLCs) and the state hospitals, will transfer to HHSC by September 1, 2017.
DADS will be discontinued on September 1, 2017.
DSHS and DFPS will continue to operate as separate agencies, maintaining their public health and child protective services functions, until further legislative review in 2018.
In July 2016, the commission published a revised version of Health and Human Services System Transition Plan, outlining its plan for carrying out the transformation directives in SB 200. The timeline for the anticipated changes is shown in Figure 5.
Source: Texas Health and Human Services Commission. (2016). Health and Human Services system transition plan.
The reorganization of the HHS enterprise is occurring in two phases:
Phase One: Implemented on September 1, 2016, this phase focused on implementing broad structural changes to the HHS system. During this phase, HHSC facilitated the transfer of the majority of social and medical services into one HHSC division. The goal has been to transfer programs to HHSC in their entirety before attempting intra-program or intra-division organizational reform.
Phase Two: During this phase, the agency plans to transfer remaining regulatory and facility operations to HHSC. The transfer of programs and functions to HHSC is expected to be complete by September 1, 2017. During this phase, the agency will begin to pursue reorganization within core functional divisions or specific programs, as necessary.
The two-phase reorganization process is designed to minimize interruptions to client services during the transformation process.94 While the majority of the structural changes are expected to be complete by September 1, 2017, the agency expects that reorganization within divisions and programs will occur over the course of several years.
By September 1, 2018, the agency must, additionally, submit a report to the Texas Legislative Oversight Committee providing recommendations as to whether DSHS and DFPS should continue to operate as separate agencies or be merged into HHSC. For more information, see the Health and Human Services Transition Plan.
Discontinuation of Northstar
The HHSC Sunset legislation also requires the state to discontinue the NorthSTAR behavioral health demonstration project on December 31, 2016. Since 1999, the NorthSTAR program has provided behavioral health and substance use services to Medicaid-eligible clients in the Dallas area through a capitated payment system to one managed behavioral health care organization.
In 2014, the Sunset Commission found that NorthSTAR's behavioral health delivery system was outdated and inconsistent with Texas' systemwide efforts to integrate behavioral healthcare with other basic physical health services and Medicaid managed care. In its analysis of Senate Bill 200 (84th, Nelson/Price), the Texas House Research Organization reported that dismantling NorthSTAR would:
Produce cost-savings
Facilitate behavioral health integration efforts
Enhance access to federal funding
SB 200 adopted the Sunset Commission's recommendations, removing reference to the NorthSTAR program from statute. Medicaid-eligible NorthSTAR clients will receive their behavioral health care services through the same managed care organization that provides their physical health care. DSHS has established two Behavioral Health Authorities (BHAs) that will provide an alternative model for indigent care (mental health services for those not eligible for Medicaid). LifePath Systems and the North Texas Behavioral Health Authority (NTBHA) have been selected as the two BHAs in the region. These transitions become effective January, 1 2017. See the HHSC section for more information about NorthSTAR.
HHS Advisory Committee Reorganization
The HHSC Sunset legislation also directed important changes to the advisory committee structure in the HHS enterprise, eliminating 36 existing advisory committees from state statute while enabling the HHSC Executive Commissioner to establish new advisory committees in rule. Advisory committees play an important role in the HHS enterprise, providing the agency with feedback from clients, families and other stakeholders on specific issues.
In 2015, a cross-agency workgroup evaluated the 133 existing HHS advisory committees. Following a public input process, the workgroup submitted recommendations to the HHS Executive Commissioner on which advisory committees to keep, consolidate or dismantle. A list of the recreated advisory committees is available.
The HHSC Sunset legislation expressly directed HHSC to establish an advisory committee that would address behavioral health issues, and the Behavioral Health Advisory Committee held its inaugural meeting in January 2016. Its role is to provide recommendations to the HHS Executive Commissioner on how to promote cross-agency coordination, ensure access to and integration of services, and promote behavioral health wellness and recovery.
For a full listing of the Commissioner's final advisory committee recommendations, please see the Health and Human Services Transition Plan.
Austin State Hospital (ASH)-Austin State Supported Living Center (AUSSLC) Location Feasibility Study
The legislature continues to discuss the future of the Austin State Hospital (ASH) and Austin State Supported Living Center (AuSSLC). Both facilities have been recognized to have outdated infrastructure that can create unsafe conditions for residents and staff. As of October 11, 2016, 345 people were on the forensic waiting list for a state hospital bed, including 270 individuals on the maximum security wait list. State hospital bed availability has simply not kept pace with the growing population and need. Austin State Hospital (ASH) covers 30 counties, has 299 beds, and admits about 1600 people a year. Senate Bill 200 required HHSC to conduct a study to determine the feasibility, costs, and benefits of transferring operation of ASH from its current facilities to a new facility at a new location. Rep. Workman requested the inclusion of Austin State Supported Living Center (AuSSLC) in the study, which will examine the following options:
Consolidated ASH/AuSSLC facility at the existing ASH campus
Consolidated ASH/AuSSLC facility at the existing AuSSLC campus
Replacement ASH facility on other State-owned land
Replacement ASH facility on the existing ASH campus
Replacement ASH facility on a site not currently owned by the State
Replacement ASH and AuSSLC facilities on a site not currently owned by the State.
The final report was submitted to the Legislature in September 2016. It stated more research needs to be done before moving forward with a decision.
Behavioral Health Advisory Committee
The Behavioral Health Advisory Committee (BHAC) was created as a result of the HHSC review of all advisory committees. According to the advisory committee webpage, the BHAC is charged with providing "input to the health and human services system in the form of recommendations regarding the allocation and adequacy of behavioral health services and programs within the State of Texas." The recommendations of the committee are given to the executive commissioner for his consideration. The scope of the recommendations include:
The promotion of cross-agency coordination, state/local and public/private partnerships in the funding and delivery of behavioral health services;
The promotion of data-driven decision-making;
The prevention of behavioral health issues and the promotion of behavioral health wellness and recovery;
The integration of mental health and substance use disorder services in prevention, intervention, treatment, and recovery services and supports;
The integration of behavioral health services and supports with physical health service delivery;
Access to services and supports in urban, rural, and frontier areas of the state;
Access to services and supports to special populations;
Rules, policies, programs, initiatives, and grant proposals/awards for behavioral health services; and
The five-year behavioral health strategic plan and coordinating expenditure plan.
1115 Waiver: Texas Health Care Transformation and Quality Improvement Program
In December 2011, Texas was approved by the Centers for Medicare & Medicaid Services (CMS) for a waiver of certain federal Medicaid regulations under section 1115 of the Social Security Act. These waivers were designed to improve managed care delivery and access to services while maintaining supplemental payments to assist hospitals in covering the costs of uninsured patients during the initial implementation of the Affordable Care Act (ACA). Several parts of the 1115 waiver aim to improve primary healthcare services and coverage more generally (e.g. improving access to primary care physicians and chronic care management), but this section focuses specifically on the 1115 waiver's impact on improving behavioral health services.
The Texas Healthcare Transformation and Quality Improvement Program 1115 Waiver – commonly known as the "1115 Waiver" — has five main objectives:
Expand Medicaid managed care statewide
Develop and maintain a coordinated care delivery system
Improve health outcomes while containing costs
Leverage federal Medicaid match dollars with local and state funding
Transition health services to innovative, quality-based payment systems.
The Texas 1115 Waiver accomplishes these goals through the statewide expansion of Medicaid managed care through the STAR, STAR Kids and STAR+PLUS programs, and through the creation and utilization of two unique funding sources:
The Uncompensated Care (UC) pool, which replaces the Upper Payment Limit (UPL) program for reimbursing physicians and hospitals for Medicaid shortfalls and care provided to individuals who do not have third party coverage (i.e. health insurance).
The Delivery System Reform Incentive Payment (DSRIP) pool, which provides incentive payments to fund infrastructure improvements and test innovative models of healthcare delivery for Medicaid recipients and low-income, uninsured individuals.
The initial demonstration period for Texas' 1115 waiver was from September 2011 until September 2016. In September 2015, HHSC requested to extend the 1115 waiver for five years but that extension was denied by CMS. Then in May 2016, CMS authorized HHSC's request for a 15-month extension of the 1115 waiver, which will continue the program through December 2017.
The Uncompensated Care (UC) Pool
The UC Pool replaces Upper Payment Limit (UPL) funding for hospitals and physicians and allows them to receive payments for uncompensated care for lowincome Medicaid eligible patients and others who are uninsured. While payments through the 1115 waiver UC pool initially helped Texas cover gaps in healthcare coverage that resulted from the state's decision not to expand Medicaid under the Affordable Care Act, a policy passed by CMS in 2015 no longer allows for federal Medicaid funds to cover uncompensated care for individuals who would have been covered by statewide Medicaid expansion or a coverage waiver.
As of June 2015, Texas has paid out an estimated $11 billion in payments from the UC pool — $6.3 billion for private hospitals, $4.1 billion for public hospitals, $294.3 million for physician groups and $263 million for ambulances and groups of dental providers. With the 15-month extension of the 1115 waiver, roughly $2 billion of the funds received by hospitals from the UC pool will be from federal match dollars in 2016.
The Delivery System Reform Incentive Payments (DSRIP) Pool
The goal of the DSRIP pool is to transform healthcare delivery systems, improve individual and population health, and lower overall healthcare costs through efficiencies and innovations. The DSRIP pool incentivizes innovation by freeing providers from the constraints of traditional fee-for-service payments and reimbursing providers based on the quality of their services and their patient outcomes. In order to receive funding from the DSRIP pool, projects must meet their project-specific performance metrics. Metrics should demonstrate improved patient outcomes, quality improvement, and the development of project infrastructures through the expansion of space, hours, and staff. Providers report on these performance metrics twice per year in order to earn DSRIP payments.
The improvement of healthcare delivery systems through the DSRIP pool in Texas relies heavily on the 20 Regional Healthcare Partnerships (RHPs) across the state. RHPs are local collaborations that help to identify community needs and fund the state's portion of all waiver payments. The goal of RHPs is to address specific regional concerns through individualized DSRIP projects while providing an overarching framework that allows for improved coordination and resource sharing across regions. The counties and other local entities providing the state share of funds determine how their funds are used in the RHP, consistent with waiver requirements.
Figure 6 below shows a map of the 20 RHPs in charge of Texas' DSRIP programs.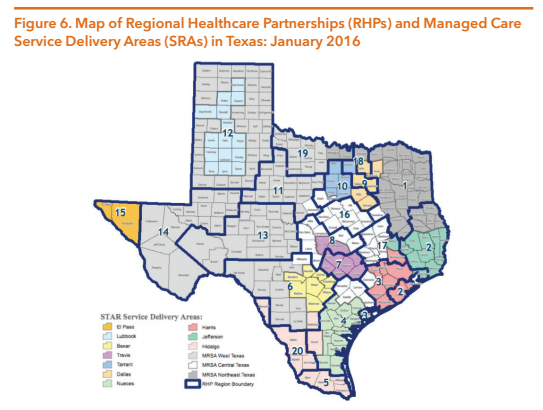 Source: Texas Health and Human Services Commission. (January 6, 2016). Texas: Regional Healthcare Partnerships (RHP) and Manages Care SDAs.
In order to be meet the requirements of the 1115 waiver, RHPs must choose DSRIP projects that make improvements within at least one of the following four categories:
Category 1: Infrastructure Development. "Lays the foundation for delivery system transformation through investments in technology, tools, and human resources that strengthen the ability of providers to serve populations and continuously improve services."
Category 2: Program Innovation and Redesign. "Includes the piloting, testing, and replicating of innovative care models, such as telemedicine, patient-centered medical home, and innovations in health promotion and disease prevention."
Category 3: Quality Improvements. "Assess the effectiveness of Category 1 and 2 interventions for improving outcomes in the Texas healthcare delivery system. Each project [in] Categories 1 and 2 has one or more associated outcome measures from Category 3."
Category 4: Population-Focused Improvements. "A series of reporting measures for a hospital to track the community-wide impact of delivery system reform investments. Required reporting includes data related to potentially preventable admissions, readmissions, and complications, patient-centered health care and emergency department utilization, with optional reporting of core healthcare quality measures for children and adults."
As of May 2015, there were 1,458 active DSRIP programs in Texas operated by 298 distinct providers across the state's 20 RHPs.122 Local mental health authorities (LMHAs) are the most common type of providers for DSRIP services, operating 340 different DSRIP projects, but hospitals, physician groups and local health departments also serve as providers for many DSRIP projects. 123,124 As of April 2016, DSRIP programs in Texas have received approximately $7.1 billion in total payments as a result of meeting their pre-determined, program-specific success metrics.
Behavioral health services have been targeted for significant expansion under the 1115 waiver. Texas prioritized behavioral health for its 1115 waiver by reserving 10 percent of DSRIP funds for community mental health centers (LMHAs) and including several behavioral health projects in the DSRIP menu. DSRIP 1115 waiver projects related to behavioral health account for approximately one third (472) of all DSRIPs, with 46 of those projects focused specifically on providing children and adolescents with improved behavioral health services. The 1115 waiver also creates the option for local communities to expand behavioral health services without conforming to the narrow eligibility requirements that exist for state-funded LMHA services.
Examples of current behavioral health DSRIP projects include:
Improved and expanded crisis intervention (e.g. rapid response teams, psychiatric extended observation and stabilization units, and trainings for mental health deputies)
Integration of behavioral health services with primary care (e.g. including behavioral health in obstetrics outpatient services to treat postpartum depression)
Expansion of peer support services and early intervention programs
Expanding community treatment options so that individuals experiencing a psychiatric crisis are not unnecessarily put into emergency rooms, state hospitals, prisons or jails
Improved recovery programs that provide supportive services to increase compliance and success (e.g. transportation and meals to help individuals at a homeless shelter stay engaged and involved in their recovery)
Expansion of providing behavioral health services through telemedicine/telehealth
Implementation of the Family Preservation Program to provide continuity of care services for children at risk for out-of-home placements or who are returning to the community after a stay at an inpatient psychiatric hospital.
Funding for Texas' 1115 Waiver
For the first five years of the 1115 waiver, funds totaled $29 billion ($17.6 billion from the UC pool and $11.4 billion from the DSRIP pool). The UC and DSRIP pools in the Texas 1115 waiver have an annual budget of roughly $6 billion, including $4 billion a year in federal matching funds and $2 billion from Intergovernmental Transfers (IGT) and other local sources, such as taxpayer money.
As a result of DSHS Rider 59 in the 2016-2017 General Appropriations Act (and Rider 79 in the previous legislative session), community mental health centers (LMHAs) are now required to use GR funds appropriated by the state to draw down federal funds through the DSRIP pool whenever possible. In FY 2014 and 2015, LMHAs leveraged roughly $219 million in GR appropriations and $55.5 million in local funds to draw down $385.1 million in federal funding for behavioral health services provided through the DSRIP pool.
The 15-month extension of the 1115 waiver kept the same funding structure of the initial five-year demonstration in place, with $3.1 billion available for each pool (i.e. DSRIP and UC) in the first 12 months of the extension. Both pools will receive a prorated amount for the final three months at the end of the extension. However, CMS clearly stated in their approval of Texas' extension that the UC pool cannot be used to cover services that would have been covered had Texas expanded Medicaid under the ACA. CMS also stated that HHSC must work with the agency during the extension to develop a viable long-term plan.
Cost Savings and Outcomes of DSRIP Projects Under the 1115 Waiver
While there is some initial data available on the effectiveness and impact of DSRIP projects, more will be known about the efficacy and success of these projects as the initial demonstration period comes to a close in 2017. Examples of performance metrics for behavioral health projects include:
Reductions in admissions and readmissions into the criminal justice system
Reductions in emergency department visits
Improved quality of life and overall functioning.
While program-wide outcomes data is still forthcoming, there is some qualitative data available about the impact that DSRIP projects are having on the lives of individuals who are enrolled in services. One DSRIP project in Austin-Travis County that expands access to mobile psychiatric crisis units has successfully diverted roughly 90 percent of the individuals they have served from entering into the criminal justice system. In another DSRIP project focused on integrating behavioral health services with primary care in RHP 1, one primary care physician expressed that the program has helped them to better recognize their clients' behavioral health needs — "[I'd] been treating this patient for years and never knew he was depressed. Because of our integration project, I learned he was suicidal and was able to get him treatment. DSRIP has changed how I practice medicine."
Because reimbursements for DSRIP projects are tied to achieving specific patient-centered metrics, the financial success of these projects also signals improvements at the individual level. For example, behavioral health-related DSRIP projects earned roughly $1.7 billion in incentive payments as of January 2016 and are expected to earn an additional $1 billion in incentive payments by 2017. These incentive payments come from meeting project-specific benchmarks, for instance successfully reducing the number of psychiatric hospital readmissions within 30 days of discharge or reductions in the use of emergency rooms for treating psychiatric needs. In the initial five-year demonstration of the 1115 waiver, Texas yielded an overall expected costs savings of $8.65 billion, coming from things such as reductions in pre-term births, diverting individuals from incarceration or unnecessary emergency room visits.
In terms of expanding access to care, funds from the 1115 waiver provided behavioral health services for 50,350 new clients and enhanced services for 23,728 clients in year three of the waiver demonstration (October 2013 to September 2014). In that same time period, DSRIP projects altogether provided more than 2 million separate patient encounters that were not being provided before the 1115 waiver began.
At the systems level, DSRIP projects have improved collaboration between different RHPs and DSRIP providers, allowing them to increase efficiency by sharing information on best practices and barriers to implementation. As a result of the 1115 waiver's DSRIP projects, there has been a 25 percent increase in the number of "collaborative inter-organization relationships" across the state's 20 RHPs. The 400+ behavior health-related DSRIPs have increased collaboration and resource sharing between LMHAs, hospitals, and other community providers. DSRIP projects have improved the mental health outcomes of thousands of Texans and laid the foundation for developing important community partnerships. However, as the 1115 extension approval letter from CMS explains, the 1115 waiver is not a permanent solution to Texas' shortcomings in providing behavioral health services and more long-term plans for coverage must be made.
Telemedicine and Telehealth Services
Telemedicine and telehealth services generally refer to medical services or treatments that are provided to distant locations using advanced telecommunication technologies (e.g. interactive digital video conferencing programs like Skype) to remotely connect a patient with a doctor or other health professional. According to Texas statutes, telemedicine services are provided by physicians or other health professionals acting under a physician's delegation while telehealth services can be delivered by a number of different licensed or certified health professionals acting within the scope of their license or certification (e.g. Licensed Professional Counselors (LPC), Licensed Clinical Social Workers (LCWS), or Psychologists).
In Texas, behavioral health services provided via telemedicine/telehealth include:
Psychiatric diagnostic evaluations
Psychotherapy (with an individual and/or their family)
Office visits
Other outpatient visits including counseling, coordination of care with other physicians and decision-making
Inpatient consultation, pharmacologic management and medication review
The legislative push for the approval of telemedicine medical services in Texas began in 1995. Interest in telemedicine services waned in the early 2000s but in recent years, legislators have shown a renewed interest in funding and expanding telemedicine and telehealth options. The following telemedicine/telehealth bills were passed in 2015:
HB 1878 (84th, Laubenberg/Taylor) — ensures reimbursement for physicians providing telemedicine services to children in primary or secondary school-based settings.
SB 200 (84th, Nelson/Price) — abolished the telemedicine and telehealth advisory committee and transferred all duties within DADS and DARS to HHSC (as part of the larger Health and Human Services Transformation).
HB 2641 (84th, Zerwas/Schwertner) — extends Medicaid reimbursement for home telemonitoring services (e.g. remote monitoring to determine compliance with psychotropic medications) until September 1, 2019. HB 2641 also adds patients with "mental illness or serious emotional disturbance" as eligible for telemonitoring services.
Both Medicaid and Medicare now view telemedicine and telehealth services as costeffective alternatives to traditional face-to-face appointments in a doctor's office.156 As Figure 7 shows, telemedicine and telehealth services have become increasingly popular in Texas over the last eight to ten years.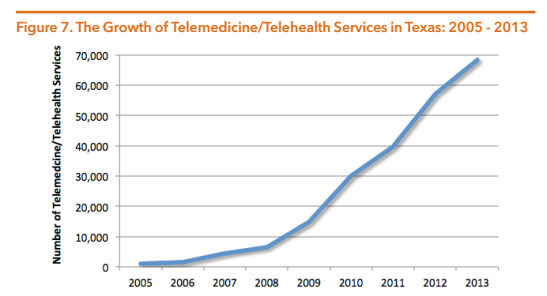 Source: Texas Health and Human Services Commission. (December 1, 2014). Telemedicine, Telehealth and Home Telemonitoring Texas Medicaid Services. Pages C1-C3.
Benefits of Telemedicine and Telehealth Services
Research indicates four main ways in which telemedicine and telehealth can help improve behavioral health treatment and increase access to care:
Quicker and easier access to a wider array of healthcare services and mental health specialists
Improved and expanded televideo mental health trainings for providers in rural areas
More equitable geographic distribution of healthcare workforce and specialist skills
Cost savings for patients, private health insurers, and public health programs such as Medicaid through increased efficiencies, fewer redundancies, and earlier interventions during (or before) mental health crises.
Telemedicine is increasingly being pursued as a solution to help alleviate access to care challenges experienced by certain marginalized groups. For instance, there is a national shortage of geriatric mental health care providers, and geriatric consumers traditionally have difficulties with transportation to and from medical appointments. Telemedicine can help geriatric consumers in rural areas better connect with the few geriatric specialists that exist. Telemedicine is also being used as a method to help solve some of the transportation and access to quality care issues experienced by individuals living in rural areas or for individuals who have mobility issues or visual impairments. While expanding access to telemedicine and telehealth services does not add any new mental health workers to the field, it can help to more equitably and efficiently redistribute the specialist skill sets that are currently available in the workforce.
Teladoc Lawsuit Against Texas Medical Board
The Texas Medical Board (TMB) recently adopted an "emergency" rule requiring physicians to meet with a patient face-to-face before providing any prescriptions or telemedicine/telehealth services. The telemedicine company Teladoc has since filed an anti-trust lawsuit against the TMB, alleging that the new rules restrict Teladoc's ability to establish initial patient-client relationship via telephone and compete with other healthcare providers on the price and quality of their services. On September 9, 2016, the Federal Trade Commission sent a letter to the U.S. 5th Circuit Court, criticizing the Texas Medical Board for allegedly "misinterpreting case law". According  to the Texas Tribune, the state  has asked the appeals court to throw out Teladoc's lawsuit, and federal regulators urged the court not to on September 9, 2016. The federal regulators stated that the Texas Medical Board "failed to show that any disinterested state official ever substantially reviewed the telemedicine rules to determine whether the rules promote a clearly articulated state policy to displace competition rather than the private interests of active market participants".
Texas Dual Eligible Integrated Care Project 
In an effort to address the concerns of the fragmented system that people who qualify for Medicaid and Medicare (also known as "dual eligibles") have to navigate, the Centers for Medicare & Medicaid Services (CMS) worked with states to test models focused on aligning the financing of the two systems and integrating primary, acute, behavioral health, and long-term services and supports for dual eligible individuals. Texas was one of thirteen states that offered this demonstration project to dual eligible individuals.
On May 23, 2014, Texas and CMS entered a partnership to test a new model intended to better coordinate and provide a more person-centered care experience for dual eligible individuals, called "Texas Dual Eligibles Integrated Care Demonstration." Texas and CMS contracted with managed care organizations to work toward the goal of more enhanced, coordinated system for fully dual eligible individuals who reside in specific parts of the state. The demonstration project began on April 1, 2015 and served individuals from the following counties: Bexar, Dallas, El Paso, Harris, Hidalgo, and Tarrant. Individuals in six demonstration counties were passively enrolled into a Medicare-Medicaid plan, following a notification process. Individuals received a letter that explained the project and identified which plans the individual would be enrolled in if there was no action was taken (known as "passive enrollment"). Each plan within the demonstration project provides the individual the full array of both Medicaid and Medicare services, including the integration of both acute care and long term services and supports. Figure 8 details the participating counties, with the number of individuals served and the health plans available in each county.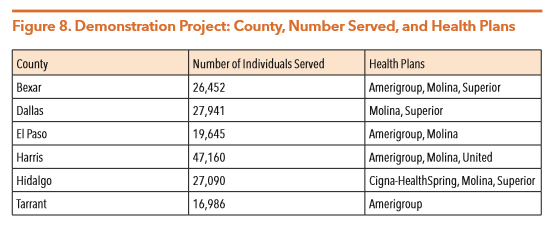 Source: Texas Health and Human Services Commission. (2016). Texas Dual Eligible Integrated Care Project.
HHSC identified the following objectives for the project:
Make it easier for individuals served to get care.
Promote independence in the community.
Eliminate cost shifting between Medicare and Medicaid.
Achieve cost savings for the state and federal government through improvements in care and coordination.
Starting early 2017, the program will make a few changes related to passive enrollment and rapid re-enrollment. HHSC has announced that the program will restart monthly passive enrollment (rather than yearly enrollment) in early 2017. HHSC also announced that the program will begin rapid re-enrollment providing the option to rapidly re-enroll an individual back into their health plan if they regain Medicaid eligibility within sixty days from the effect date of disenrollment. This change allows an eligible individual who loses Medicaid, but regains eligibility quickly (no more than sixty days from the effective date of disenrollment) to be rapidly re-enrolled back into their original health plan. HHSC stated that this option would promote continuity of care for the individual and limit how many times the individual would be moved from one plan to the other.
In September of 2015, HHSC sent a letter of intent to CMS asking to extend the demonstration for an additional two years. The original end date of the demonstration project was December 2018 but is now extended to 2020. The most up-to-date information on the Dual Eligible Integrated Care Project is available on the HHSC website.
Children's Services: YES Waiver, Star-Kids, and Star-Health 
Children in Texas receive a range of behavioral health services in various settings, from behavioral skills training in school classrooms and juvenile detention centers to psychiatric counseling in community-based clinics or in psychiatric hospitals. While the chapters throughout this guide will give in-depth descriptions of all the behavioral health programs and services within Texas' state agencies, this section will discuss three specific child mental health initiatives that are being implemented across the state:
Youth Empowerment Services (YES) Waiver
STAR Health
STAR Kids
YES Waiver
Youth Empowerment Services (YES) is a Medicaid 1915(c) home and community-based waiver program for children ages 3 to 19 years old. The goal of the YES Waiver is to reduce Medicaid psychiatric hospital expenses, voluntary parental relinquishments to obtain care, and out-of-home placement for children with serious emotional disturbance by providing a full range of Medicaid services, non-traditional services and family supports. The YES waiver program offers an alternative to inpatient treatment by providing individualized and coordinated community-based care for youth with particularly complex or severe behavioral health needs, regardless of family incomes. YES Waiver services are particularly effective for youth who do not respond well to traditional outpatient services and might have better success through innovative treatments, such as intensive in-home support or specialized therapies.
HHSC contracts with local mental health authorities (LMHAs) and other community service providers to ensure all required YES waiver services are available (e.g. case management, respite service and non-medical transportation). The YES Waiver program was approved for statewide expansion during the 84th legislative session (Rider 60) and as of September 2015, every LMHA in Texas is providing YES Waiver services to individuals across the state. HHSC is currently in the process of applying a YES Waiver amendment (Amendment #9) that would make children who are in state conservatorship eligible to receive YES Waiver services. Get up-to-date information on the status of YES Waiver amendments.
For more in-depth information on the YES Waiver, see the HHSC chapter in this guide.
STAR Kids
STAR Kids is a new Medicaid managed care program designed specifically for children and young adults under the age of 21 who have disabilities. STAR Kids provides a range of services for enrollees, including acute and community-based services as well as long-term services and supports (LTSS). An essential component of the STAR Kids program is that everyone receives a standard screening assessment during enrollment and has their individualized care plan monitored and updated based on their needs and ongoing response to treatment. Eligibility for specific services within STAR Kids is dependent upon other services the individual receives:
Individuals will receive basic health services and limited LTSS services through STAR Kids if they already receive Community Living Assistance and Support Services (CLASS), Deaf Blind with Multiples Disabilities (DBMD), Home and Community-based Services (HCS), Texas Home Living (TxHml), or YES Waiver services.
Individuals will receive basic health services and all of their LTSS services through STAR Kids if they are enrolled in the Medically Dependent Children Program (MDCP) or if they receive Social Security Income (SSI).
Because it is a managed care program, STAR Kids members have the option to pick their health plan provider based on what services and providers are included in each health plan. The STAR Kids program began enrollment in Summer 2016 and started providing services to consumers on November 1, 2016.
STAR Health
The STAR Health program was created in 2008 to provide children in foster care with primary care and behavioral health services using a managed care delivery model. STAR Health requires that each child in foster care has access to primary care physicians, behavioral health clinicians, specialists, dentists, vision services, pharmaceuticals, and more. STAR Health is designed to provide more comprehensive and coordinated services by improving the continuity of care through streamlined eligibility and accessibility.
Another benefit of the STAR Health program is the "Health Passport," which allows medical providers and certain family members to access medical and dental records for a child in foster care through one central location. Historically, the lack of a central medical records system for children in DFPS care created serious problems such as the over-prescription of medications or the sudden discontinuation of medications when a child's placement changed. The Health Passport follows children wherever they go so that every caregiver, DFPS staff member and medical professional working with a child has a full understanding of his or her past and current treatments and can access that information in one central, easy-to-find location. While the Health Passport is not a full and complete medical record, it provides claims data on pharmacy, dental, vision, physical, and behavioral health services provided to each child.
Superior Health Plan contracted with the state to run STAR Health and has been operating the program since its inception. In FY 2014, 30,732 children were enrolled in STAR Health (including those in kinship care, foster youth up to age 22, and former foster youth receiving transitional Medicaid services).
NEXT SECTION: NATIONAL CONTEXT
DOWNLOAD A PDF OF THE FULL GUIDE