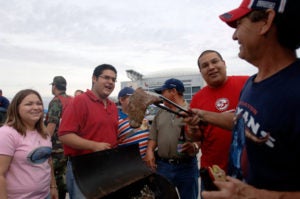 The Hogg Foundation invites eligible organizations in Texas to submit letters of interest for our new grant project: Collaborative Approaches to Well-Being in Rural Communities. The goal of this project is to support rural communities in their efforts to inclusively and collaboratively transform the environments where people live, learn, work, play and pray to support resilience, mental health, and well-being. The foundation plans to award up to five grants totaling $2 million. The foundation also plans to fund a separate coordinator grant to facilitate technical assistance and evaluation for the grantees, and to assist the foundation in thoughtfully partnering with and learning alongside grantees.
The Need
As our population evolves to be more ethnically diverse, efforts must be made to address mental health needs in ways that recognize and are sensitive to individual cultural experiences. This new initiative addresses a lack of understanding of how communities support mental health, the significant inequities that exist in Texas, the community conditions that contribute to mental health disparities, and how people come together to create and implement community-driven solutions.
People in Texas experience more mental health challenges as a result of differential exposure to community conditions that negatively influence health and well-being. These conditions, including social, environmental and economic factors, often stem from structural and historic differences in power and resources. This is exacerbated by information associating mental health and violence, and opportunities exist to address this stigma and misperception in community settings.
Our Approach
Grantees of this project are expected to develop or build on a community collaborative that engages diverse stakeholders and traditionally excluded groups in meaningful ways. Each collaborative will develop strategies to become a healthier community that supports resilience, mental health and well-being. With a population health approach to address specific conditions that contribute to mental health disparities, each collaborative will determine an effective path toward health equity and community wellness, tailored to the needs and resources of their region.
Nonprofit organizations, governmental entities and institutions of higher education in Texas are eligible to submit a letter of interest. Applicants must be Texas-based and have offices, chapters or affiliates in rural Texas.
This funding opportunity closed in March 2018.