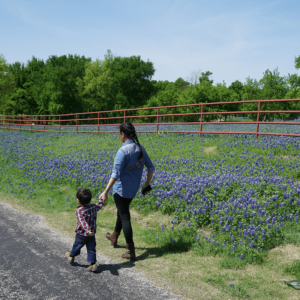 The Hogg Foundation for Mental Health is pleased to announce $4.5 million in grants to six Texas organizations to support collaborative approaches to well-being in rural communities. The grants will strengthen efforts to transform the environments where people live, learn, work, play and pray, bringing a population health approach to support resilience, mental health and well-being.
The initiative grows out of the foundation's new strategic direction, which is shifting from a primary focus on individual mental illness to the upstream or root causes of poor mental health at the community and systems level. It recognizes that community-based approaches are necessary to make a lasting transformation in mental health and well-being.
Five organizations were awarded $410,000 each to create or build on an existing community collaborative. The collaboratives consist of key stakeholders from across sectors, including people who have been historically excluded from community decision-making processes, who are developing and/or delivering strategies to move their community toward greater well-being. A sixth organization, Alliance for Greater Works, received grant funding to provide coordination for the initiative.
The six grantees are:
"We were extremely impressed with the quality and innovativeness of the proposals submitted by over 60 rural communities from across the state," said Dr. Octavio N. Martinez, Jr., executive director of the Hogg Foundation. "It was a challenge to select only five communities to embark on this new partnership."
Not only does the new initiative focus on rural communities, but the projects are designed to ensure the participation of historically excluded groups (on the basis of race, gender, sexual orientation, disability, socioeconomic status, geography, etc.) at every crucial phase. Each grantee has considerable flexibility in developing their collaborative and approach, but all applicants had to demonstrate a commitment to shared learning, provide detailed plans for community inclusion and participation, and address the need for inclusive leadership that does not reproduce existing inequities.
"We're not just excited about the grantees' plans, but also the opportunity to pilot new approaches to collaboration, shared learning and technical assistance across all of the different projects," said Tammy Heinz, project lead and program officer and consumer and family liaison for the Hogg Foundation. "The beauty of this is that as each grantee succeeds, we all raise our game."
"This isn't just more money to do more of the same things," said Rick Ybarra, program officer for the Hogg Foundation. "The hope is that these grantees will pioneer new approaches to resilience, mental health and well-being that we can all learn from."
Learn more about the foundation's new focus on collaborative approaches to mental health.
Making Mental Health a Collaborative Effort
With the rise of collaborative philanthropy comes the need to determine what makes collaboration effective. Katy Bourgeois of Mission Capital and Tammy Heinz of the Hogg Foundation talk about the complexities of collaborative work.
Strategic Focus on Communities and Collaboration
In recognition of the complex and systemic nature of the barriers to mental health, the Hogg Foundation addresses these challenges through the core strategies of Shared Inquiry, Community Implementation, and Policy Engagement.