This post was guest authored by Ravi Chandra, M.D. Go here for a full bio.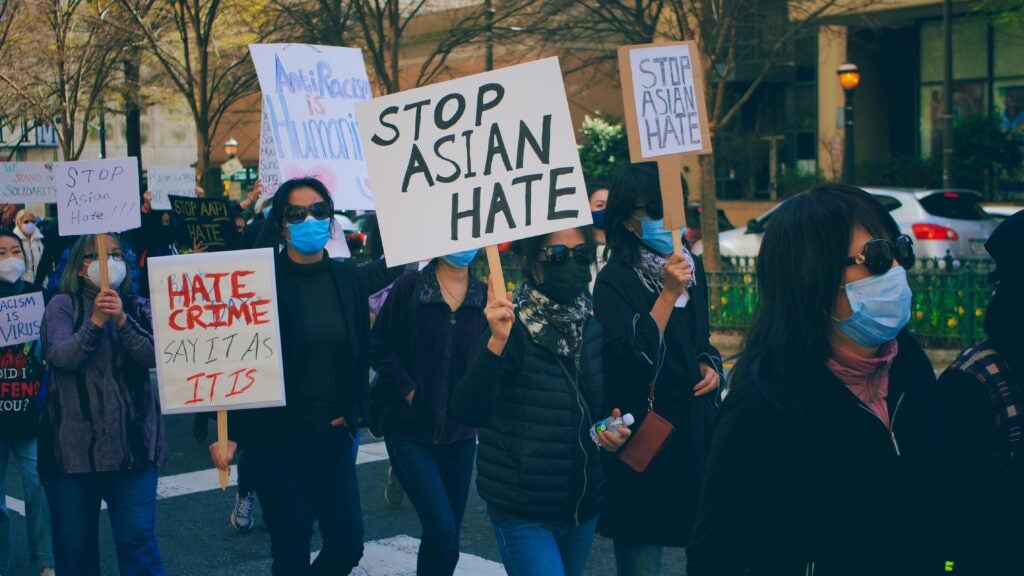 May is Asian American Heritage Month (and simultaneously Mental Health Awareness Month), and today, May 10th, marks the beginning of Mental Health Awareness Week. We arrive at this moment with histories, with individual and collective suffering, and with mixed emotions about the times. There have been over 4000 documented incidents of verbal and physical hatred directed against Asian Americans since March 2020. Women, elders and youth have been disproportionately impacted. By my count, at least 16 Asian Americans have been killed over the past year. Mass shootings in Atlanta and Indianapolis last month made national news and roiled our communities. Asian Americans have been spat on while walking down the street, slashed with knives, beaten with hammers. 19-year-old Chinese American Christian Hall was killed by police in Monroe, Pennsylvania while suffering a mental health crisis. He had a "realistic looking pellet gun" in his waistband, and was suicidal. After officers fired a round of bullets, he put his hands in the air. Officers fired a second round, striking and killing him. 30-year-old Filipino American Angel Quinto of Antioch, California, died three days after police subdued him with a chokehold, their knees to the back of his neck. He, like Hall, was suffering a mental health crisis.
We are not ok.
This country was not exactly founded on principles of non-violence or respect for diverse identities, including those with mental health challenges. We have an outrageous gun-exalting culture. In 2020, there were 19,379 deaths by gun violence and an additional 24,090 gun suicides, a sharp increase over previous years. There have been over 180 mass shootings in 2021. That's three mass shootings every two days this year. How many have you heard about? How many people have been traumatized, bystanders and victims? Many, if not most of these deaths and incidents would likely have been preventable with common sense, constitutional gun regulations which a large majority of both all Americans and gun owners support, according to the Pew Research Center. The Treatment Advocacy Center reported in 2015 that 25-50 percent of police killings involved people with mental illness. This is not a just or safe society for our community members with mental health conditions. The mental health of Asian Americans, just like all Americans, is affected by the prevalence of violence in our society.
Perpetual Foreigners
Two thirds of Asian Americans are immigrants or children of immigrants, but our history on this continent dates to 1587. This history is marked with extreme violence and discrimination, including one of the largest mass lynchings in US history, the unjust imprisonment and incarceration of Japanese Americans and Japanese Latin Americans during World War II, the Chinese Exclusion Act and other racist barriers on our immigration. We have been seen as "perpetual foreigners," not fully American. We have been valorized as "model minorities," thus erasing and marginalizing our suffering and intergenerational trauma, and using us as a wedge and critique of other minority groups. We have been practically invisible in the popular culture until relatively recently, and all-too-often stereotyped and distorted when we did appear. We have not been fully emancipated from America's hierarchies of skin color. Whenever America has perceived itself "in conflict" with any part of Asia, Asian Americans have paid the price in hate crimes, rhetoric from religious and political leaders, and communal anguish. This happened after 9-11, and it is happening during this pandemic. America's not-so-hidden motto in tough times can be "I'm not happy, and that's someone else's fault."
It's not rational, it doesn't make sense, but we must contend with it. It's true that our relationships are damaged, and that all suffering is a crisis in connection. But blaming and targeting vulnerable people, whether it's Asian American women, elders and youth, or mentally ill people, is a cowardly act of domination and primitive vengeance. Personal and social strength comes from protecting and lifting up the vulnerable. And ultimately, we must recognize that we are all vulnerable, though some much more so than others. COVID has been an example of this reality.
Vulnerability and Resilience
We are vulnerable as human beings. How can we work with our vulnerability to enhance resilience?
Asia is historically known for philosophies which emphasize understanding suffering and the inner life. These have been translated into secular culture, and enhanced by scientific research, including the pioneering research done by Dr. Kristin Neff at The University of Texas at Austin. Mindful Self-Compassion has been shown to decrease depression, anxiety, emotional avoidance, stress and shame, and is strongly linked to positive states such as happiness, life satisfaction, social connectedness and optimism. Self-compassion is being integrated into education, psychotherapy, health care and other areas. My view is that Americans, broadly speaking, need more skills to work with difficult emotions and vulnerability. Self-compassion helps us navigate the difficult emotions that arise when we are disconnected internally or in our relationships. It's been an essential tool for me as a psychiatrist.
We are all on journeys of identity, belonging and wellness, and our journeys are connected. We all need safety, and strive for survival. We cannot allow times of tension, change and distress to lead directly to loss of life. As I've written before, "our identities are the ache of the world trying to have a new experience." I hope someday we can celebrate not just Asian American Heritage Month, but also "futures month" for the entire country, where we can envision a world with less suffering, more compassion, more wisdom, and more possibilities for us all.
Ravi Chandra, M.D. is a psychiatrist, writer and compassion educator in San Francisco. He is a Distinguished Fellow of the American Psychiatric Association and writes for Psychology Today as well as East Wind eZine. Facebuddha: Transcendence in the Age of Social Networks is his full-length nonfiction debut and is the winner of the 2017 Nautilus Silver Book Award for Religion/Spirituality of Eastern Thought. He is also the founder of SF Love Dojo, an organization teaching compassion and self-compassion. His documentary, The Bandaged Place: From AIDS to COVID to Racial Justice, will premiere at the Queens World Film Festival in June 2021. Details about his work can be found at RaviChandraMD.com, and you can also find him on Twitter, Facebook, Instagram, YouTube, or SoundCloud.