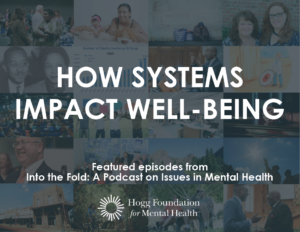 Recently, the Hogg Foundation published the 100th episode of our podcast, Into the Fold:  Issues in Mental Health! Launched in 2014, the podcast served as a new way to share the human implications of our grantmaking, and the experiences related to mental health broadly. Through interviews and thought-provoking dialogue, the podcast also highlights the challenges and achievements of mental health advocates, policymakers, service providers, researchers, persons with lived experience, and foundation staff.
As our podcast's host, I have had the privilege of being in a "front row seat" as these conversations unfolded. Today, we begin a blog series to showcase a variety of our favorite episodes, grouped by topic. Stay tuned for future posts highlighting episode themes of Belonging and Inclusion, Recovery, Community Well-being, Mental Health Then and Now, and Wisdom for Today.
Note: Short on time? A written summary is provided for most of our podcast episodes.
Start Listening: How Systems Impact Well-being 
A central goal of the podcast is to inform listeners about the connections between mental health and the larger systems we interact with every day, like schools, health centers and justice systems. In these episodes, extraordinary individuals address the various settings and circumstances in which we find ourselves and discuss their effects on mental health and well-being.
Episode 70: Designing for Mental Health
Design is all about learning while doing and learning from consumer experience. In this episode, Kat Jones of the Design Institute for Health at The University of Texas at Austin's Dell Medical School explains how design thinking in the clinical setting can transform mental health.
Episode 1: Youth in Transition
Our inaugural episode! LaQuinton Wagner, then a youth consultant for Texas Network of Youth Services, opens up about his experiences in the foster care system, and how he found his voice as an advocate in the years since he transitioned out of that system.
Episode 27: Child Welfare in Texas
In 2016, the child welfare system in Texas came under legal scrutiny thanks to a federal court ruling which found the state's foster care system so inadequate as to be unconstitutional. In this episode, F. Scott McCown, clinical professor at The University of Texas School of Law and a former member of our  National Advisory Council, talks about the need for reform.
Episode 28: Jail and Mental Health
The tragic death of Sandra Bland in 2015 brought a swirl of attention to the issue of jail and mental health. Across the country, people who desperately need psychiatric services sit in local and county lock-ups because they can't afford bail. In this episode, Diana Claitor of the Texas Jail Project offers her perspective on the issue. Then, hear an eye-opening account from a woman in Texas whose boyfriend, a veteran with posttraumatic stress disorder, had been in a Collin County jail for more than 18 months.
Episode 66: Moving Upstream: How Funders Can Address Root Causes
Funders often talk about the impact their grantmaking has on people and communities, but it works both ways: difference-making organizations are transformed by their engagement with communities. Using the Collaborative Approaches to Well-being in Rural Communities grant initiative as a backdrop, Hogg Foundation program officers Tammy Heinz and Rick Ybarra talk about what mutual transformation looks like for both individuals and organizations.
New to the show? Subscribe to the podcast email to receive a notification in your inbox each time we have a new episode. Happy listening!