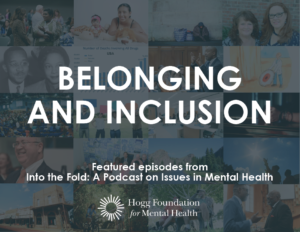 Recently, the Hogg Foundation published the 100th episode of our podcast, Into the Fold: Issues in Mental Health. Launched in 2014, the podcast served as a new way to share the human implications of our grantmaking, and the experiences related to mental health broadly. Through interviews and thought-provoking dialogue, the podcast also highlights the challenges and achievements of mental health advocates, policymakers, service providers, researchers, persons with lived experience, and foundation staff.
Today we continue our blog series showcasing a variety of our favorite podcast episodes. Check out the first in this series for conversations about the impact of our everyday systems on well-being, and stay tuned for future posts highlighting episodes related to Recovery, Community Well-being, Mental Health Then and Now, and Wisdom for Today.
Note: Short on time? A written summary is provided for most of our podcast episodes. 
Start Listening: On Belonging and Inclusion 
Mental health is fundamentally connected to social change. To make progress, we must own up to histories of exclusion and inequality that have a direct and measurable impact on the well-being of diverse people and communities. In the episodes below, guests give light to the need to create a more just world that promotes the mental health of all people, with a focus on historically excluded or marginalized populations.
Episode 100: Black Lives Matter
In our milestone 100th episode, returning guests Christen Smith, Ryan Sutton, and Latasha Taylor discuss the impact of police brutality on African American mental health and ways non- Black allies can best support their friends and the Black Lives Matter movement.
Episode 13: Deportation Threat and the Children of the Undocumented
Undocumented immigrants live stressful and often chaotic lives. Dr. Luis Zayas, dean of the Steve Hicks School of Social Work at The University of Texas Austin, discusses the psychological toll that deportation threat takes on children.
Episode 45: Deportation Anxiety for Today's Young Adults
Dr. Luis Zayas, dean of the Steve Hicks School of Social Work at The University of Texas at Austin, discusses the issue of deportation threat for young adults caught in the limbo of the Deferred Action for Childhood Arrivals (DACA) program. Hear more on this topic in Episode 57: Supporting Our Dreamers.
Episode 56: Police Violence and Black Women's Health
Dr. Christen Smith, an associate professor of African and Diaspora Studies and Anthropology at The University of Texas at Austin, sparked a conversation on Twitter about the impact of racially disparate policing on the health of black women in the U.S.
Episode 53: From Advocacy to Mobilization: the Role of the Marginalized
Latasha Taylor, a mental health organizer at Grassroots Leadership, talks about how marginalized communities can be empowered to seek out and create person-centered alternatives for mental health wellness and recovery through activism, advocacy and good communication.
Episode 5: Seeing Through the Lens of Cultural Competence
Discussing her research on depression and sexual risk behaviors among Latina adolescents, Dr. Delida Sanchez, a professor in the Department of Educational Psychology at The University of Texas at Austin, explains the challenges of cultural competence within the world of behavioral health.
New to the show? Subscribe to the podcast email to receive a notification in your inbox each time we have a new episode. Happy listening!