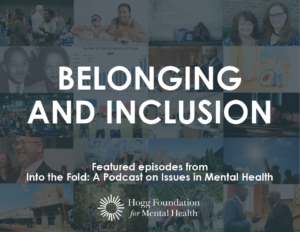 Recently, the Hogg Foundation published the 80th episode of our podcast, Into the Fold: Issues in Mental Health. Launched in 2014, the podcast served as a new way to share the human implications of our grantmaking, and the experiences related to mental health broadly. Through interviews and thought-provoking dialogue, the podcast also highlights the challenges and achievements of mental health advocates, policymakers, service providers, researchers, persons with lived experience, and foundation staff.
Today we continue our blog series showcasing a variety of our favorite podcast episodes. Check out the first in this series for conversations about the impact of our everyday systems on well-being, and stay tuned for future posts highlighting episodes related to Recovery, Community Well-being, Mental Health Then and Now, and Wisdom for Today.
Note: Short on time? A written summary is provided for most of our podcast episodes. 
Start Listening: On Belonging and Inclusion 
Mental health is fundamentally connected to social change. To make progress, we must own up to histories of exclusion and inequality that have a direct and measurable impact on the well-being of diverse people and communities. In the episodes below, guests give light to the need to create a more just world that promotes the mental health of all people, with a focus on historically excluded or marginalized populations.
New to the show? Subscribe to the podcast email to receive a notification in your inbox each time we have a new episode. Happy listening!