"Providing services that are sensitive to a community's culture-driven perspectives can overcome long-held tendencies to perceive health issues as something that one must manage on their own." – Ya-Ching Huang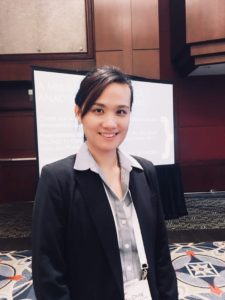 Every year, the Hogg Foundation gives the Frances Fowler Wallace Memorial Award for Mental Health Dissertation Research to eligible doctoral candidates. Awardees receive a $1,500 scholarship to help cover research-related expenses.
One of the latest students to receive the award is Ya-Ching Huang, who studies at the School of Nursing. She recently spoke with us about her research proposal, titled "The Impact of Illness Perception, Diabetes Management Self-Efficacy, and Mental Distress on Type 2 Diabetes Self-Management among Chinese Americans."
Hogg: Why did you choose to pursue a doctorate in nursing? 
Huang: I'm pursuing a doctorate in nursing to research and develop systemic healthcare practices that will have long-lasting impact. Specifically, I am researching self-care management for chronic diseases among underserved and minority populations.
Effective prevention and long term self-care strategies can improve a patient's quality of life. Moreover, they can decrease the need for costly urgent care. Patients with type 2 diabetes (T2DM), for example, can prevent or delay its complications through effective management of their blood sugar with daily attention to diet and exercise. As an experienced nurse, I feel I have a responsibility to advocate for my patients and tailor self-management strategies for them.
Hogg: What personal, professional or academic experiences led you to develop an interest in this topic?
Huang: My experiences as a registered nurse in Taiwan, as well as doing mobile medical missions in Kiribati, Haiti and South America, led me to develop a passion for systemic programs that produce positive long-term outcomes.
Although diabetes can be prevented and controlled with health screenings, adequate lifestyle choices and regular follow ups, patients still face many intentional and unintentional barriers to practicing self-management. I want to help people adopt healthy habits that minimize the complications of diabetes and reduce the need for urgent and costly health care services.
Hogg: In what ways did you incorporate the role of culture in Chinese communities into your proposal?
Huang: My research addresses the socioeconomic, acculturation-related and cultural factors that impact disease perception and emotional distress with disease self-management among Chinese speaking communities in Texas. Traditionally, Asians are less likely than other groups to seek health care directly due to cultural norms and the lack of culturally specific services in Texas.
This project will also address the lack of information regarding the prevalence of and interplay between diabetes and mental illness among patients from Chinese speaking communities in Texas.
Hogg: In your view, what impact can the provision of culturally and linguistically specific services have on mental health care for Asian American populations? 
Huang: Asian Americans have traditionally had a "don't ask, don't tell" approach to mental health issues. Research tells us that patients dealing with diabetes do oftentimes have higher rates of mental health issues. Providing services that are sensitive to a community's culture-driven perspectives can overcome long-held tendencies to perceive health issues as something that one must manage on their own.
Community-based programs conducted by health workers familiar with the culture and trusted by patients will reduce language problems for patients and help them navigate health care resources. My research results are expected to provide information for future studies and culturally-tailored interventions, as well as contribute towards decreasing health disparities.
Hogg: What is the Healthy People 2020 Initiative, and how does it relate to the expected findings and implications of your research?
Huang: The Health People 2020 initiative is a national benchmark for improving the health of all Americans. With regards to diabetes specifically, the 2020 initiative points out that minority populations make up 25 percent of all adult patients in the U.S., and represent the majority of children and adolescents with T2DM. Moreover, Asian Americans have been known to have a higher risk of developing T2DM.
In order to increase the adoption rate of healthy habits among patients in Chinese speaking communities, we have to implement programs that are sensitive to their health beliefs and diabetes perceptions. My research will identify the critical factors for culturally-tailored programs that include regular mental health assessment, educational material development, and intervention programs designed for healthcare workers, caregivers and patients themselves.