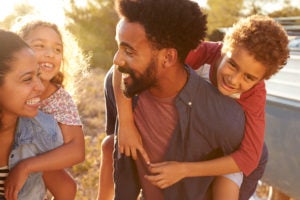 The Hogg Foundation has awarded $11.5 million in grants to 11 Texas organizations for the Communities of Care initiative. The initiative supports collaborative approaches to well-being in the Houston Metropolitan Statistical Area. The grants will strengthen efforts to transform the environments where people live, learn, work, play and pray, bringing a population health approach to support resilience, mental health and well-being for all members of a community, and with a focus on children and youth of color and their families.
Ten organizations were awarded $800,000 each to build on an existing community collaborative. The collaboratives consist of key stakeholders from across sectors and community members who are working together to plan and implement activities that address a wide range of community needs related to resilience, mental health, equity and well-being. An eleventh organization, Prevention Institute, was awarded grant funding to coordinate the initiative.
The Communities of Care initiative grows out of the foundation's new strategic direction, which has moved from a primary focus on individual mental illness to the upstream causes of poor mental health at the community and systems level. It recognizes that community-based approaches are necessary to make a lasting transformation in mental health and well-being.
The 11 grantees are:
"Taken collectively, these grantees bring to the table a combination of know-how, ambition and commitment to community that is truly inspiring," said Dr. Octavio N. Martinez, Jr., executive director of the Hogg Foundation. "It was a challenge to select only 10 organizations for this opportunity, but the end result was a lineup of amazing grantees who are well rooted in the places they hope to impact."
The grants cover a five-year period. Even with the diversity of the projects and communities served, all applicants had to demonstrate a commitment to community inclusion and participation, and address the need for inclusive leadership that does not perpetuate existing inequities.
"We are excited for all members of the community to have a voice and choice about their own well-being," said Stephany Bryan, program officer and consumer & family liaison for the Hogg Foundation. "We will continue our commitment to collaboration and equity. This new initiative furthers our goal of inclusive community-led solutions to achieve health equity and impact the lives of future generations."
"We recognize the greatest resource a community has is its people. It's time for those who have traditionally held the power, privilege and influence to trust community members to lead the change that's needed for greater well-being and equity," said Vicky Coffee, program manager for the Hogg Foundation.
Learn more about the foundation's new focus on collaborative approaches to mental health.
We partner with rural communities as they work with historically excluded groups, facilitate courageous conversations, and implement improvements to support resilience, mental health and well-being.
In this guest blog post, Sheila Savannah of the Prevention Institute discusses the connection between building inclusive structures of trust and overall community well-being.