In this series, we're shining a spotlight on co-signers of the Hogg Foundation's Declaration of Racism as a Mental Health Crisis (Declaration), and the ways they're working to eliminate barriers to mental health equity in their communities.
Our Declaration asserts that racism is a profound mental health crisis. We recognize the detrimental effects that racism has on mental well-being and the need to combat this crisis through transformative action.
Racism is not just a social problem. It also imposes a chronic psychological burden on individuals, disproportionately affecting underprivileged people. Ongoing exposure to discrimination, microaggressions, and structural injustices leads to increased levels of stress, anxiety, and depression, and other mental health concerns.
Intergenerational trauma is brought on by historical racism. It endures in the face of systems that reinforce inequitable access to opportunities and resources. This ongoing cycle of racial oppression results in chronic mental health challenges across generations.
We must take a holistic, comprehensive approach to mental health assistance, advocacy, and education.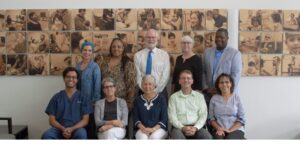 People's Community Clinic (People's) is one of the many co-signers of our Declaration. A full-service, federally qualified health center in Austin with a mission to improve the health of medically underserved and uninsured Central Texans, People's provides high quality, affordable healthcare with dignity and respect.
Identifying Needs
People's has put in place workplace initiatives that aim to reduce the inequities patients may encounter at the clinic.
"We've made concerted efforts to offer trainings, particularly Beyond Diversity trainings, to address unconscious bias," says People's chief executive officer, Regina Rogoff. "A large majority of our staff has already completed these trainings."
People's has also worked with outside consultants to identify opportunities for improving both patient and employee experiences. These include:
Recognizing and addressing the reality of unconscious bias;
Emphasizing the need for respectful language and word choice;
Revisiting policies that may impact a subset of employees and/or patients;
Addressing potential racial and ethnic inequities in the pay scale;
Reevaluating their recruitment region to avoid prioritizing one population over others; and
Updating their employee handbook to address less familiar issues such as microaggressions.
People's places patients' needs front and center in all of these initiatives.
Staying Focused
People's is making continuous efforts to better understand the pervasive nature of unconscious bias, says Rogoff. She emphasizes that because everyone carries some level of bias, they are working to fully acknowledge and actively remediate it through ongoing training, initiatives, and policy changes.
A recent initiative at the clinic addressed low child vaccination rates in the African American community that have persisted beyond the pandemic shutdowns. Employees set out to discover the root causes of low participation by connecting individually with all families of unvaccinated children.
New policies are also adapting to the specific needs of LGBTQ+ patients. Guided by specific target goals, employees now have valuable tools to track their progress and identify areas that need improvement.
Rogoff understands the complexity and challenges of conversations around diversity, equity, and inclusion. Even well-intentioned individuals may find it difficult to fully engage in these discussions, she says, especially when addressing uncomfortable issues like white supremacy. However, she stresses the importance of having a target to work towards, even if it's not a definitive endpoint.
"I think that to keep people focused, there has to be something that gives them some yardstick, some way of saying, 'Well, what we've been doing so far hasn't really moved the needle. What else can we do or what can we do differently?' or alternatively, 'Wow, this change has really been great,'" says Rogoff.
The Hogg Foundation commends People's efforts to address racism as a mental health crisis. We thank them for co-signing our Declaration and for their tireless commitment to achieving mental health equity in Central Texas.
---
Related Links