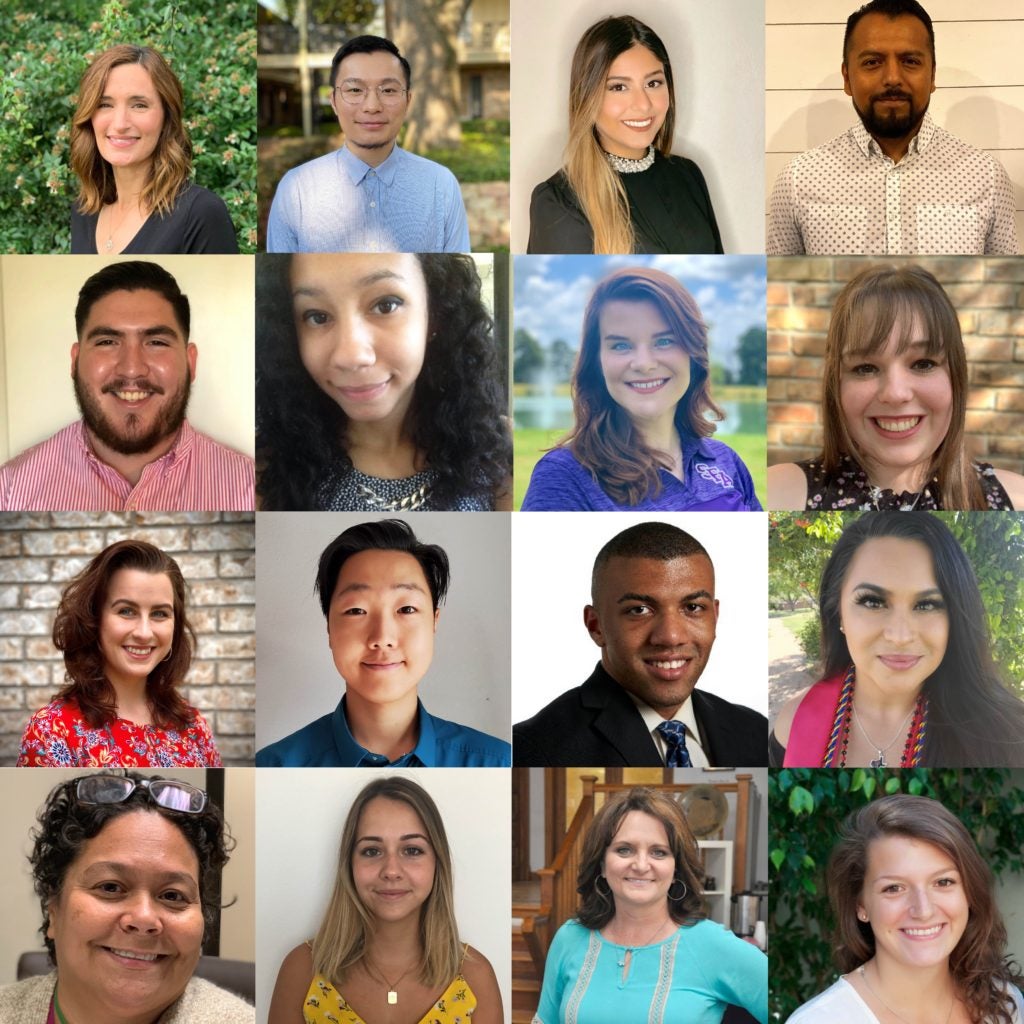 Each year, the Hogg Foundation awards Ima Hogg Scholarships to graduate social work students who have committed to joining the mental health workforce.
An investment in their post-graduate careers is an investment in improving the quality of mental health services across Texas, where the mental health workforce is in critical condition. Reports from 2015 revealed that more than 70 percent of counties across the state didn't have a single psychiatrist in residence, leaving 3 million Texans without access to psychiatric services.
This year, 16 graduate social work students from across Texas received scholarships of $5,000 each. Nominated by the heads of their social work programs, these students were chosen for their potential to bring renewed energy to the Texas mental health workforce.
The 2020 recipients are:
Tina Godino, West Texas A&M University
"There is no question about it; the rise in mental health issues is a growing concern in this country. The lack of service availability in rural communities is equally as concerning."
Kasey Golden, Stephen F. Austin State University
"After exploring other helping professions, I know I have found a home in social work. I appreciate this opportunity and look forward to what I will accomplish in mental health care in rural East Texas."
Rachel Gornitz, Abilene Christian University
"As a social work masters student with a psychology background, I am confident that my life will continue to be dedicated to making a difference through mental health advocacy and practice."
Carlos Hernandez, Texas A&M University-Commerce
"I imagine working and collaborating with other members in the community to help minimize the impact underserved communities experience with mental health."
Hannah Jurgens, Texas Christian University
"Thank you to the Hogg Foundation and their investment as I pursue a masters of social work. I am excited to continue to serve as a mental health worker."
Timothy Lopez, Tarleton State University
"I seek to build on the unique strengths of churches to provide a welcoming space for congregants to engage in dialogue around mental health, and provide services for the congregation's spiritual and psychological needs."
Brittney Mestanza, Texas Tech University
"I chose social work due to its focus on the needs and well-being of others. I view social work as essential to humanity; we promote social change and social justice in a society that's filled with inequality and discrimination."
Danielle Montoya, Texas A&M University-Kingsville
"The Ima Hogg Scholarship award will provide me with the financial assistance I need to travel and gain valuable experience to work towards making mental health services more equitable and accessible for South Texans."
Kamden Ndawula, University of North Texas
"My goal is to advocate for having trauma-informed staff within schools, provide therapeutic services for school-age students, and increase access to mental health education and resources to be more inclusive in the school setting."
Kino Park, The University of Texas at San Antonio
"I found my passion for working in mental health while serving in the military and this award will help fulfill my deep desire to maximize my contribution to this field. We need it more than ever."
Simon Rios, The University of Texas at Rio Grande Valley
"I hope to see the impact I can have on my community as well as have an opportunity to learn and personally and professional grow in order to give back to the community where I grew up."
Stella Sacks, The University of Texas at Austin
"For me, social work is more than a career path; it is the only avenue in my life that has ever felt wide enough to encompass my passion for helping others."
Medina Serdarevic, The University of Texas at Arlington
"Pursuing a career in social work will allow me to work with people and help them gain access to mental health services, which is something I am very passionate about."
Alicia Shepherd, Baylor University
"I believe social work's strengths-based approach of viewing problems from an ecological perspective is empowering, preserves dignity and self-determination, and enhances the self-efficacy of those we work with."
Mary Spry, Our Lady of the Lake University
"I am grateful to the Hogg Foundation for recognizing my work and commitment to be an advocate for mental health services by helping to reduce stigma associated with mental illness."
Yuqian Zhao, University of Houston
"Since I found out I was gay, my path of finding compassion and being resilient to deal with shame and stigma has converted into my passion for the social work profession and working with the LGBTQIA+ population."