Transforming Mental Health Through Community
The Hogg Foundation envisions a future in which the people of Texas thrive in communities that support mental health and well-being. We believe it's possible to transform how communities promote mental health in everyday life. We support research and learning, practice and implementation, and policy initiatives to achieve this vision.
Hogg Foundation Celebrates Pride
June is LGBTQ+ Pride Month. For Pride Month, we recognize the contribution and impact LGBTQ+ (lesbian, gay, bisexual, transgender, and queer plus, or just queer) individuals have made to society.
This month, as we celebrate pride, we will examine the mental health and well-being of the LGBTQ+ community in a series of blog posts, podcasts, and social posts. We've also put together a list of LGBTQ+ Mental Health Resources for the queer community and their allies. 
Hogg Policy Fellows 2022
Ten non-profit advocacy groups received a total of $1.4 million in grants over two years to hire in-house policy fellows. Fellows receive training, education, and experience in mental health advocacy and policy work.  
Success Story
Play therapy is grounded in the healing properties of play for children. Research shows it is an effective intervention to treat childhood disorders and difficulties that interfere in children's healthy development and academic achievement.
News and Announcements
Get news, insights and ideas related to our initiatives and the state of mental health in Texas.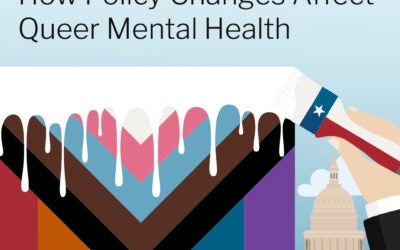 In the midst of Pride celebrations, anti-LGBTQ+ policy and legislation have drawn sharp attention to the lack of social acceptance and legal protection this community continues to face.
read more
Public Policy
Through a variety of policy initiatives, the Hogg Foundation influences systemic change at the state and local level to improve the mental health and well-being of people across Texas.
These policy priorities represent mental health and substance use issues that we believe deserve the attention of policymakers and advocates. 
Navigating mental health systems and services in Texas can be daunting, even for the most informed advocates and policymakers.
The foundation Policy unit recently responded to several Requests for Information related to the interim charges.
Podcast
Listen to conversations with mental health consumers, practitioners and advocates.
Video
Watch informative interviews, in-depth features, clips from events and more.
News
Get mental health news from Texas and beyond delivered directly to your inbox.