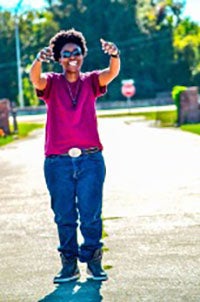 The Hogg Foundation for Mental Health has chosen Keneisha Johnson, a student pursuing an Associate of Arts degree in Biblical Studies, as one of two 2022 recipients of the Stephany June Bryan Bold Spirit of Achievement Scholarship. The award will allow Johnson to continue her studies by covering the cost of her 2022 summer and fall tuition. 
Created in honor of former Hogg Foundation Senior Program Officer and Consumer and Family Liaison, Stephany Bryan, two Bold Spirit of Achievement Scholarships were awarded to provide financial support to persons of color living with a mental health challenge and/ or caring for a person with a mental health challenge currently pursuing advanced education or training. The award provides $5,000 for education related expenses. 
Tell us about yourself.
I am the founder and CEO of Inside Out Prison Ministry, Rebels for Humanity, a ministry serving people experiencing homelessness, and Kingdom Music MFFK (Music Fit for the King), a Christian record label. 
I haven't always been proud to tell people about myself, or brag on myself but God has given me much to be proud of. During my incarceration, God transformed my life and placed these ministries in my path.  
What motivated you to pursue a degree in Biblical studies and theology?
While I was in prison in 2014, I fell in love with God and the Bible, and I wanted to learn more. I wanted to know and share the Word of God on a deeper level. 
After my incarceration, I began visiting detention centers, jails, and prisons to share my testimony about God's grace and mercy and let others see how it had changed me. I wanted to give them hope and encouragement and let them know that even if no one else cared about them, God did, and I did. I just wanted to spend more time sharing God's Love and Word with those who might never see this side of life again. 
The first schools I looked into wouldn't give me a chance because of my criminal background. It wasn't until 2021 that I found a school that accepted me. Thank God for Colorado Christian University! I currently hold a 4.0 GPA and am looking forward to graduation next summer. 
Describe your field of study and academic program. What kind of services will it prepare you to provide?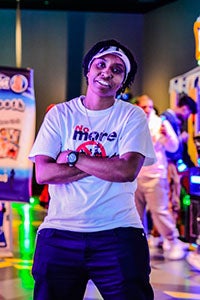 The Associate of Arts in Biblical Studies is a two-year degree program that introduces Biblical studies, Christian doctrine, and Christian theology. It provides a foundation for various ministry, mission, and social service positions, as well as for personal spiritual growth. My degree will prepare me to help others grow in God's Word, allowing the ministries to expand in the way that God intends. 
How do you think your lived experience as a person of color with mental health challenges will add value to your future work?
I think that my life experience as a woman of color who has experienced mental health challenges will add value to everything I do. For those who are going down a similar life path as I did and hear my story, I pray it will encourage them and let them know that they can make it, that with God for them, no one can be against them. I pray they will keep pushing forward, always looking for the light in the midst of darkness.