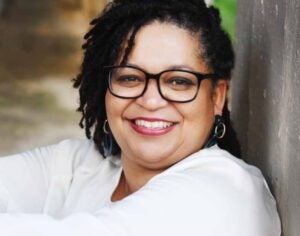 M. Yvonne Taylor is a doctoral candidate in the College of Education's Education Leadership and Policy department at the University of Texas at Austin (UT Austin). Her dissertation is titled, "'We don't even have a name': Women Knowledge Workers in Higher Education Show Themselves Out." Her research explores how historically White institutions' structure affects those who have marginalized identities.
Since its establishment in 1995, the Harry E. and Bernice M. Moore Fellowship has been awarded to students from UT Austin who demonstrate a primary research interest in the human experience in crises, including those resulting from natural or other major disasters or, more broadly, stress and adversity. Selected fellows receive a one-time, unrestricted award of $20,000.
We spoke to Yvonne about her research.
Tell us about yourself. When did you decide to pursue this research, and what influenced that decision?
Prior to being a doctoral candidate, I spent over 20 years working in professional staff positions at five historically white institutions (HWI) of higher education. I wanted to study the experiences of individuals employed in roles like mine. That is, professional, non-student-facing staff at universities—as we are often invisible in higher education research literature.
When I resigned from my full-time university staff position in 2021, I noticed that a huge number of women working in similar positions were also leaving the university within days or weeks of each other. I began to realize I was part of something larger, a phenomenon that was dubbed The Great Resignation.
I suspected that these resignations might be connected to the "dual pandemics" of COVID-19 and the racial uprisings in 2020 and decided to explore this topic in my dissertation.
Your dissertation is titled: "'We don't even have a name': Women Knowledge Workers in Higher Education Show Themselves Out." What questions are you trying to answer with this work?
I'm examining whether and how the gendered and racialized organizational structure of a large public university in Texas affected women in a way that led them to resign in response to the global pandemic and a worldwide reckoning on racial injustice.
What gap in the literature will be filled by your study? Who stands to benefit from it?
First, the study contributes to the understanding of HWIs' organizational structures by examining how an individual's organizational role, gender identity, and racial identity contribute to experiences of marginalization within the workplace. Second, it addresses a gap in research about non-student-facing professional staff, or knowledge workers, within higher education. Third, it contributes to research related to attrition and retention of staff with marginalized identities. Finally, the study may serve as a model for using research as a tool of healing.
How do you think your research methods and approach will help you to answer the questions that you're posing?
I believe people who have been marginalized in society and within organizations have insights into structural power dynamics that are often overlooked by traditional researchers. This critical ethnographic study will allow me to center stories and narratives detailing the lived experiences that the study participants share. By combining qualitative research with critical analysis, I will examine and critique systemic inequities as revealed by participants.
The project will also respond to the findings of my earlier pilot study, in which women described experiencing trauma and post-traumatic stress disorder because of their working environments and using their agency to resign.
I want to use research as a vehicle for healing, rather than just data extraction. It will also provide study participants with an opportunity to have their voices heard in a language understood within academia, discover community among those with shared lived experience, and access mental health services related to workplace trauma.
---
Related Content