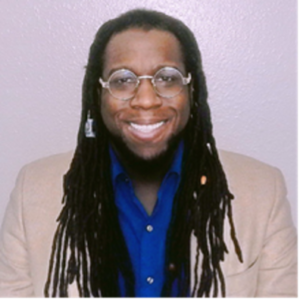 The Hogg Foundation for Mental Health has chosen Elliott Niblack, a student pursuing statewide certification as a Mental Health Peer Specialist (MHPS), as one of two 2022 recipients of the Stephany June Bryan: Bold Spirit of Achievement Scholarship. As he continues his studies, the award will provide Niblack with access to reliable transportation as well as mental health and wellness services – resources essential to his success in the MHPS program.
The scholarships were created in honor of Stephany J. Bryan (1956-2021), the late Hogg Foundation senior program officer and consumer & family liaison. They provide financial support to persons of color with a mental health challenge and/or caring for a person with a mental health challenge currently pursuing advanced education or training. The award provides $5,000 for education related expenses.
Tell us about yourself
I am a lifelong professional educator, youth mental health advocate and person with lived experience of mental illness. I use my story of recovery from childhood trauma, suicide attempts, and a dual diagnosis of bipolar II and attention deficit hyperactivity disorder to help others recognize their ability to heal and live a thriving self-directed life.
What motivated you to pursue certification as a Mental Health Peer Specialist (MHPS)?
My inspiration for becoming a MHPS comes from receiving quality mental health services as a child that allowed me to develop a highly attuned sense of empathy. At twelve years old, I experienced an episode of dissociative amnesia that erased all my memories. During my re-learning of society, I discovered that smiles were perfect for hiding the sadness, mania and voices that talked to me when I was alone. I also learned that genuine curiosity about who someone is, what is important to them, and how they are feeling can lead to meaningful relationships that heal by filling gaps of loneliness.
Describe the MHPS certification program. What kind of services will it prepare you to provide?
Being a peer specialist means being humanity's biggest fan. It means guiding others to trust their ability to make decisions that are healthy, healing, and fulfilling. I provide this guidance to people like myself whose lives are challenged by mental illness and behavioral health issues. Some individual services I provide are one-to-one mentoring in life skills, locating resources, and creating Wellness Recovery Action Plans. I also facilitate mental health support groups, enrichment classes, and work as a public speaker. As a speaker I address diversity, equity, inclusion, and anti-racism issues in professional and community mental health spaces.
How do you think your lived experience as a person of color with mental health challenges will add value to your future work as a MHPS?
My presence as a Black person in the psychology workforce has the natural value of increasing the three percent representation of my culture in the field, and the less than one percent representation of Black men. My lived experience navigating race, mental health stigma, trauma, culture and gender expectations, prejudice, and healthy practices strengthens my ability as a MHPS to promote healing in every community I serve.
My path as a consumer and provider of mental health services lets me deliver mentoring that is encouraging and truthful, and shows that the healing process can work when we commit to ourselves. I know how important it is to have the loudest voice in the room when a team of medical professionals talk about what my needs are. Traveling while Black, on this road, expands my capacity to empathize with people who have unique needs (which is everyone) and are ignored, blamed, and discarded for not being seen as healthy enough to fit in (which can be anyone).