In 1940, when Ima Hogg devoted her brother Will's estate to establishing the Hogg Foundation for Mental Hygiene, she had a simple, yet profound vision of the kind of future she hoped the foundation would help bring into existence: To provide a "mental health program for the people of Texas." Ima imagined a future in which people with mental health challenges would be treated with respect and dignity, and mental health would be seen as indivisible from all other aspects of a flourishing and healthy life.
As the first private foundation dedicated solely to the cause of mental health, the Hogg Foundation would set a vision for what mental health means for the average person and for those in need of support. Early advocates argued that mental health and mental illness existed on a continuum and, therefore, that people living with mental illness, by and large, should have the chance to receive professional treatment in community-based, rather than institutional, settings. They further argued that mental health principles could be applied to practically every situation found in everyday life, such as family relations, schools and workplaces. The foundation was founded under these principles, and it continues to live that vision today.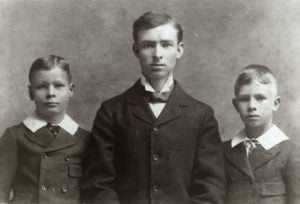 As a child, Ima Hogg (called "Miss Ima" by her contemporaries), daughter of Texas governor James Stephen Hogg, frequently accompanied her father on business trips to schools for children who were blind and deaf, and state hospitals for adults and children who had been diagnosed with various mental illnesses. Governor Hogg had compassion for these people and hoped for greater support in the area of mental health solutions. It is believed that his concerns were shared privately, and to a great extent with his daughter Ima, who would later carry out that interest in the formation of the Hogg Foundation.
Following James Hogg's political career, the family moved back to Houston as an early participant in the Texas oil boom, the source of their wealth. All of James and Sallie Hogg's children—Will, Ima, Mike and Tom—were raised with a strong sense of public responsibility. Sallie's teachings in the home taught the their children "that they must nurture the communities that had nurtured them." (1)
When their oldest son, Will, died suddenly in 1930, he left his $2.5 million estate to be used for "any foundation or benefaction for the common good of all or any part of Texas…" (2) Remembering her many conversations with Will about mental health, Ima convinced her brother Mike that Will's estate should be gifted as an endowment for a mental health foundation at his beloved alma mater, The University of Texas at Austin. It was this bequest, handled jointly by Ima and Mike that gave birth to the Hogg Foundation for Mental Hygiene.
On the evening of February 12, 1941, Homer Rainey, the president of UT Austin, told the audience at the foundation's inauguration ceremony that the new foundation "is going to play the most important role in the redirection of education for the next 20 years—mental health for the normal man." (3) More than 75 years later, the Hogg Foundation continues to shape the mental health landscape in Texas.
(1) "Circuit Riders for Mental Health: The Hogg Foundation in Twentieth-Century Texas," by William S. Bush. (2) Ima Hogg Papers, Dolph Briscoe Center for American History, The University of Texas at Austin, Box 3B122. (3) "Mental Hygiene Foundation at U.T. Inaugurated," Austin American (Austin, TX), Feb. 13, 1941.
Hogg Foundation Archival Records
Part of our educational mission is to document, archive and share the foundation's history, which has become an important part of the histories of mental and public health in Texas, and the evolution of mental health discourses nationally and globally. Archival information about the foundation is available at The Dolph Briscoe Center for American History at The University of Texas at Austin, including, but not limited to, the Ima Hogg Photographs and the Robert Sutherland Papers. We also have a robust collection at the foundation office. Research questions and appointments can be made by contacting our archivist at hogg-archives@austin.utexas.edu.