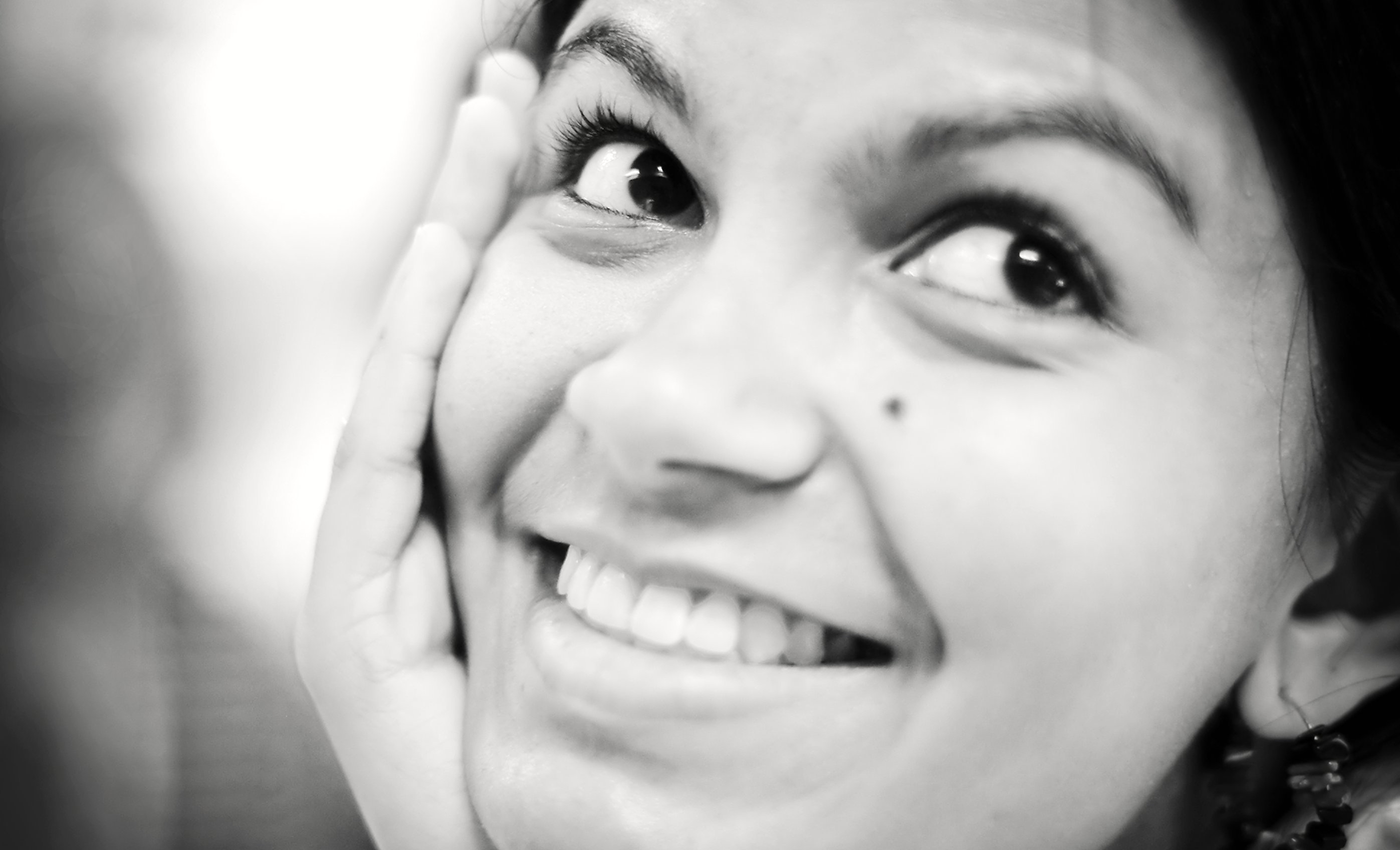 Peer Support for Young Adults
Inside this story:
Youth who experience extreme trauma and abuse often slip through the cracks at an especially vulnerable stage of their lives.
Our community has a responsibility to help young adults develop resiliency and coping skills early on, improving their chances for a successful future.
In 2014, the Hogg Foundation awarded a $1 million grant to Houston Health Department to develop a curriculum to train and certify transition-age youth as Peer Wellness Specialists.
Youth who graduate from the program serve as mentors and advocates to other youth who are struggling with their mental health.
Supervisor training ensures peers receive appropriate management support in their new jobs.
Houston Health Department is enabling youth with mental health conditions to lead more successful and enriching lives.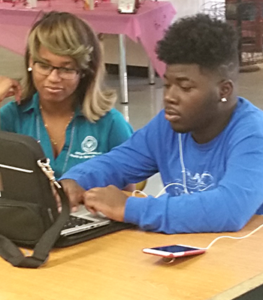 Desperate to escape domestic violence, Destiny, along with her mother and eight younger siblings, moved from New Orleans to Pasadena, TX outside of Houston. After weeks of living out of their car and on the streets, they entered a domestic violence shelter. A few months later, Destiny's younger sister was diagnosed with stage four cancer. Their car had been stolen and there were no bus routes from the shelter to the medical center, so Destiny's family moved out of the shelter and into a single hotel room near the hospital. With support from a social worker, they were able to find an apartment in Sunnyside and Destiny was able to go back to school. She was 16 years old.
Youth who experience extreme trauma and abuse are often poorly served by their communities. They may be seen as troublemakers and liabilities when, in reality, they're showing behavioral symptoms of the trauma they have experienced.
In the months following their move, Destiny attempted suicide, self-mutilated, and experienced bouts of anxiety and depression. Luckily, she was able to get regular counseling and joined a youth advocate program that helped her build social and coping skills. She graduated from that program and from high school.
Destiny was fortunate in her ability to overcome the considerable challenges she faced, and make the most of the programs and services available. Most youth experiencing trauma and associated mental health concerns slip through the cracks at an especially vulnerable stage of their lives.
Proactive Approach to Youth Mental Health
Destiny's experience in Pasadena isn't unique. It can be difficult for anyone growing up in a community marked by poverty and violence. Youth who experience mental health symptoms are even more at risk. Often, their only line of defense is the school system, which struggles to appropriately meet the mental health needs of students and their families.
Unfortunately, it often takes a major incident, like attempted suicide or violent behavior, before needs are recognized and addressed. Some get connected with traditional mental health providers, but many do not.
As a community, we need to be less reactive and more proactive about addressing the needs of young adults – as we know, early intervention is powerful. If we can intervene at this stage in a person's life, we can give youth and families greater opportunities to succeed. Research shows that for those who experience mental illness, 50 percent exhibit conditions by age 14, and 75 percent by age 24. We have the opportunity and responsibility to help young adults develop resiliency and coping skills early on, improving their chances for a more successful future.
One challenge is that this age group tends to be particularly affected by the stigma of mental health and less likely to seek traditional counseling. Peer mentoring, a relationship based on shared experiences where one individual is in recovery from a mental health condition, can provide much-needed support and role-modeling to youth. The Substance Abuse and Mental Health Services Administration cites peer support as one of the 10 essential components of recovery. Compared to parents or other authority figures, peers are often better able to establish trust and help youth be more receptive to accessing services and getting help.
50% of mental health conditions develop by age 14.

50%

50%

75% of mental health conditions develop by age 24.

75%

75%
Supporting Youth Through Transition
The Hogg Foundation has been focused on assisting transition-age youth — young adults between the ages of 16 and 24 who have persistent mental health needs—through our Young Minds Matter conference and grant programs focused on this population.
In 2014, the foundation awarded a $1 million grant to Houston Health Department to develop a curriculum, in partnership with youth, to train and certify transition-age youth as Peer Wellness Specialists and integrated health mentors.
Through community meetings and one-on-one interviews, Houston Health Department learned that young people need someone that they can talk to who understands their circumstances.

Houston Health Department began researching what was available, but found nothing designed specifically for this particular population of youth that involved peers. After looking at five evidence-based curriculums built for adults, Houston Health Department compiled and submitted initial ideas to caregivers, staff and students, and asked them to give feedback. Following this collaborative information-gathering process, Houston Health Department finalized the curriculum and began its first class in 2015.
The initiative is designed to support youth with mental illness who are transitioning into adulthood. The goal was not only to build a curriculum to train youth to serve as Peer Wellness Specialists, but also to provide those peers with meaningful work following the training.
New Peers Set For Success
The Peer Wellness Specialist program, which combines classroom training and hands-on learning, prepares youth to serve as mentors and advocates to other youth who are struggling with their mental health. Upon completing the program, Peer Wellness Specialists are equipped to use their personal experiences with mental health conditions as a resource to help other young people on their wellness journeys. Above all, the peer relationship sends a powerful message to young people that recovery is possible and they're not alone.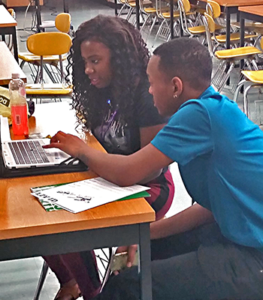 Unique to the program at Houston Health Department is how they combine training with community participation. By working with other Hogg Foundation grantees to find meaningful work for their Peer Wellness Specialists, the program is seeing considerable success. Trained peers are providing services at local schools, Disability Rights of Texas, The Hay Center, Communities in Schools, The Harris Center for Mental Health and IDD, and Family Services.
Since many of the agency supervisors have never had employees with mental health conditions or worked with youth in this capacity, Houston Health Department provides supervisor training to ensure peers receive appropriate management support. This holistic approach helps create success for both the agencies and the newly trained peers.
Once placed at an agency, Peer Wellness Specialists are able to receive ongoing support through the training program. They meet regularly with their classmates during the first few months to talk about their work with other youth, learn from each other's experiences, and identify ways to improve. They also receive regular supervision from the Houston Health Department throughout their work.
After completing the training program and acquiring 500 work or volunteer hours, peers are also prepared to take the State of Texas Peer Recovery Support Specialist examination.
A Shared Recovery Experience
Peer Wellness Specialists are managing their own mental health conditions, in part by giving back to others in similar circumstances.
We've already met Destiny, who was once homeless and contemplating suicide. In 2015, she completed the Houston Health Department's Peer Wellness Specialist training, found a job at the Harris Center for Mental Health and Intellectual and Developmental Disabilities, and passed her state exam as a Texas Certified Peer Specialist.
"I really enjoy it and it makes a big difference in how I see my own recovery. I teach them how to advocate for themselves, to cope, and I'm learning a lot of coping skills that I use myself."
As a Peer Wellness Specialist, Destiny provides group classes at the
Harris Center
and is a spokesperson for mental health recovery in her community. She also provides counseling, coaching and education for the Houston Health Department at local high schools. "I work with the parents and share coping and self-care skills, so they can be there for the kids and reiterate what we're teaching. With the kids, we're opening their minds, and a lot of them haven't been outside of their community – they don't know what else is out there," says Destiny.
"You don't have to be a product of your community, you can outgrow this. We give them hope."
A big part of Destiny's work is sharing her own story, which helps her mentees understand that they've been through similar experiences and it is possible to overcome it. Destiny says that the service works because of the consistency and caring environment provided. Her mentees are youth who are traditionally labeled "at risk" and are from low-income families, just as she once was. By showing young people respect, they in turn learn to be respectful and better members of the community.
"They're not getting respect at school because they're not always respectful to teachers or administration. We show that we care," says Destiny, "And most of all, they see us living. We have cars and jobs. We're in college. We give them something to strive for."
She adds, "Mental illness is real, but it's not a weakness. What I want to do is create a positive environment and, in turn, a more loving community. At this time, with everything that's going on, we need to learn to accept each other, no matter what our circumstances are."
They're benefiting because they're receptive. All in one place, transition-age youth receive quality information and support to better manage their conditions and deal with daily stressors.
"These kids fall 'in between.' They're developing independence but at the same time needing support from their parents. This by-youth, for-youth model is working and we're seeing great results."
Initial Impact and Lasting Promise
Houston Health Department has trained a total of 14 youth to serve as Peer Wellness Specialists. They're now hoping to have their trained peers teach parts of the next class alongside other professional trainers.
Dr. Richardson says "They're a very dynamic group of kids, and they want to help their community. They are invincible and see no barriers. Our Peer Wellness Specialists are truly inspiring."
In addition, their work is getting recognized by the people they serve as well as the broader community. Peer Wellness Specialists are serving on numerous council member boards. They've spoken at Peerfest, TNOYS conference, and UT Teen Clinic. Now they're working on developing an app to connect youth with peers in real time and track feelings, allowing them to be more proactive.
The young people served by peers are going from skipping school to being recognized on the honor roll. Houston Health Department says that local schools are increasingly receptive to incorporating peers in school programs, and they're reaching out to Houston Health for additional programing to better integrate Peer Wellness Specialists into their campuses.
Destiny expresses the value of peers to the community quite eloquently, saying: "The generation we work with is the upcoming generation. They're going to be the ones out here working, spending money, having a say, voting. We're opening their minds beyond their community. Sunnyside doesn't have to be a forgotten neighborhood. When they have needs that aren't met in the community, they'll be able to address that in the appropriate manner, rather than just take what's given."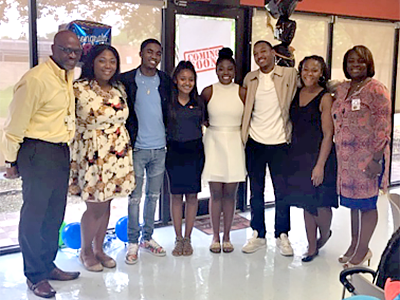 Destiny is now in college, getting her bachelor's degree in Mechanical Engineering. She hopes to go to law school and become a patent lawyer. Her ultimate goal? Destiny wants to open a school for kids with mental illnesses. "High school can be overwhelming," she says, "I'd love for by the time they graduate middle school, they can be Peer Wellness Specialists themselves!"
By developing a program that is evidence-based and population-specific, by picking the right young people to serve as peers, and giving them meaningful work and the support in their jobs that they need to succeed, Houston Health Department is enabling youth with mental health conditions to lead more successful and enriching lives.
Transition-Age Youth and Families
In 2014, the Hogg Foundation awarded roughly $10 million to address the mental health needs of youth and their families in the Houston/Harris County area. The initiative prioritizes youth and family involvement in program development and service delivery.
Children's Mental Health Conference
Since 2010, the foundation has hosted a free, biennial conference in Houston focused on children's mental health topics. The conference is one of a variety of initiatives the foundation supports in the Houston area that address the mental health of children.
Interview with LaQuinton Wagner
This podcast, in which LaQuinton Wagner articulates his experience transitioning out of the foster care system, reflects the foundation's commitment to empowering youth to speak in their own voice.