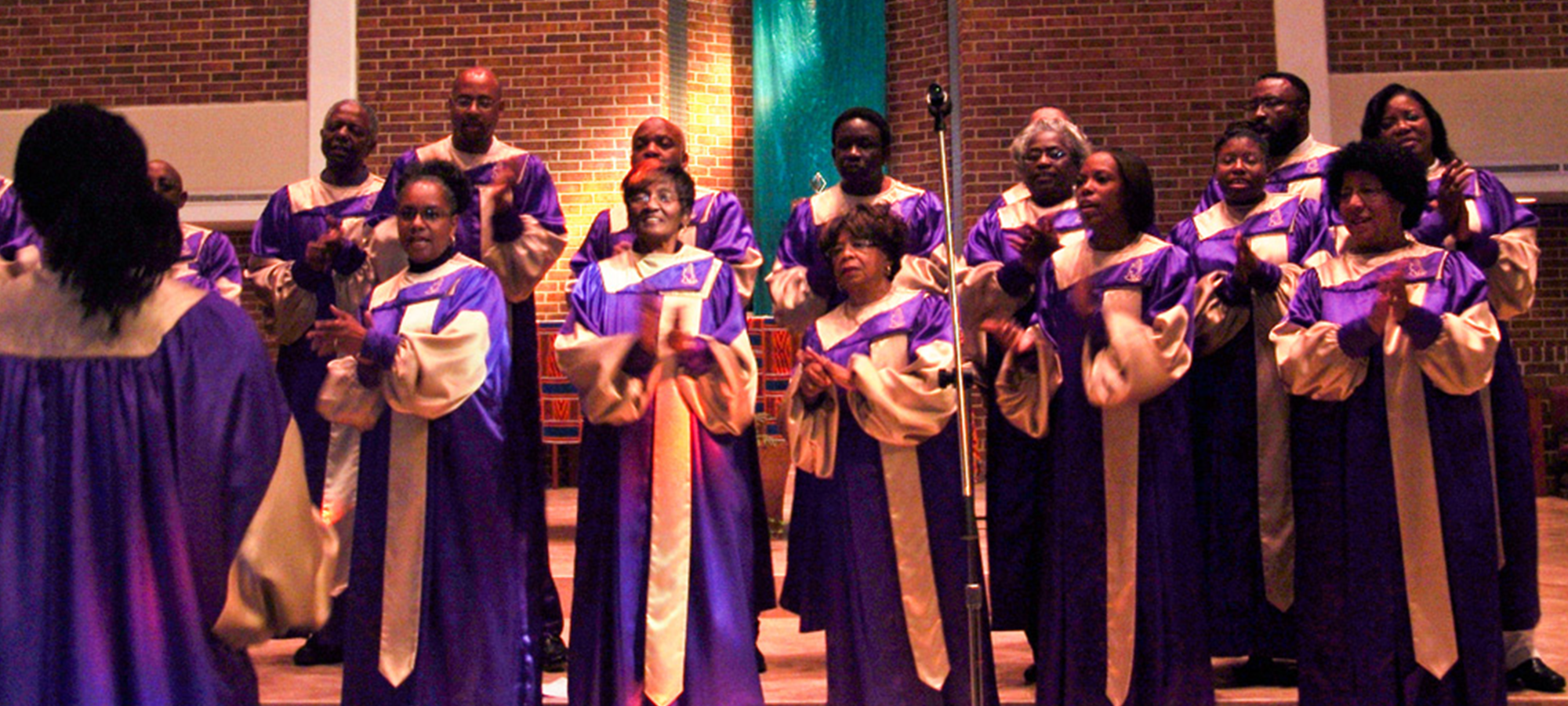 Inclusion in Faith Circles through Mental Health Education
Inside this story:
African Americans are 20 percent more likely to experience serious mental health problems than non-Hispanic whites.
African Americans consistently receive lower-quality and culturally incompetent mental health care, and frequently turn to spiritual advisors and circles to fill the gap.
God's Way Christian Baptist Church is one of 11 faith-based organizations funded through the Hogg Foundation's Faith-Based Initiative for African American Mental Heath Education, which aims to build on the unique strengths of churches and faith-based organizations in African American communities to educate about mental health.
God's Way's Wellness and Empowerment Community Ministries provides a welcoming and inclusive space for congregants to engage in dialogue around mental health, and has created a positive ripple effect, enhancing overall community well-being.
For more than 12 years, Eugenia Kleinpeter endured an uphill climb as she attempted to locate mental health services for her children. It's a struggle African Americans living in rural Texas know all too well.
Even though the proportion of African Americans living with mental health conditions is comparable with that of the general population, the National Alliance on Mental Illness reports that African Americans consistently receive lower-quality and culturally incompetent mental health care. This contributes to the greater severity of mental health issues among African Americans compared to non-Hispanic whites.
African Americans are 20 percent more likely to experience serious mental health problems than non-Hispanic whites, according to the Office of Minority Health. Source
For years, Eugenia sought the right kind of support for her eldest son Greg, who, like four of his younger siblings, has special needs. As a child, he not only lacked adequate assistance for his speech impediment, but also had to stomach stigma from strangers and peers—even fellow churchgoers. "At church, my kids basically hung around me," said Eugenia. "There was a lot of rejection—a lot of people keeping their kids close to them, or not saying hello."
Often, in lieu of clinical sources of aid, African Americans turn to spiritual advisors and circles instead. At God's Way Christian Baptist Church, however, Eugenia and her son found both.
"They don't stigmatize people there. God's Way truly embraced my children and encouraged them to use their talents."
Led by Reverend Dr. B.R. Reese, God's Way is one of 11 faith-based organizations that received funding through the Hogg Foundation's Faith-Based Initiative for African American Mental Heath Education, which aims to build on the unique strengths of churches and faith-based organizations in African American communities to increase awareness about and change perceptions of mental health, recovery and wellness, and to connect congregants with culturally competent behavioral health resources. Grantees have used the funds to start or strengthen dialogues about mental health—both within their respective places of worship and with providers in surrounding communities.
Mental Health Dialogues: From Pulpit to Barbershop
When Greg was a teenager, Eugenia brought him to God's Way for the first time. Now, over 20 years later, she serves the church as an Assistant Minister and Sunday School teacher. "My son loves to go to church," she said. "He lights up when he sees the pastor. They've always included him—telling him they missed him, and asking how he's been."
Based in Taylor, Texas, the church and its pioneering Wellness and Empowerment Community Ministries (WECM) initiatives have created a culture of inclusivity and sensitivity that provides for the congregation's spiritual and psychological needs. Though of modest size—the church convenes 50 to 100 attendees every Sunday—lessons learned and taught by God's Way clergy have, thanks to evidence of success and word of mouth, traveled far and wide.
Health fairs, conferences, vacation bible school programs, and other community awareness events are helmed by the leaders at God's Way—whose passion for mental health education, like Eugenia's, often stems from their own experiences of enlightenment.
"This grant has opened our eyes. We've been able to educate ourselves and educate others."
Sonya Hosey, the church's Associate Pastor and Project Director of WECM, recalled the experience of growing up with a war veteran father who suffered from post-traumatic stress disorder (PTSD). "I never had answers as a child—there was never a name for it," she said. "Only as I began to work in the area of mental health did I finally understand some of the things he was going through."
That sense of understanding is what WECM education efforts try to impart on participants. With the help of partnerships with Bluebonnet Trails Community Services, social service agencies, and other churches in Central Texas, Sonya organizes outreach events to share the critical mental health knowledge that is so beautifully helping God's Way congregants with other community members and leaders.
One of WECM's most successful programs is a series of barbershop dialogues, wherein representatives from God's Way and local law enforcement chat with barbershop patrons about the mental health issues afflicting the criminal justice system. The initiative is informed by Pastor Reese's belief in the need for first responders—pastors included—to come together and familiarize themselves with the unique nature of mental health emergencies. "We can educate them," he said. "We can let them know how to talk to someone with mental illness, instead of handcuffing or tazing them."
"I see us as a connector. We really look at the gaps and explore ones that some entities might not even be aware of."
Mental Health Education: Supporting Youth, Ending Stigma
Greg's story sheds light on the importance of another principle of mental health education at God's Way: its focus on the youth. As a Sunday School teacher, Eugenia can attest to the enthusiasm her students show when learning about topics that typically don't see the light of day in public school curricula. "They're really inquisitive, and that helps us out," said Eugenia. "Because if we can help them, they'll help somebody else."
Youth-oriented activities mix entertainment—in the form of pizza parties, bowling nights, and other fun-filled diversions—with mental health education and guidance. Attendees even bring along friends. At these events, Sonya said, "They begin to understand signs and symptoms shown by their peers. And for them to ask so many questions—that's significant."
The dependable flood of questions is not just a sign of curiosity. It indicates that WECM educators have succeeded in fostering a quality of acceptance around subjects that might otherwise be misunderstood or stigmatized. "In our church, there are a lot of young people who live below the poverty line, or in single-parent households," said Pastor Reese. "Because they might not have all the resources they need, we have to run programs that will help them feel better about themselves—help them build self-esteem."
It's difficult to overstate just how valuable that can be for kids who are merely grappling with the normal emotions of coming of age, and more so for those experiencing stress and anxiety—or worse, trauma. "They're really trying to find out who they are, and it's more confusing now than when I was growing up," said Sonya. "We have to give them a voice. We have to listen."
The Ripple Effect: A Community That Supports Well-Being
The accomplishments of Pastor Reese and his church—playing the various roles of healer, educator, connector and civic leader—have caught the attention of pastors in nearby locales and beyond, who often phone him about WECM. Pastors,  churches and congregants come to this work with differences in personal experience and belief, so it's to be expected that some might not adopt God's Way's WECM's mission wholesale. But according to Sonya, absolute buy-in isn't necessary when it comes to generating impact.
Just talking about mental health—and debunking misunderstandings about mental illness—validates people's experiences and opens the door for collaboration among churches, behavioral health providers and families to better address community needs. "We tell them that we don't have to take the lead," said Sonya. "They just have to take the information. Take the resources. Share with their community, their church, their youth. When you have that type of network, it helps develop you as a person, and as a community."
"The perimeter of what we're doing at God's Way far outreaches the four walls of the church. It's regional and more profound."
PODCAST: Creating Hope for Healing After Trauma
On this episode of the podcast, Joseph Parker, Senior Pastor of David Chapel Missionary Baptist Church in Austin, reflects on the "wounds of the spirit" that communities sustain in the aftermath of traumatizing events, as well as the moments of solidarity that cultivate conditions for healing
PODCAST: Hurricane Harvey, Faith and Resilience
"My faith was and is my most valuable resource," Jameisha Brown says. "I learned to maintain hope, even when I was told there was none left." Even though Hurricane Harvey made landfall in August 2017, the devastation left in its wake continues to affect many Texans.
$350,000 for Faith-Based Community Response to Harvey
The Hogg Foundation has awarded $350,000 to 11 faith-based organizations in support of their continued efforts to educate communities about mental health, recovery and wellness, with a new focus on addressing the mental health impacts and trauma resulting from disasters such as Hurricane Harvey.