"Never doubt that a small group of thoughtful committed citizens can change the world; indeed, it's the only thing that ever has." – Margaret Mead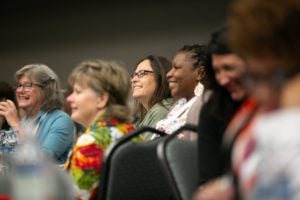 Since 1978, the Hogg Foundation for Mental Health has convened the Robert Lee Sutherland Seminar to increase awareness about mental health concepts, such as recovery, integrated health and barriers to well-being. Named after our first executive director, Dr. Robert Lee Sutherland, this event offers a chance for Texans to reflect on critical issues in mental health and promote innovation and collaboration among providers, advocates, consumers and their families.
The 2019 Robert Lee Sutherland Seminar: Working Together for Rural Well-Being (RLS), held on April 24, 2019, in Bastrop, Texas, offered a space for community members, mental health providers, consumers, and other stakeholders to come together and make connections, engage in thoughtful dialogue and think collectively about solutions to mental health challenges in rural communities.
Attendees discussed some of the issues rural communities face, including the lack of access to health care due to shortages in providers or transportation, acute and long-term effects of poverty and natural disasters, suicide rates and the impact of the opioid epidemic. Many conversations focused on how to engage historically excluded groups in their collaborative efforts.
Watch this brief recap video or listen to this episode of our Into the Fold podcast for reflections from attendees, and check out photos from the day! 
What We Learned
Community collaboration and systems change takes time. It's a marathon, not a sprint!
Start with inclusion and trust-building. We must focus on engaging historically excluded groups and a variety of stakeholders throughout all steps of the process.
We must look at community issues through a systems perspective and address the community conditions, structural barriers and policies that erode well-being.
Community members are the experts! Bottom-up leadership requires listening and empowering residents to take ownership of creating the solutions.  
A Guide to Key Takeaways and Resources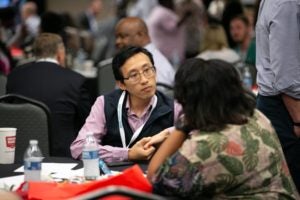 When planning this year's seminar, we knew we wanted to capture learning from the seminar in a Key Takeaways and Resources guide for attendees as well as those across Texas who could not join us. It is our hope that this tool helps to continue conversations which began at the convening and support sustained learning around the topics of mental health and well-being in rural communities, and the power of inclusive community collaborations.
The Key Takeaways and Resources guide is intended for people working with a community-based approach to strengthening resilience, well-being and mental health. Readers will find an overview of the seminar sessions and themes discussed, including the frameworks, strategies and tools presented. Although the seminar focused on collaboration in rural communities, the exercises shared can be applied to collaborative work in a variety of settings.
Download the Key Takeaways and Resources guide or view all seminar resources, including session videos, slides, handouts and more. 

Related Content