"The love that I felt in this room today—if we keep that, we're going to do some great things," Ms. Margine Mims, founder of Morris County Collaborative, said.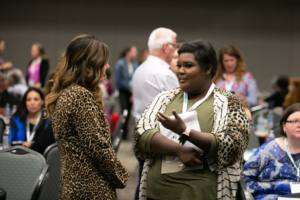 On April 24, mental health providers, advocates, consumers and other community members from across the state convened in Bastrop, Texas for the Hogg Foundation's 2019 Robert Lee Sutherland Seminar: Working Together for Rural Well-Being.
Named for the foundation's first Executive Director, the inaugural Robert Lee Sutherland (RLS) Seminar was held in 1978 and keynoted by former First Lady Rosalynn Carter. Every two years since, the seminar has given its speakers and participants a forum for brainstorming solutions to mental health challenges in Texas.
Over the course of the day we invited RLS attendees to take a moment to reflect on the day's events and share their key takeaways. Their individual voices come together on the 80th episode of our Into the Fold podcast.
Strengthening Connections 
According to Dr. Octavio N. Martinez, Jr., the foundation's Executive Director, a key measure of a seminar's success is its ability to encourage fellowship and connection between participants—not just on the day of, but in the future.
"The biggest thing that struck me being here is the potential for collaboration," Krystal Grimes, Resilience Director at Bastrop County Cares, said. For her, "every single person" she encountered represented an "opportunity to collaborate" that she might not have found otherwise.
Bastrop County Cares is one of the collaboratives funded by the foundation's Collaborative Approaches to Well-being in Rural Communities grant initiative. For communities in general, cultivating connectedness between people is crucial to overcoming gaps in mental health resources and services. That sense of community—also a sense of hope, in many ways—is sorely needed in Morris County according to Ms. Margine Mims, local advocate and founder of the Morris County Collaborative.
Ms. Mims attributes a prevalence of substance use disorders and rising suicide rates among the young people of Morris County to the lack of hope that comes with lack of opportunity. Building a better future for her community requires engaging and investing in youth here and now—a takeaway other attendees shared.
The seminar gave Ms. Mims good reason to be hopeful. "The love that I felt in this room today—if we keep that, we're going to do some great things," she said.
Moving Upstream
Dr. Leonard Moore, Vice President of the Division of Diversity and Community Engagement at The University of Texas at Austin, noted that the RLS seminars consistently focus on "providing solutions," rather than solely identifying problems. This year, collaborative solutions, in particular, took center stage, with an emphasis on inclusivity and community-driven approaches.
Dr. Steve Cooper of Nacogdoches County Community Collaborative said,  "You have an idea of where you want to be and what your timeline is, but the community is going to move at its own pace.  You have to allow the community the time that it needs to go through that process." The diversity of approaches used by rural collaboratives to respond to the same fundamental issues reflects their unique community conditions—and a shared need to meet people where they are.
Similarly for Dr. Henry Salas of Be Well Victoria Collaborative, the seminar drove home the point that the most effective collaborations make space for grassroots involvement from the very beginning. "The best way to do that is to have a coalition," he said, "versus one group working individually to help provide mental health services in the community."
Initial buy-in from marginalized groups, if sustained over time, can ease the difficult work of getting a community moving upstream to address the root causes of social determinants of mental health. Charlie Scarborough, who provided recent Hogg grantees with technical assistance and grant coaching, is no stranger to this fact. "It's easy to find funding for puppies and babies," he said, "but when you start to talk about funding for capacity-building, or for diversity, inclusion and equity, most of the time it's hard to find that funding."
Having the time and resources to share an "upstream thinking space" with others, in Scarborough's words, is a gift that RLS attendees didn't take for granted.
Resources
Learn more about our podcast and check out other episodes!