The Collaborative Family Healthcare Association (CFHA) is hosting its annual conference in Austin this year. Lynda Frost, our director of planning and programs, is co-chairing the conference and I've had the pleasure of serving with her on the planning advisory committee. I can say with the utmost confidence—you won't want to miss it.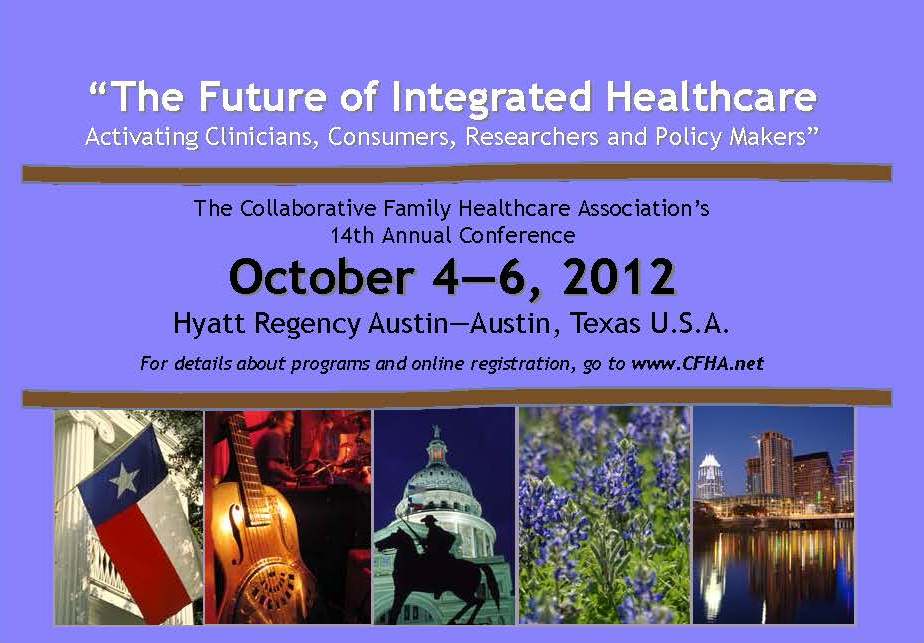 CFHA promotes a comprehensive and cost-effective model of healthcare delivery that integrates mind and body, individual and family, patients, consumers, providers and communities.  Their conference has a reputation for being high energy, content rich and forward thinking. Plenary gatherings will keep you engaged and spark new thinking. The four breakout session tracks allow for deeper learning and include: Organizational & Implementation Issues, Clinical Care & Direct Practice, Consumer & Patient Engagement and Public Policy. Finally, poster presentations offer an opportunity for conversations about innovative research and programs.
If that hasn't convinced you to register yet, I'll let you in on another exciting detail – CFHA is offering scholarships for consumers, e-patients and family caregivers. CFHA is committed to the engagement of patients and consumers in the ongoing dialogue about how best to deliver integrated health care across the country. As such, the organization is putting its money where its mouth is (with the support of generous donors, of course!).  Read more about who is eligible, how to apply, and what is included by clicking here.
CFHA is taking its commitment to engaging consumers, patients and families one step further by recognizing an outstanding individual, team or consumer-run organization exemplifying commitment to consumer, patient and family participation in the healthcare team.  Do you know someone that fits this description? Nominate them for a CFHA Award of Distinction here!