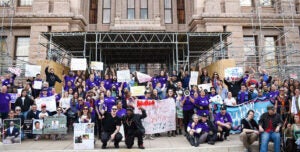 Advocating for improvements in substance use policy can be a frustrating endeavor in Texas. But there have been signs in recent years that "harm reduction" approaches to substance use are starting to break through with lawmakers.
In this episode of Into the Fold, we're joined by J.J. Ramirez, Hogg Foundation Policy Fellow and organizer at Texas Harm Reduction Alliance, to learn more about the harm reduction movement and some positive policy developments addressing substance use.
Texas Harm Reduction Alliance
Based in Austin, Texas Harm Reduction Alliance (THRA) is a statewide organization working to replace lingering "drug war"-era policies that focus on the criminality of drug use with policies that focus on harm reduction instead.
"The drug-war thinking was that if we arrested enough people, then the problem would go away. And that's just not the case. It has never worked," says J.J. Ramirez, organizer for THRA and Hogg Foundation Policy Fellow. "It's been tried previously, like in the heroin epidemic of the 70's, and it just didn't work. Deaths didn't come down. All it did was leadto mass incarceration of predominantly Black and brown people, and it just got kind of swept under the rug."
THRA takes a different perspective, advocating for less punitive, more treatment-centered approaches to substance use conditions.
Advocacy
"We believe that mobilizing people to effect policy change is the best method for change. And it's been going very well," says J.J.. "We've introduced bills to try to mitigate the effects of opioid use, the fatality risk of it."
THRA's organizing and advocacy was central to Travis County recognizing the opioid overdose epidemic as a public health crisis in 2022. As a result, the county dedicated hundreds of thousands of dollars to funding harm reduction actions, including expanding access to the overdose-reversal drug Naloxone, also known as Narcan.
"They rolled out close to a million, if not more, Narcan disbursements," he says. "I know people personally who have reversed overdoses, who have lived to see another day, to experience whatever life may bring. They're alive. And that was directly because of the organizing and advocacy of THRA."
Texas Legislature
Although progress is also being made at the state level, it's been slower. THRA's current legislative priorities include decriminalizing drug paraphernalia, authorizing drug checking tools like fentanyl testing strips, expanding harm reduction programs across the state, and expanding the 911 Good Samaritan law.
The alliance is also actively opposing some current legislative proposals, such as Senate Bill 645, which would increase the penalties for producing and selling fentanyl by classifying overdoses as "poisonings."
"What the bill aims to do is put a murder charge on the dealer of the fentanyl," says J.J.. "And more often than not, it's just going to target family members, and co-users, and cause more harm than good. And it doesn't solve the issue."
Informed by Mental Health
The relationship between mental health and substance use has greatly informed J.J.'s work as a policy fellow.
"Homelessness, drug use, and mental health issues – all are very much intertwined. So as a policy fellow, mental health and organizing in these specific realms go very much hand in hand," he says. "My work as an organizer and a policy fellow is to tie all of these issues together and let the community and the state know that resources need to be provided to these very underprivileged, often stigmatized communities."
May is Mental Health Awareness Month. Throughout the month, we celebrate stories of recovery, strides in mental health policy, and the many things our grantee partners are doing to transform mental health in their communities. Don't miss out!
Related Links