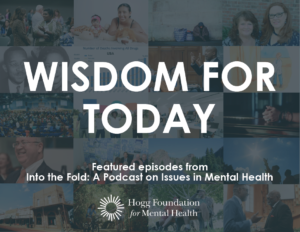 Recently, the Hogg Foundation published the 100th episode of our podcast, Into the Fold: Issues in Mental Health. Launched in 2014, the podcast served as a new way to share the human implications of our grantmaking, and the experiences related to mental health broadly. Through interviews and thought-provoking dialogue, the podcast also highlights the challenges and achievements of mental health advocates, policymakers, service providers, researchers, persons with lived experience, and foundation staff.
Today we wrap up our blog series showcasing a variety of our favorite podcast episodes. Check out others in this series for conversations about the impact of our everyday systems on well-being, belonging and inclusion, recovery, community well-being, and mental health then and now.
Note: Short on time? A written summary is provided for most of our podcast episodes.
Start Listening: Wisdom for Today
We live in stressful, confusing times. As much as the foundation focuses on system-level factors and the social determinants of mental health, we don't lose sight of the fact that individuals have it in their power to look after their own mental health—and owe it to themselves to do so. In these episodes, experts offer simple, actionable tips for staying focused on what matters when life starts to overwhelm.
Episode 15: The Wisdom of Self-Compassion
Kristen Neff, professor of psychology at The University of Texas at Austin (UT Austin), lays out the core principles of self-compassion, explains why it's important, and debunks some preconceived notions about self-compassion that makes the idea a difficult sell for some people.
Episode 38: Political Climate as a Chronic Stressor 
Christopher McCarthy, professor of educational psychology at UT Austin, and Dr. Art Markman, author of Smart Thinkingand noted co-host of the popular radio show Two Guys on Your Head, discuss ways that people can safeguard their well-being against the increasingly tense political climate in the U.S.
Episode 40: Mental Health and Media: Stop Raising Awareness Already!
Mike Mackert, director of the Center for Health Communication at the Moody College of Communications at UT Austin, and Carrie Baron, M.D., director of UT Austin's Creativity for Resilience program, discuss the pros and cons of awareness programs and how to navigate our media-saturated culture.
Episode 47: What You Can do to Promote Mental Health in Your Community
John King, a certified peer specialist and Wellness Recovery Action Planning™ facilitator, discusses the link between personal wellness and strengthening community ties during the holiday season.
Episode 50: Hurricane Harvey, Faith and Resilience 
Edna Brinkley, a licensed psychologist, uses the 2017 catastrophe of Hurricane Harvey to take us through a deeper conversation about stress, coping and resilience during the holiday season.
New to the show? Subscribe to the podcast email to receive a notification in your inbox each time we have a new episode. Happy listening!