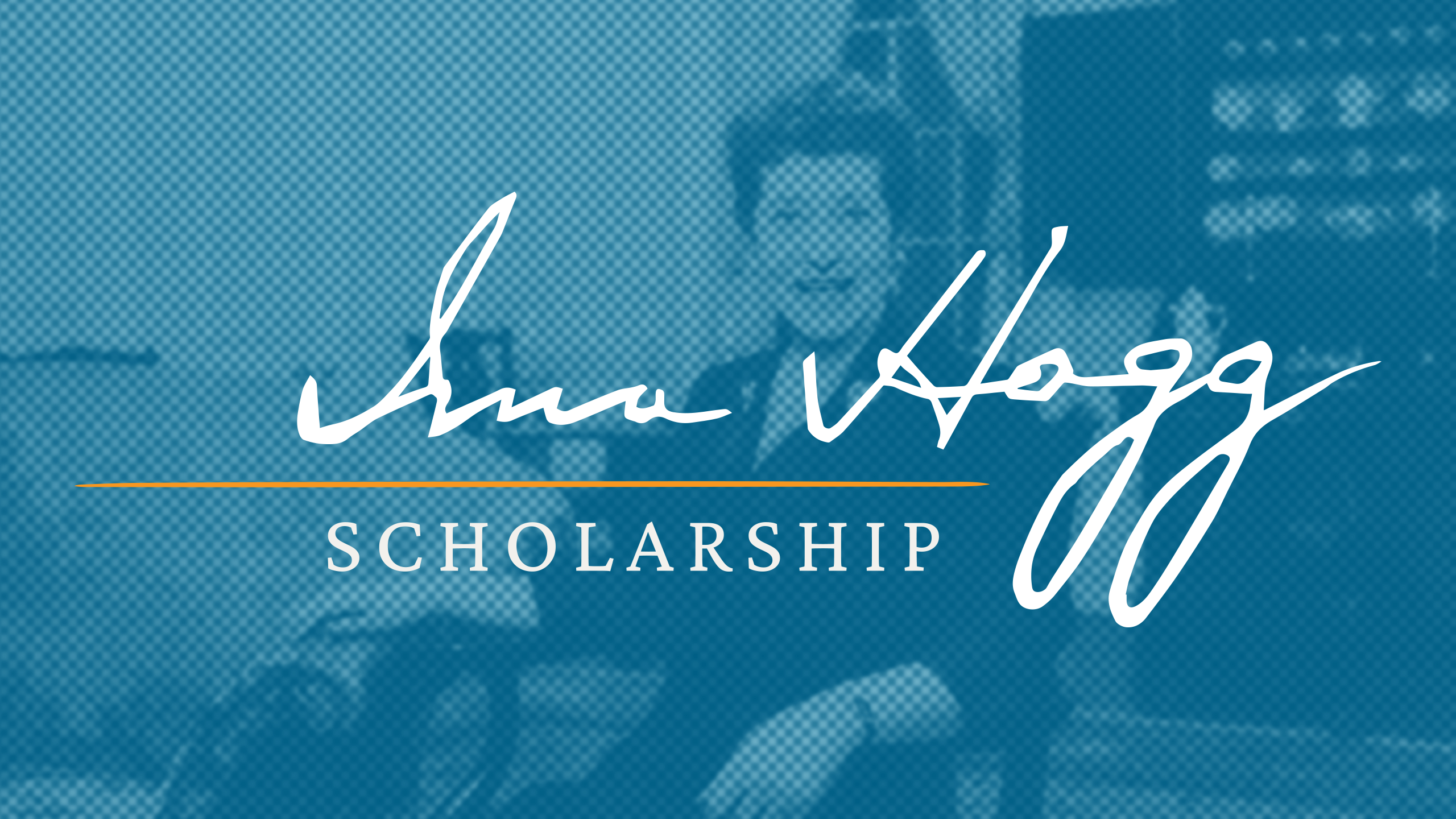 The Ima Hogg Scholarship, established in 1956, is one of the ways the foundation works to positively impact mental health services in Texas.
In observance of Women's History Month, we're proud to recognize the outstanding contributions of Ima Hogg, co-founder of the Hogg Foundation for Mental Health. Her investment in mental health and well-being continues to help Texans thrive. 
With March also being Social Work Month, we're looking back at one of the most enduring examples of Miss Ima's put into practice: the Ima Hogg Scholarships (IHS) program. Established in 1956, the scholarship aims to strengthen the mental health workforce, with a special emphasis on social workers. 
"Social workers play a vital role in the health care sector, working in schools, clinics, hospitals, non-profits, local, county, and state governmental agencies, and higher education settings," says Rick Ybarra, senior program officer at the Hogg Foundation. "Their academic and practical training makes them tremendously valuable in mental health, behavioral health, and public health care settings." 
Inside this story:
The scholarship program was created at the request of founder Miss Ima Hogg to address the need for more trained professionals to provide quality mental health services in Texas.
Many Ima Hogg Scholars have entered the labor force to work in their communities; some have continued their education to obtain doctorates in behavioral health or the social sciences.
This scholarship program has gone through several evolutions throughout its history, but has stayed true to its mission of building up the mental health workforce in Texas.
former Ima Hogg Scholars in the foundation's archives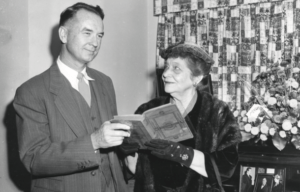 Originally, the Hogg Foundation awarded a single IHS grant annually to a graduate student in the University of Texas at Austin (UT) Department of Psychiatry. In subsequent years, eligibility expanded to include UT graduate students from any academic department who were preparing for a career in mental health services to children and families. Since 2006, the program has broadened beyond the UT community, and now invites every Texas-based graduate school of social work accredited by the Council on Social Work Education to recommend a student each year. In 2022, 19 graduate social work students from across Texas received scholarships of $5,000 each. 
"Opening up the scholarship to all of Texas has allowed us to make a bigger impact on the workforce and honor Miss Ima's original intentions," says Elizabeth Stauber, archivist and records manager at the Hogg Foundation. Elizabeth has currently identified 178 former Ima Hogg Scholars in the foundation's archives.  
We recently caught up with a few past scholars and found how they are contributing to the mental health and social work fields in varied and valuable ways. 
From Scholars to Professionals
As a graduate student at Stephen F. Austin State University in Nacogdoches "the scholarship helped me a lot, and not just from a financial perspective," says Patrick Thomas, 2016 Ima Hogg Scholar. "It did wonders for my confidence as well, knowing that my professors thought highly enough of me to nominate me for this prestigious award." 
 Although he had earned an undergraduate degree in psychology with a concentration in substance use conditions, Patrick felt that graduate study focused on social work best suited to his goals. 
 "With a Licensed Master of Social Work (LMSW) degree, not only could I focus on the mental health aspects of substance abuse, but I could also do more types of work in the field," he says. "By going into the social work field, I could do a lot more good than by just being laser-focused on one aspect of psychology." 
 In his present role as a hospital social worker, one of Patrick's responsibilities is conducting psychosocial assessments. As a valuable complement to physical assessments of a patient, hospital social workers conduct psychosocial assessments both when a patient is admitted and when he or she is discharged. By identifying and addressing patient's mental and behavioral health needs, such as access to care, housing stability, food security, substance use, and systems of support, psychosocial assessments are essential to meeting the patient's needs as a whole person. 
"Being nominated for the Ima Hogg Scholarship made me want to become the best social worker I could possibly be."
Being nominated for the Ima Hogg Scholarship made me want to become the best social worker I could possibly be," says Patrick. "I hope that I'm making my professors proud and living up to the standards of the scholarship." 
"Since I was young, I always liked volunteering," says Cynthia Jimenez, 2018 Ima Hogg Scholar. "I grew up in a Catholic home, and we were taught the lessons to always be compassionate toward others." 
"Since I was young, I always liked volunteering," says Cynthia Jimenez, 2018 Ima Hogg Scholar. "I grew up in a Catholic home, and we were taught the lessons to always be compassionate toward others." 
With these values in mind, social work seemed like a natural career fit. And even before she completed her degree at the University of Texas at El Paso, she was  a community services supervisor with the El Paso Police Department. Much of her work involved helping police officers understand the needs and circumstances of people in crisis situations.  
Cynthia's job title wasn't "social worker," but her nomination for the IHS award impressed upon her how her understanding of an individual's social, behavioral, and mental health needs was essential to doing her job well. 
Receiving the IHS award benefited her own mental health also. 
"By helping me pay for school it reduced my own stress and worry about being able to complete my schooling," she says. 
Cynthia has been community services supervisor at the police department for five years now. As the city has increasingly dealt with issues related to immigration and homelessness, she's seen a shift in the department's perspective.  
"We've all been shifting to a street outreach approach to connect individuals with the resources they need," she says. "We've been partnering with outside organizations and branching out to work with our nonprofit partners – partners that are able to better serve the individuals we come across in our policing work." 
New Horizons
While many Ima Hogg Scholars, like Patrick and Cynthia, continue to make social work their primary career focus, others have explored additional opportunities in the mental health field. 
"I always knew I wanted to help people," says Tenisha Hunter, 2008 Ima Hogg Scholar. 
A first-generation college student, Tenisha completed an undergraduate degree in psychology before going on to earn her Master of Social Work (MSW) at UT Austin in 2009. A highlight of her graduate studies was the opportunity to gain clinical experience as one of the first interns in the Dialectical Behavior Therapy (DBT) program at Seton Hospital (now Ascension Seton Medical Center). 
Combining principles of behavior therapy, cognitive behavior therapy, and mindfulness, DBT helps individuals accept their current life circumstances as well as learn to change behaviors that are unhelpful, by both tolerating and regulating their emotions. 
"I saw that DBT was life-changing for people," she says. "That set the trajectory for me because it provided me with real, tangible clinical skills." 
Tenisha expanded her professional credentials, going on to become a Licensed Clinical Social Worker (LCSW). Working primarily in hospitals, she has provided a broad range of counseling services, including individual, group, and intensive outpatient therapy. She's found it especially rewarding to provide services to the older adult population. 
Tenisha has a more recent connection to the Hogg Foundation as well. In 2021, while employed at Ascension Seton Shoal Creek, she and a co-worker submitted a successful Central Texas African American Healthy Minds grant application on behalf of the hospital. The award funded Mental Health First Aid trainer certification to 120 African American pastoral and lay religious leaders, empowering the Black community to destigmatize, normalize, and increase access to mental health in Williamson, Hays, and Travis counties. 
Today, she continues her work with the older adult population in residential facilities and provides clinical counseling to a wide range of patients over online mental health platforms. 
"I'm still doing what I love," says Tenisha.  
Ima Hogg Scholars: Then and Now 
Since 2006, Ima Hogg Scholarships have been awarded to graduate students pursuing social work degrees only. Prior to this time, graduate students working towards other degrees related to mental health, like Ivette Castillo, Ramona Aarsvold, and Kathleen Casey were also eligible to apply. 
Ivette Castillo, 1999 Ima Hogg Scholar, was pursuing a doctoral degree in school psychology at UT Austin when she received her scholarship. 
"It helped me finish graduate school without being in debt," she says. "The fact that it completely covered my tuition for that year was huge." 
Ivette remembers being drawn to the field of psychology from an early age. 
"I was always a good listener and friends would come to me for advice," she says. "I also always got along really well with younger children. When I took a psychology course in high school and loved it, I knew then that I wanted to become a school psychologist."  
After earning her degree, Ivette counseled children in schools for ten years. As a bilingual person, she often worked with Spanish speaking youth and families. 
Currently in private practice as a child psychologist, she continues to focus on underserved youth in the Houston area, primarily children in foster care. Her work includes providing individual therapy for children, adolescents, and young adults, and performing diagnostic and psychological evaluations for youth ages 2-22.  
Ramona Aarsvold received her IHS award in 1988 during her third year of a six-year doctoral program in Counseling Psychology at UT Austin, taking classes, doing psychotherapy under supervision for practicums, and teaching a psychology survey course for education majors. 
"It was a heavy load. I was self-supporting, and was often looking for some side job, like assessing preschool children at Head Start programs. I was at a point where I needed to devote myself to my cases and classes as I was developing my therapeutic skills," she says. "The scholarship enabled me to focus on what I was learning. It freed me up to study more and scramble for a paycheck less. My degree program was a long one, and the financial burden felt discouraging at times, so the scholarship came at the right time and encouraged me to be true to my dreams and values." 
Receiving the scholarship buoyed her confidence as well, she says, and the prestigiousness of the award helped her get her first job placement as a psychologist. She has worked as a psychotherapist in private practice in Austin for almost 32 years.  
Ramona's contributions to Texas' mental health workforce extend beyond her private practice. She participates in a weekly training group for group psychotherapy therapists and has presented at professional gatherings of local and national psychotherapists. 
"When you do something generous for someone, it can have lasting effects," she says. "In fact, the benefits of the investment grow over time, like compound interest. That's how I feel about the benefits of the Ima Hogg Scholarship for me." 
A 2004 Ima Hogg Scholar, Kathleen Casey has shared her mental health expertise in a variety of professional settings. 
Her interest in mental health and well-being began while volunteering in a child development center for children with autism and mental illness as an undergraduate student. 
"I was just in awe of the professionals and paraprofessionals that were serving the children and families," says Kathleen. "Intellectually I was always fascinated by the brain, and I was also drawn toward giving service." 
After earning a master's degree in clinical psychology, she joined the United Nations International Children's Emergency Fund (UNICEF) as a program officer and began to see the impact of broader mental health systems and policies. After her time at UNICEF, she enrolled at UT Austin to pursue an interdisciplinary doctoral degree in clinical psychology, social work, and public policy.  
"I can't separate the opportunity of the Ima Hogg Scholarship from the opportunity to work with incredible mentors, including King Davis, PhD (director of the Hogg Foundation at that time) and Lynda Frost, JD, PhD," Kathleen says. "Under their tutelage, I had opportunities to really understand policy and legislation more deeply, to open my eyes, roll up my sleeves, and understand the unique aspects of foundation philanthropy. That experience has served me incredibly well in subsequent professional roles."  
Kathleen currently serves as the senior director of clinical innovation and development at Integral Care, the Local Mental Health Authority that serves over 30,000 people in Travis County "from cradle to grave." She is also an affiliate faculty member in the department of psychiatry at Dell Medical Center at UT. 
Living Up to Miss Ima's Vision
Clearly, a social work degree is a highly flexible credential that opens a world of possibilities. This is borne out by the experience of Ima Hogg Scholars over the decades.  
"We're extremely proud of the Ima Hogg Scholars and the significant contributions they've made in their communities," says Rick Ybarra. "By providing high-quality direct services and programs and supporting individuals experiencing a wide range of mental health conditions, they are fully living up to Miss Ima's vision for a future in which all the people of Texas thrive."