"Yes, we are feeling a deeper yearning, I think this is causing us to question some things. Our values, what is meaningful, who is important to us, our relationship to time. So, I think that in some ways, we are really having to reckon with being human." Carrie Barron, M.D.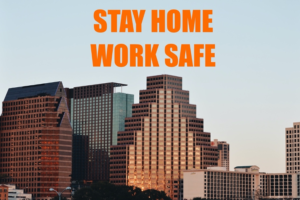 COVID-19 is the world's biggest story. It is seriously trying people's emotional, financial, and even spiritual ability to cope. In this episode of Into the Fold, we are joined by Travis County Judge Sarah Eckhardt, who has been front and center in coordinating the official response to the pandemic for Travis County, TX, and Carrie Barron, M.D., Director of Creativity for Resilience Program at Dell Medical School, to discuss the reality of the pandemic and strategies for coping with, and hopefully, finding some peace within, this time of uncertainty.
Coping with Legitimate Fear
With so many aspects of our lives upended by COVID-19, it is no surprise that many people are experiencing legitimate fear. "We are really focusing on mental health care during this," Judge Eckhardt tells us. "There is valid reason to be afraid. So, I think the biggest question individuals need to ask themselves is, how do they best deal with a legitimate fear?" In contrast to "fact junkies" who look for meaning within statistics and data models (a category in which Eckhardt places herself), she thinks many might be better off placing themselves in the context of their own communities during this time, discovering who their "soul circle" is, and staying close and connected to those trusting relationships.
COVID-19 is Predictable
For the fact junkies out there, the trajectory of what is to come is relatively predictable. "COVID-19, based on what we have seen in Asia and Europe, has a very predictable trajectory. It is not comforting, but it is predictable," says Eckhardt. "We will probably be in this for about 3 months. We will see a pretty steep rise, then it will peak out, and we will start to see a decline. But in that whole bell curve, we are going to see some friends of ours get really sick. And for some folks, it has about a 2 percent mortality rate, and we will need to brace ourselves for those kinds of statistics."
For those of us who don't find the same solace in numbers, Eckhardt prescribes reaching out to our soul circle every day. "Check in on them. Tell them how much you love them and how important they are to you," says Eckhardt. "Manage this by gathering your friends and loved ones close, and being in pretty continual contact – while staying six feet apart."
Stay Home, Work Safe
"Spatial distancing" has been suggested as an alternative to "social distancing," since many people have found ways to be social while maintaining a spatial distance between them. "We are social animals. The virus is brilliant in relying on the fact that we are social animals. In order to combat the virus, we have to suppress one of our best aspects, which is very challenging for us," Eckhardt explains.
In the same way, the Austin and Travis County are being called upon to suppress some of their best aspects – their thriving arts community, fabulous festival economy, and warm, welcoming culture that invites people to fill the streets with music every spring. "We have had to pivot fast," says Eckhardt. "We have to tell everyone that the greatest celebration of life we could do this Spring is to stay indoors. Stay home, work safe, and reduce the numbers of people we come into contact with."
Creativity for Resilience
According to our second guest, Carrie Barron, M.D., one tool we might utilize to help our mental health during this uncertain time is creativity. "Creativity can make us resilient," Barron explains. "When we get absorbed in something interesting or important to us, we sort of can lose ourselves in a task or a project – something we are making. And it's strengthening. I think [creativity for resilience] means taking where you are, gathering what you have inside, your inner strength, and bringing maybe something beautiful or something new into the world, with that. And I think that is a form of resilience: making."
How's Your Inner Life?
"It is a little bit special to have slow time and quiet time," says Barron. "Recently I had a friend say to me, 'How's your inner life?' I thought it was such a great question. We are so distracted and so pulled away from what is happening deep inside, and this is a time to just maybe look out the window and maybe watch a sunset or watch the rain. What bubbles up inside you?"
In addition to embracing the quiet time and pursuing creativity, establishing a new routine, exercising, and connecting with friends and family are great ways to try and ground yourself during this period of uncertainty. What's more, research shows that if we can create a sense of awe and transcendence through spirituality or activities that we participate in, we can create real moments of joy in our lives.
"We are uncertain, we are scared, we do not know what is going to happen. But, somehow, at some point, this is going to end," Barron reminds us. "We will all be changed. Maybe we will have new challenges sooner than later, but it will pass." Until then, finding shelter within the uncertainty of this time is the best we can do to adjust, adapt, and hopefully invite some peace into our inner lives.
Related Content
Learn more about our podcast and check out other episodes!