"This is what everyone is feeling. We are going back to square one. Folks are trying to figure out how we can change our ground game strategy in the time we are in now."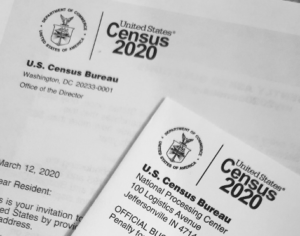 This year's census is extraordinary for one main reason: it is taking place under the shadow of a public health emergency– coronavirus, which is currently consuming people's attention here in the U.S. and worldwide. Our two guests, Katie Martin Lightfoot of the Center for Public Policy Priorities and Ava Graves of the McCabe Roberts Avenue United Methodist Church, join us to discuss Census 2020 in general and in the impact of coronavirus.
Texas Communities Count
In 2019 the Hogg Foundation for Mental Health granted $2.1 million in funds to 28 organizations to support complete count efforts in Texas for the 2020 U.S. Census. The primary focus of the Texas Communities Count (TCC) initiative is to aid collaborative approaches that aim to reach traditionally hard-to-count (HTC) populations, communities, and geographic areas throughout the state.
Hard-to-Count
Katie Martin Lightfoot is the Census Community Engagement Coordinator for the Center for Public Policy Priorities in Austin– one of the 28 organizations to receive TCC funding. Lightfoot reminds us that, in addition to determining political representation, census data determines federal funding for crucial community services like schools, health care, food security programs, housing security, roads and fire departments, just to name a few. If Texas has an undercount of just 1 percent in the 2020 Census, the state might lose $300 million per year for key social safety programs and services.
Crucial to getting an accurate count is working with historically undercounted, or "hard-to-count" communities. These are populations that were undercounted in the 2010 census. Population groups that have been hard to count in the past include people of color, immigrants, the LGBT communities, and persons living in rural areas or without internet access.
Ava Graves of McCabe Roberts Avenue United Methodist Church, another recipient of TCC funding, lives in a hard-to-count community. She knows firsthand that one of the most important elements in reaching people in HTC populations is to build trusting relationships. Through collaborative, community-based efforts, Graves hopes to help people understand the importance of the census and the benefit of it, as well as dispel myths and common fears about the count.
Impact of COVID-19
Graves' original outreach plan for getting out the count included collaborating with other churches in the area and setting up events where trusting relationships could be built face-to-face between community members and outreach coordinators. In light of the recent public health crisis related to COVID-19 and coronavirus, Graves tells us they will be "modifying things immensely."
"We are trying to wrap our minds around the magnitude of the virus and the impact it is having on the plans that we had in place," Graves tells us. "How are we going to have contact with folks with the orders that are in place? How do we reach out to people when we are under these restrictions?"
Graves is not the only one feeling the pressure to adapt outreach strategies for the census to the new developments in the spread of the coronavirus. "This is what everyone is feeling," says Lightfoot. "We are going back to square one. Folks are trying to figure out how we can change our ground game strategy in the time we are in now."
Pivoting Strategies
Coronavirus or not, the Census 2020 is still very much happening. "The census has seen times of war, times of peace, and with that the Census Bureau is one of our strongest federal organizations," says Lightfoot. Indeed, the Census Bureau has already established the Census Bureau COVID-19 Internal Task Force to continuously monitor the situation and has updated its Pandemic Addendum to the Census Bureau Continuity of Operations Plan.
Ultimately, the biggest challenge facing get out the count efforts is pivoting strategies for connecting with people under the present circumstances. A few ideas that could withstand social distancing measures include dropping of pamphlets at foodbanks or other essential locations that will remain open, or sharing census information using door-hangers and lawn signs in hard-to-count neighborhoods. Of course, these activities cost money and resources that might not be available. This, according to both Graves and Lightfoot, underscores the very real need for more funding to support census count efforts. "What can the powers that be do to help us reach folks in this season of social distancing?" Graves asks. "I don't know what that looks like."
Despite the uncertainty, Census 2020 is happening right now. Households can respond online, over the phone, or by mail. Creativity and collaboration will be necessary, now more than ever, ensure that absolutely everyone gets counted.
Related Content
Learn more about our podcast and check out other episodes!