"I believe that happy students are productive students," Nina Telang says.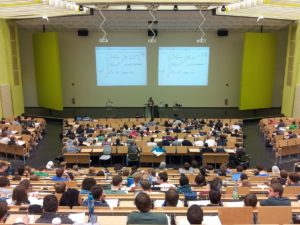 Between 2009 and 2017, the amount of students seeking services from the Counseling and Mental Health Center (CMHC) at The University of Texas at Austin grew by 62 percent. While the data might reflect a general increase in mental health awareness, it also speaks to the surging stress and anxiety levels experienced by college students across the country.
Last year, the Hogg Foundation awarded grants to educational institutions and nonprofit organizations piloting initiatives for improving academic achievement through mental health. One of the programs funded was CMHC's Well-Being in Learning Environments project, which engages three departments at the university in a collaborative effort to make classrooms more supportive of student well-being.
On this episode of Into the Fold, the program's project coordinator, Thea Woodruff, and Cockrell School of Engineering senior lecturer Nina Telang, discuss styles of teaching and curricular design that help students achieve academic success without jeopardizing their mental wellness.
Seeking Help: A "Sign of Strength"
A classroom that prioritizes well-being recognizes that students amount to more than just a lecture hall of learners. "The idea behind the project is that a student's mental health is as important as their cognitive development and their learning of the content," Woodruff says.
Laborious, "mind-blowing" teaching techniques aren't required to make the ideal learning environment a reality. Woodruff emphasizes that it's the little things professors do—such as making themselves available to students and asking questions about their lives outside the classroom—that ultimately have a big impact.
By inviting students to directly contribute to their own learning process—whether that means regularly inviting questions or assigning in-class group activities—professors can minimize the power differential that often prohibits students from gaining a fuller understanding of the material, or even triggers feelings of inadequacy.
"Part of it is letting students know early on that seeking help is not a sign of weakness at all," Telang says. "In fact, it's a sign of strength—because it shows you dare to care."
Given the fact that it's primarily anxiety and stress levels, not depression, that prompts college students to seek out counseling these days, the power of small gestures shouldn't come as a surprise. Faculty, too, have questions they shouldn't be afraid to ask. "How can I get this content across in a way that's not going to add that stress level and anxiety level?" Woodruff says. "Where does [this course material] fit into their lives?"
Emphasizing Growth over Performance
According to Woodruff, social and emotional learning objectives have been a focus of K-12 education for several decades, but for all their expertise in engineering, pharmacology, history and other disciplines, professors typically don't develop much literacy in this realm.
Faculty members that choose to bring these dimensions of the academic journey to institutions of higher education don't have to compromise their standards of intellectual rigor. "Students, in fact, want that—they want to be learning a lot, and they want to be challenged," Telang says. "But at the same time, they also want to be treated like human beings."
In her own classroom, Telang encourages her students to tackle their coursework with a growth mindset, an approach to learning that essentially rejects the notion of "fixed intelligence." In promoting mastery-oriented goals over their performance-oriented counterparts, the growth mindset empowers students to build resilience throughout their academic careers, rather than establishing false equivalencies between their test scores and natural aptitude.
Most courses and institutions still rely on performance-oriented metrics (think standardized testing) as a primary measure of aptitude. It's worth noting, however, that young adulthood (ages 18-25) has only recently entered the conversation as a serious topic of study—and that the expectations and preconceptions previous generations might have about this cohort might not hold true today.
What remains certain—as evidenced by a growing body of research and the focus groups and interviews conducted by Woodruff and her team—is that students are more likely to reach their full potential when their needs—as a whole person—are acknowledged by their mentors and peers, and when they feel good about themselves. "Whatever we, as instructors, can do to help that is important," Telang says.
Learn more about our podcast and check out other episodes!