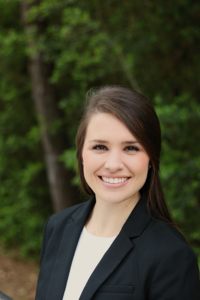 Katie McCormick is a doctoral candidate in the Steve Hicks School of Social Work at the University of Texas at Austin (UT Austin). Her dissertation is titled, "Contributors of Occupational Stress and Burnout Among Texas Harm Reduction Workers." Her study will provide insight into both the sources of occupational stress and the protective factors that mitigate occupational stress for harm reduction workers active on the frontlines of the opioid epidemic. 
Since its establishment in 1995, the Harry E. and Bernice M. Moore Fellowship has been awarded to support doctoral students conducting research at UT Austin. Scholarships are awarded to students with a primary research interest in the human experience during crises, including natural or other major disasters or, more broadly, stress and adversity. Fellowship winners receive a one-time, unrestricted award of $20,000. 
We spoke to Katie about her research: 
Tell us about yourself. When did you decide to pursue this line of research, and what influenced that decision?
My dissertation draws upon my research and experience at the University of Houston's SUSTAIN Center and the University of Texas at Austin's Addiction Research Institute where I worked closely with frontline service providers, including Harm Reduction Workers (HRWs). 
In my work, I quickly discovered that HRWs play a crucial role in addressing the overdose epidemic by providing essential life-saving services to marginalized communities. It also became apparent that HRWs experience considerable adversity, stress, trauma, and loss, which can contribute to adverse outcomes, such as occupational burnout. Given the relevance, significance, and potential public impact of HRWs' experiences and well-being, I decided to explore this topic for my dissertation. 
Your dissertation is titled "Contributors of Occupational Stress and Burnout Among Texas Harm Reduction Workers." What questions are you trying to answer with this work?
I want to understand both the factors that contribute to HRW's occupational stress and those that mitigate it. Specifically, my research asks: 1) What work-related factors predict occupational burnout? 2) How do community and societal factors impact occupational stress? 3) And what are the resources and protective factors that both contribute to and mitigate occupational stress?  
What gap in the literature will be filled by your study? Who stands to benefit from it?
Very little is currently known about occupational stress and burnout among HRWs in the U.S. or Texas. My goal is that my research will benefit HRWs and organizations, and ultimately, the communities they serve. I anticipate that my research will reveal concrete strategies that organizations can use to better support HRWs (for example, providing mental health days and creating policies and procedures that follow the loss of a client). These strategies can reduce burnout, worker turnover, and workforce shortages. I also hope this research will be used to inform harm reduction policy and advocacy efforts. 
How do you think your research methods and approach will help you answer the questions that you're posing?
My research will include three studies using multiple methods. These include quantitative survey data, qualitative survey responses, and qualitative interviews with HRWs across Texas. This approach will help me understand their experiences of occupational stress and the factors that help mitigate this stress. By using multiple research methods, I hope to gain both a "bird's eye view" and a deep understanding of HRWs' occupational health and well-being. 
Are there any suggested readings you can recommend for those who might be interested in learning more about the topic?
I recommend reading Ijeoma C. Unachukwu and team's recent open-access publication about burnout among HRWs in Philadelphia (or Filter Magazine's synopsis). There is also great open-access research on this topic among Canadian HRWs by Mamdani and team and Kolla and Strike. Beth Macy's book Raising Lazarus is also a great option.