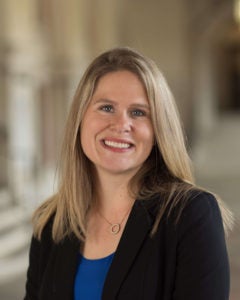 This morning, the Hogg Foundation's very own Bridget Lawrence had the great honor of receiving the University of Texas at Austin 2017 President's Outstanding Supervisor Award.
Created to formally commend the excellence of UT's top-performing employees, the Outstanding Supervisor Award is given annually to just two supervisory staff members. A total of 77 nominees vied for the award this year.
Leadership, equitability, and all-around good character are just a few of the merits that candidates must exhibit. Keen interpersonal skills and professionalism, in addition to positivity in the broader work environment, must also be attributable to potential awardees.
Not only are candidates assessed for their contributions to the workplace, but for a discernible record of community loyalty and impact. As Assistant Director of Finance and Operations, Bridget has steadily attended to both internal and university budgetary concerns, maintaining the foundation's fiscal operations with an eye to the broader civic ecosystem at UT.
Excellence at Work and in the Community
Bridget's dual commitment to the foundation and the university should hardly come as a surprise. Even though she joined the Hogg Foundation in November 2015, Bridget has been a UT employee since 2008. She previously worked as a financial manager of the Utilities and Energy Management Department and, prior to that, as a financial analyst for the Division of Recreational Sports.
Now a year and a half into her tenure at the foundation, Bridget has proved to be an invaluable leader and team member.
Tasked with integrating the collective needs of a compact yet versatile operations department, Bridget oversees six employees whose specialties range from accounting and procurement to IT services. Varied though they may be, the team members all have a direct role to play in the foundation's success.
Operations Associate Alisha Camacho praised Bridget's ability to sustain the "delicate balance" of niches that keep the department on its feet. "To manage people in such different roles and still be able to loop us all together — that, just within itself, is a huge accomplishment," she said.
Personal and Collective Growth
According to Alisha, Bridget manages to pull off her supervisory juggling act without de-emphasizing the development of individual employees. "She does a lot," Alisha said. "It's across a wide spectrum, but she does it well and definitely cares about her staff."
Clearly, the staff at the Hogg Foundation also cares about Bridget. Just days before the application deadline for the President's Staff Awards, the operations team decided to throw her hat in the ring and have each member write in a nomination.
Though a last-minute effort, the process was also organic and heartfelt. And when it came to correlating Bridget's performance with the university's core values, the team found no shortage of things to say.
"Bridget always treats us with respect and challenges us to do better," said Crystal Viagran, Grants Manager. "She allows us space to be ourselves, but she also demands accountability and results."
Effectively combining leadership and stewardship is no easy feat. Bridget's success in this regard speaks not only to her capabilities, but also the standard of excellence and kindness borne by the foundation's staff as a whole.
The Hogg Foundation thus applauds Bridget for her ability to achieve and inspire, and extends its gratitude to the University of Texas at Austin for recognizing the good work being done in the broader community.