Happy New Year!!
It's 2020 and 4ABHN needs your help with our new year's resolution!  
In society today we are constantly bombarded with tragedy, trauma and negative stories associated with African Americans. Well, enough of that! 4ABHN would like to help create a community where we celebrate our many strengths and contributions! We don't have to wait for Black History Month because we are making history EVERY day! There are plenty of African Americans working in behavioral health (mental health, health, substance use and intellectual and developmental disabilities) who are doing great things in Central Texas!
Here's where YOU can do your part! We'd like to hear about African Americans in Central Texas who are being recognized for their efforts. 4ABHN would like to help spread the good news about individuals who have recently received an award, a major job promotion, added new letters behind their name or have accomplished a major milestone.
Please send the person's name, name of the award/accomplishment, any announcements, articles or website links that mention the commendation to vicky.coffee@austin.utexas.edu. A photo of the person (Jpeg format) would be great as well! We'll share the news with the Austin Area African American Behavioral Health Network (over 400 subscribers).  It's just that simple! Let's create an environment that recognizes and celebrates our many accomplishments and contributions, ALL year long!
We'd like to share our first CONGRATULATIONS to Dr. Nakia Scott, child psychiatrist, recently recognized as one of Austin's Top Doctors and for being featured on the cover of the Austin Monthly!
https://www.austinmonthly.com/issues/austin-monthly-january-2020/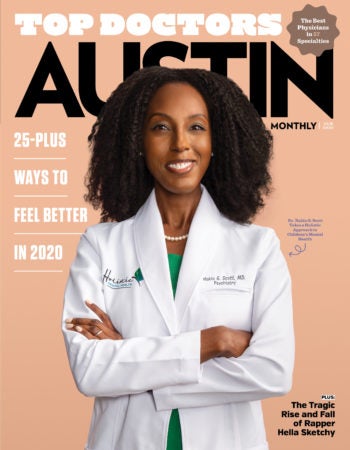 Please continue to forward job announcements, internship opportunities, training and events that focus on the wellness of African Americans. This year 4ABHN will focus on enhancing the Resource Directory! Please share this link https://hogg.utexas.edu/events-networks/4abhn with those seeking a clinician, as well as those clinicians, peers and organizations that offer culturally appropriate resources, services and supports to African Americans in Central Texas.  Please email vicky.coffee@austin.utexas.edu if you or someone you know would like to be added to the email list to receive information from the network or should you have any questions.
4ABHN is excited to be celebrating our 11th year as a network and look forward to growing stronger in 2020! Be well!