Summary & Analysis
House Bill 1 is the House of Representative's budget bill. It will determine how much each state agency has to spend on programs and services. The final bill likely won't be voted on until the end of May at the earliest. The numbers will change many times between now and then.
This appropriations bill is divided into 11 sections referred to as "Articles." The health and human services agencies, including the Department of State Health Services – the primary mental health agency – are all included in Article II. There are different "sources" of funding identified in HB 1, referred to as "Methods of Finance." The "method" we will focus on is referred to as general revenue or GR. These are the amounts that Texas has to raise through taxes, fees, etc.
As the headlines across the state have highlighted, we are starting the budget process with a deficit of approximately $27 billion. There are primarily three ways to address the deficit – the legislature can raise new revenue (taxes, fees, etc.), they can reduce spending (cut services and programs), or they can consider both. Legislators will also be faced with deciding whether to use the "Rainy Day Fund" to help reduce the deficit. The decisions they make will affect all of us.
Mental Health
This legislation determines the amount of money each agency will have to spend during the 2012/13 biennium which begins on September 1st, 2011 and ends on August 31st, 2013. The amount of funding appropriated to the Department of State Health Services will determine the level of services available for mental health community services for children and adults, crisis services, inpatient psychiatric hospital services, transition services, and substance use disorder services.
The House Appropriations Committee, the committee responsible for the House budget bill, is divided into subcommittees that are responsible for the different Articles in the budget. The Article II Subcommittee, which focuses on health and human services, is currently in the process of determining what reductions they will make and prioritizing the funding requests from the health and human services agencies.
The table below shows the amounts included in the initial bill for FY2012/2013, compared to the amounts appropriated for the current biennium (FY2010/2011).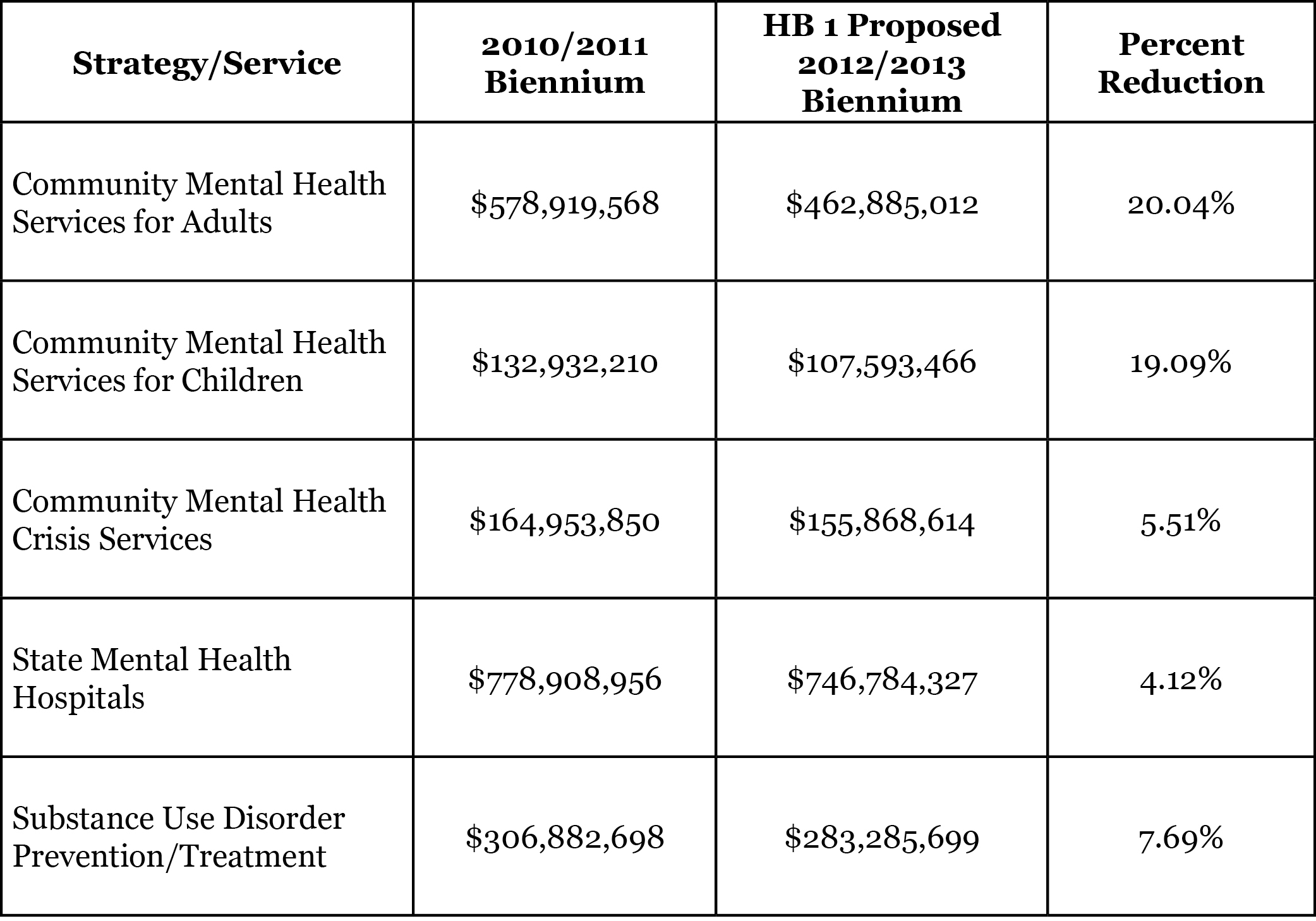 This is just the beginning of the budget process. There's much more to come!