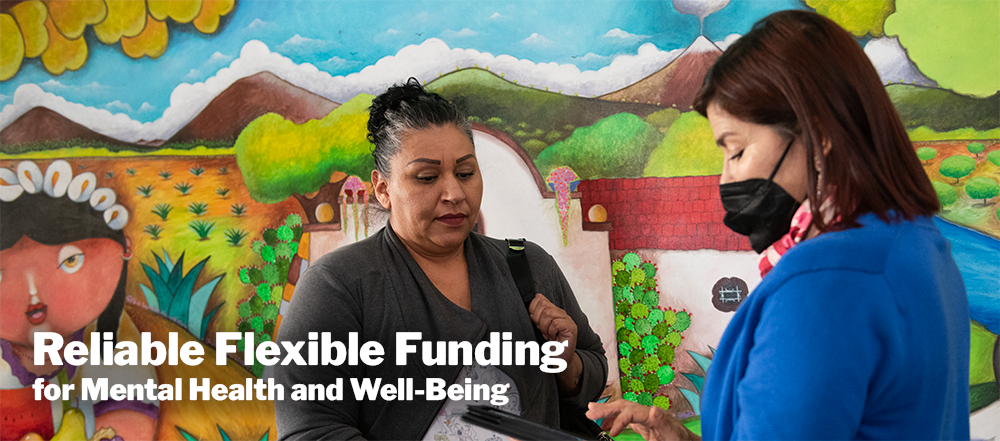 Key Dates

| | |
| --- | --- |
| Teleconference Questions Deadline | 5:00 pm, Friday, October 20, 2023 |
| Teleconference Registration Deadline | 11:59 pm, Friday, October 20, 2023 |
| Informational Teleconference Watch Session | 3:00-4:00 pm, Monday, October 23, 2023 |
| Grant Writing Coaching Assistance | Wednesday, November 1 – Friday, January 5, 2024 |
| Fluxx Registration Deadline | Wednesday, January 10, 2024 |
| Proposals Due | 11:59 pm, Friday, January 12, 2024 |
| Awardees Notified | Late February 2024 |
| Grant Agreements Signed | Late March 2024 |
| Grant Period Begins | Wednesday, May 1, 2024 |
The Hogg Foundation believes that mental health is not solely an individual responsibility but is a product of community conditions. The places where people live, learn, work, play, and pray can have a significant impact on improving mental health.
Through this grant initiative, the foundation intends to invest $5 million over five years, awarding $1,000,000 per year. Grantee partners will receive varying award amounts, ranging from $25,000 – $250,000 distributed equally over five years.
This funding opportunity aims to provide financial support to nonprofit organizations, particularly those led by and serving members of historically excluded groups. The goal is to assist these organizations in addressing disparities in mental health outcomes and philanthropic funding within marginalized communities. There is no requirement for a special project or new initiative. Flexible funding is intended to strengthen these organizations as they sustain, deepen, or expand their operations. By supporting the sustainability of mission-aligned organizations, the foundation hopes to foster long-term improvements in mental health outcomes for the communities served.
---
Frequently Asked Questions
Email hogg-grants@austin.utexas.edu if your question is not addressed below.
Definitions
Budget 
Can you please define "operating budget?" Programmatic costs, salaries, overhead, etc.?
Operating budgets reflect the organization's planned financial activities for the year ahead, showing how much revenue it expects from which sources and how much it will spend on operations.
When you define operating budget, do you include all of these areas (salaries, office and related expenses, programs, and fundraising)?
Yes. All expenditures including salaries, day-to-day operations, programs, and fundraising are considered as part of an organization's operating budget.
Can funding go to personnel like a grant writer?
Yes, funding can be used for a grant writer. Staff, vendors, and contract workers are considered part of an organization's operating budget.
Where can I find the 5-year budget template? Do we have to register in Fluxx to see the budget template first?
You can view the budget template here. The budget template is also available for download in the "Application Documentation" section in Fluxx.
Can the project include grant money from another grant in order to cover all the costs of the project?
Yes, the budget submitted should include all expected revenues and expenditures.
Do we request funding for one year or for all 5 years?
On the application the organization will enter the total amount requested for all five years.
Do you fund pilot programs or do we must we have an existing program around mental health and wellness?
Yes, we do fund pilot programs as well as existing programs related to mental health and wellness.
Can we request indirect costs for a specific mental health program with a budget under $250,000?
Yes, organizations will explain in their application how they intend to use the funding to promote mental health, resilience, and well-being at the community-level.
Does the 30% apply to the operating budget or program budget? Is the application limited to only 30% of the program budget?
The maximum award an organization can receive per year is 30 percent of their current – not including this RFF potential funding – operating (program or unit) budget or $50,000, whichever is less.
Our organization has a very small budget and depends on in-kind donations and volunteer services. Are we allowed to include those in-kind donations as part of our annual budget?
Yes, in-kind donations and volunteer services can be included. One source for valuing volunteer time can be found here.
Eligibility 
Who Can Apply (Eligible Organizations)?
Nonprofit organizations, governmental entities and institutions of higher education in Texas with operational budgets ranging from $15,000-$250,000 are eligible to apply. Units or programs within nonprofits, governmental entities, or higher education institutions whose programs address mental health and well-being with an annual budget of $15,000-$250,000 may also apply. Applicants must be Texas-based and have offices, chapters or affiliates in Texas. Examples of eligible organizations include nonprofit social service organizations; nonprofit mental health and consumer advocacy organizations; faith-based organizations; colleges and universities; research-based organizations; and state, regional and local government agencies.
Are organizations with different IRS determinations, e.g., 501(c)(4) or 501(c)(9) eligible to apply?
No, the grant funds cannot be used to support lobbying activities/efforts.
If an organization was tax exempt but is now in the process of getting an IRS renewal, can it still apply for the grant?
If an organization's 501(c)(3) status is not current at the time of application submission, the organization is ineligible to apply.
Are local governments eligible to apply for this funding opportunity?
Units of local governments (city, county, and state) with program budgets of $250,000 or less are eligible to apply.
Can an applicant use a fiscal sponsor or agent to apply for this grant?
Yes, if you do not have a current 501(c)(3) status, you will need to partner with a 501(c)(3) nonprofit to serve as the fiscal agent and manage the fiscal responsibilities and fiscal requirements of the grant.
If an organization has a budget greater than $250,000, is the larger organization eligible to apply if the program within the organization has a budget less than $250,000?
Yes, the foundation will consider a proposal that includes a program, unit, or operating budget that is $250,000 or less.
It sounded like you said earlier that if I have smaller branches with qualifying budgets that they can apply. Is that correct? Can smaller branches with qualifying budgets apply individually?
Yes, smaller branches with qualifying budgets are eligible to apply individually as long as they meet the specified budget and criteria outlined in the guidelines.
Will this grant be eligible if the program is open to participants from outside Texas?
Yes, as long as applicants are Texas-based or have offices, chapters, or affiliates in the state. A majority of the community served must be Texas-based.
If an organization has a budget of less than $15,000, can we still apply?
Yes, the foundation will accept applications from organizations with an operating budget of less than $15,000.
If one of our programs has received funding from The Hogg Foundation in the past, are we eligible to apply?
Yes, prior Hogg Foundation grant partners are eligible to apply.
How does the Hogg Foundation define an organization targeting well-being?
Please see the definitions for the definition the foundation uses for well-being and other terms. We invite you to review our website to learn more about our strategic approach and grant partner success stories.
Evaluation 
What is the requirement for goals in the application?
The applicant should propose funding ideas and outcomes that align with the organization's mission and vision as well as with the Reliable Flexible Funding for Mental Health and Well-Being grant initiative. A narrative report will be required at the end of each grant period outlining what the applicant believes was successful and what could be improved upon in the future.
How will awardees evaluate their programs?
If awarded, applicants will report annually on the indicators of success outlined in their application. Requirements and due dates will be clearly stated in the statement of agreement (grant contract) between the grantee partner and the foundation and agreed upon prior to the beginning of the grant term.
Fluxx Grant Mangement System
Is there a link for Fluxx?
If we have a Fluxx account from another project, do we need to re-register?
No. Unless you intend to represent another organization, you do not need to re-register with Fluxx.
I registered for Fluxx and haven't gotten a confirmation e-mail yet. What should I do?
You might check your email spam folder; sometimes the password email can end up getting filtered. Otherwise, you can click the "Forgot Password?" link on the Fluxx landing page (https://hogg.fluxx.io) to generate another password email.
In Fluxx, can you save your progress and entries with each field or is it best to plan on inputting all the information at once and then submit?
We encourage saving frequently when working within Fluxx, as the system will time out every thirty minutes. We suggest referencing the RFP and using a word document to draft your answers.
How do we edit the organizational information in our Fluxx account?
Please email us at Hogg-Grants@austin.utexas.edu for any updates to your organizational information.
Funding
Are the grant funds paid in advance or are they reimbursement-based?
One hundred percent of award funds for grant period 1 will be dispersed by the University of Texas within 30 days of receipt of a fully executed statement of agreement (contract). Approximately four weeks prior to the end of grant period 1, a disbursement of half the award for grant period 2 will be automatically paid out. Pending approval of the grant period 1 narrative report, the balance of the remaining grant period 2 funds will be paid out.
Can our organization apply for all the funding in the first year?
No, funding awards will be equally distributed over five years. The maximum award an organization can receive per year is 30 percent of their current operating budget or $50,000, whichever is less.
What does the foundation mean by flexible funding?
The Reliable Flexible Funding grant opportunity is meant to support an organization's mission rather than specific programs. Examples of how the funding can be used include but are not limited to sustaining day-to-day operations, HR improvements or capacity-building, increased community engagement, strategic planning, innovation, etc. Learn More
What fiscal documents are required to submit at the end of each grant period?
The foundation does not require itemized expense reporting or receipts for overhead.
Grant Coaching
What is the link to sign up for grant coaching?
https://utexas.qualtrics.com/jfe/form/SV_3l7VbxaIZainAdU  
What happens during the grant coaching meetings? Will our organization be able to expand on our grant proposal?
The grant coaching will consist of two meetings. The initial consultation (30 minutes) will be an opportunity to review your ideas, timeline, and strategy for submitting your grant proposal. The final consultation (1 hour) will be focused on feedback on your draft grant proposal. You must submit your written draft to the grant coach at least 24 hours prior to the final meeting.
When I signed up for coaching, it did not list any dates or times to sign up for any meetings. Will I get an email with more information?
Once you complete your registration, you will receive an email from the foundation with a link to the grant coach's scheduling page. During business hours, the email will typically arrive within an hour of your completing the registration.  Those submitted after business hours will receive a response the next business day.  The link in the email will take you to a webpage where you will be able to select meeting times for both the initial consultation and the final draft feedback.  Please be sure to schedule the initial consultation BEFORE the final draft feedback meeting.
If you expect to submit an application, you may schedule them both at this time; if you are unsure, you may use the link in the foundation's email to return to the coach's scheduling page to schedule your final draft consultation.
Do we sign up for the second meeting at the same time as we sign up for the first meeting or do we have to wait?
Please see the answer to the question above.
The grant coaching survey asks about the lead applicant's budget, but not the program budget. Should I answer the question for the program budget only?
The budget question should be answered for your overall organization, your unit within your organization, or your organization's mental health/well-being-related program budget.
Review and Selection
Has the foundation determined how many grants will be issued?
The review committee will be making selections based on the quality of the proposals received, alignment with the Hogg Foundation's mission, geographic distribution of applicants, and the proposed outcomes that the organization hopes to achieve with the support of this project. The foundation plans to award up to $1,000,000 to multiple organizations depending on the amount of funds requested.
How many grantee partners will be selected for this project?
The foundation envisions funding multiple organizations depending on the amount of funds requested.  The largest award possible is 30 percent of an applicant's operational budget or $50,000, whichever is smaller.
Other Questions
Are any specific items or statements required to be included within the Letter of Approval, such as final budget amount, project name, etc., or can it be a more general statement indicating approval of the application to be submitted?
The Letter of Approval should be on the applicant's letterhead and should state that as lead (or authorized signatory) of the entity, they are in support of their named entity submitting a proposal for this funding opportunity, how this project aligns with the mission and vision of the applicant and of the foundation, and a statement that, if awarded, the applicant intends to partner with the foundation in this important effort. Sample Letter of Approvals can be located in the Resources for Grantseekers and Grantee Partners webpage.
What if I can't attend the informational webinar? Will those participating in the webinar have a better chance of being awarded?
We offer the teleconference to provide an overview of the funding opportunity, cover questions and answers about the initiative, and open the call for additional questions any of the potential applicants may have. The teleconference was recorded and can be viewed at https://www.youtube.com/watch?v=K3cq5GRcEjQ.
What if I can't participate in the optional coaching sessions? Will those participating have a better chance of being awarded?
We offer the grant coaching as a learning benefit. Participation in the coaching sessions is optional and will have no bearing on the award selection process. Organizations may submit an application with or without participating in the coaching sessions.
We are a smaller organization and only file a 990 postcard, is that okay?
Yes, a current 990 or 990 equivalent is sufficient to apply.
What is the match amount if any?
There is no match amount required for this funding opportunity.
How do we find our social vulnerability score?
Information on the Social Vulnerability Index (SVI) can be found at https://www.atsdr.cdc.gov/placeandhealth/svi/index.html.
If we have an SVI score of 0.9707, what does that mean for us?
The overall SVI (Social Vulnerability Index) score ranges from 0 (lowest vulnerability) to 1 (highest vulnerability), so a higher score indicates greater need.
If we cover multiple counties, do we need to apply SVI for each county?
No, applicants do not need to cite or give specific SVI data. As mentioned in the RFP, successful applicants will share information showing that the proposed community is under-resourced.
What if an organization focuses on a specific population rather than a geographic area?
As mentioned in the RFP, successful applicants will share information showing that the proposed community served is under-resourced.