"I encourage families to try and keep each other safe, to keep the lines of communication open, and to instill hope in their kids. But most of all, I try to encourage self-care, so we can be emotionally available to our families."

-Dr. Nakia Scott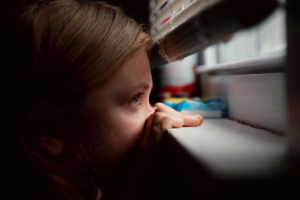 May is Children's Mental Health Month. Today we are talking about COVID-19 and its effect on children, youth, and families. In the state of Texas, schools have been shut down since mid-March. Millions of children and adolescents have been sheltering at home. Just as much as kids have never needed more attention, parents have never needed more of a break. On top of that, we have good reason to believe that home is necessarily the safest place for kids.
To help make sense of it all, we are joined by a pair of Austin-based experts who come at this from the perspectives of both healthcare professionals and parents. Dr. Allison Hall is a pediatric physical therapist and the CEO/founder of My Kid Blooms, a digital resource for parents to find pediatric and OB/GYN health-related information and professionals that match the needs of their families. Dr. Nakia Scott is a child and adolescent psychiatrist and the owner of Holistic Mental Health.
Success is Getting Through the Day
What does successful weathering of the pandemic look like for families right now, especially families with young children? For Dr. Hall, some days, success is getting through the day. "Some days, for me, success is everybody gets in bed and everybody wakes up in the morning. If that happens, woohoo, I did it!" Hall explains how she has transitioned to living in day-tight or hour-tight compartments. "I've been really only worrying about the things I can deal with right then and there." This is a strategy Hall recommends for families with young children especially. "Give yourself grace. Knock it down to only what you can manage. Look back and be proud of every little accomplishment you do."
Dr. Scott echoes Hall's advice. "This question reminds of me one of my favorite quotes by Mary Anne Radmacher. She says, 'Courage doesn't always roar. Sometimes courage is that little voice at the end of the day that says, 'I'll try again tomorrow.' This is a challenging and very frustrating time for all of us. Like many parents, I try to be patient and as loving as possible with my son. I try to use my imagination and think about what life must be like for him and for other kids." Scott humbly encourages self-care, so that we can be more emotionally available to our families. "If we are calm with ourselves, and we are treating ourselves with grace and with respect, we are more likely to extend that to our children."
Mental Health Risks for Children
While children may be the least at-risk for the virus itself (as far as we know), the pandemic introduces unique mental health risks for children, especially very young children. "Transitions are difficult for everyone," explains Scott. "Many children may not have reached the stage in their development where they have the coping skills to navigate numerous transitions at one time." With schools closed, children may be exercising less, struggling to have their nutritional needs met, and experiencing irregular sleep patterns. Children may also be living with significant psychosocial stressors, like fear of being infected or their parents being infected, in addition to the sadness of not being around friends and teachers.
Unfortunately, there is a higher risk for domestic violence and child abuse, as many parents experience job loss and financial stress, which often leads to feelings of demoralization, hopelessness, and helplessness. Scott emphasizes the importance of organizations like SAFE Alliance, a merger of the Austin Children's Shelter and SafePlace, which offers trauma-informed care services to people who have been affected by violence and abuse.
Talking to Children of Color about Disparities
As much as we use "families and children" as a generic, there are certainly things that are of particular relevance to families and children of color as we move through this pandemic. Dr. Scott references the recent CDC report that showed that 33% of hospitalizations with COVID-19 were black compared to 18% in the community, and that the death rates among blacks and Hispanics are significantly higher. "Children of color may very understandably feel hopeless and angry and anxious, among a lot of other big emotions, when they see and hear about these disparities. They're in the news, they're being talked about on social media, and I think it is really important for parents to be available when our children have questions about these disparities, and to be as honest as we can, in a developmentally appropriate way," Scott advises. "But I think it is equally as important to provide them with hope."
Self-Care, Grace, and Self-Love
Both Hall and Scott emphasize that now, more than ever, is the time for parents to show themselves grace, self-care, and self-love. "Trying not to judge myself or others has been a real goal," Hall tells us. "I try hard to understand that everyone is coming at these challenging times from a different place. Maybe there's past trauma, or maybe there's pervious dependencies. Everyone has their default. I try really hard to be really open-minded and lean into that."
Scott says that it is natural as parents to feel a lot of big emotions right now. It is important that we remember to treat ourselves and our children with love and respect. Scott says she is reminded of another quote, this time from her mother: "Dark clouds and thunder and lightning – they occur. But you always know the sun will come back, at some point." Scott says she tries to help the children at her practice, especially the very young children, to understand that the dark clouds of COVID-19 will pass, at some point. And then, hopefully, it will not be too long before we are able to see the sun again.
Learn more about our podcast and check out other episodes!
Related Content