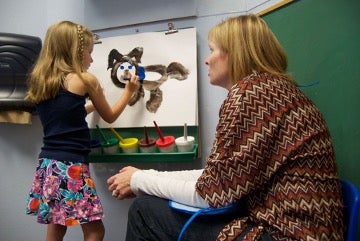 Play therapy is grounded in the healing properties of play for children. Research shows it is an effective intervention to treat a wide range of childhood disorders and difficulties that interfere in children's healthy development and academic achievement. Indeed, the outcomes of a three-year partnership between the Hogg Foundation and the Center for Play Therapy (CPT) at the University of North Texas were promising.
As the natural language of childhood, play allows children to better express their feelings, thoughts, and experiences than words. Indeed, play therapy is to children what counseling is to adults.
For over 20 years, CPT has engaged in community and school outreach, providing play therapy services at sliding scale fees and promoting the growth and development of children in a region of Texas with significant need.
Of the more than 200,000 children under the age of 18 living in Denton County, 1 in 10 live in poverty, 1 in 5 do not know where their next meal will come from, and 1 in 3 are at risk of dropping out of school. In 2015, the Center for Children's Health at Cook Medical Center Fort Worth reported that over 10 percent of children in Denton County experienced mental health issues, with parents citing affordability as the number one reason for lack of mental health care.