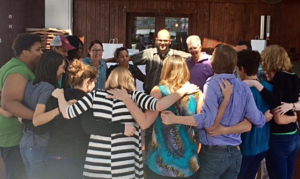 In 2010, the Hogg Foundation started its Mental Health Policy Fellows Program. Program grantees receive funds to hire and train an in-house mental health policy fellow, increasing their capacity for interfacing public policy issues with mental health.
Each grantee organization pairs its fellow with one to two mentors, who together participate in the Hogg Mental Health Policy Academy. Coordinated by Texans Care for Children, the academy convenes fellows and mentors once a month for education and professional development with a spirit of camaraderie.
Strengthening relationships and sharing insight
The policy academy aims to build rapport between fellows and mentors while synthesizing their unique proficiencies and skill sets. Encouraging crosstalk between niches of the broader mental health policy ecosystem gives fellows a chance to enrich their individual expertise with that of other fellows.
Stephanie Rubin, CEO of Texans Care for Children, coordinates the policy academy. "We make sure the academy is a safe and comfortable space for the fellows and mentors to talk about their personal experiences and ask tough questions," she said.
Even though each session revolves around a predetermined topic, academy members have ample room to shape discussions by contributing their own knowledge. "It's not a formal learning environment," said Rubin. "It's more of a learning collaborative."
The continuous show of support has become a source of inspiration for current fellow Rachel Gandy of Disability Rights Texas. "It's just been incredible to see a group of people that's so different work to lift each other up, rather than tear each other down," she said. "That's not always something you see in a political field."
Combining individual and collective education
Because the timetable of the Mental Health Policy Fellows Program aligns with the state's legislative sessions, the educational component of policy academy meetings can yield real-world insights for fellows advocating at the capitol.
The fellowship experience includes a trip to Washington D.C., where fellows network and learn from advocates who operate at the national level. Fellows also tour local mental health facilities, as well as courts, jails and other sites that play a key role in the mental health system.
Structuring academy curricula can be quite the balancing act, but the result is a diverse education well worth the effort. "We create and oversee a variety of learning opportunities for the fellows, including sessions on the legislative process, professional development and team-building efforts," said Rubin.
In addition to the fellows' collective needs, the interests of individual fellows are also prioritized. "We spend a lot of one-on-one time with fellows to answer questions, hear what they're learning, and see what kind of support they need," said Rubin.
Gandy believes that professional policy networks could learn from the academy's fusion of education, collaboration and interpersonal support. "If that's not what it's like in the 'real world,'" she said, "then a key takeaway from the fellowship will be: how do I bring what the Hogg Foundation has built into the broader policy field? How do I recreate this positive and productive environment for others?"
Learn more about the Hogg Policy Fellows and Policy Academy. For more information on the foundation's policy work, contact Colleen Horton.