Into the Fold Podcast: Issues in Mental Health
Our podcast series is one of the ways we move from simply talking about our grantmaking to influencing dialogue and learning about mental health and well-being. Hosted by "Ike at the Mic," our public affairs representative Ike Evans, the series captures the human implications of mental health and the factors that influence it, bringing you conversations with mental health experts, consumers, advocates, practitioners, researchers and community leaders from across Texas and beyond.
Get notified of new episodes by signing up for our emails, or by subscribing to the podcast on iTunes or SoundCloud. Like what you hear? Leave a review!
Recent Podcasts
A written synopsis is available for each podcast.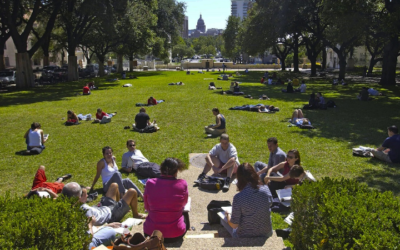 On this episode of Into the Fold, we speak with Kate Lower, Director of SHIFT, to discuss the impact COVID-19 is having on patterns of substance use among college students.
read more
Blog
Get news and insights related to our initiatives and the state of mental health in Texas.
Video
Watch informative interviews, in-depth features, clips from events, and more.
News
Get funding announcements and mental health news delivered to your inbox.