"I always look at an individual and say, how can we improve this individual's quality of life?" Richard Salcido says. "It doesn't take money. It takes being connected to the community."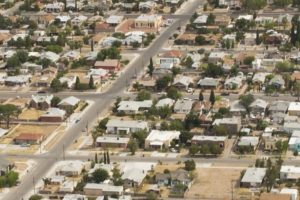 A shift in strategic focus to communities and collaboration is underway at the Hogg Foundation. Examples of place-based care in the city of El Paso, Texas, where a highly diverse population presents care providers with unique challenges and opportunities, illustrate the role that effective community engagement can play in improving mental health.
We recently sat down with Richard Salcido, executive director of Family Service of El Paso (Family Service), to talk about the strengths and vulnerabilities found in his community when it comes to mental health and well-being.
Belonging as a source of empowerment
Family Service strives to make counseling universally available in El Paso, and focuses on the city's low-income populations. Its community-based approach addresses geographic disparities in mental health service delivery that cannot be leveled by corporate and philanthropic interventions alone.
A 2011 recipient of the American Psychiatric Association's Award for Advancing Minority Mental Health, the nonprofit has certainly had an impact. "We've learned to do without, and we've learned to do for ourselves," Salcido says. "With very little, we're able to support a community."
The Capacitar program is one of the ways Family Service cultivates a community-wide circle of care. Classes of 10 to 12 participants learn wellness practices that, drawing from Capacitar International's work in regions stricken by conflict and chronic instability, build trauma resilience and empowerment.
Group-style trainings also give clients who struggle with the sometimes turbulent realities of life in a border town an opportunity to develop relationships, experience a "sense of belonging," and combat symptoms of depression, anxiety and post-traumatic stress disorder.
Community values: a family matter
In El Paso, a sense of belonging is both a valuable cultural asset and source of strength. "I believe that culture in itself is a protective factor," Salcido says. "We're 85 percent Hispanic, all of different acculturation levels. But that is our biggest strength—the culture that we have."
According to Salcido, the support of a close-knit extended family is often the crux of that strength. But in a city with a large undocumented population, kinship ties, while powerful, cannot always protect individuals from legal jeopardy.
Of the 850,000 that live in El Paso, about 45,000 are undocumented immigrants. "We have a lot of people whose anxiety and fear of deportation has risen recently," Richard says. "That affects families. That affects their sense of security."
For Salcido, civic engagement plays a key role in promoting mental health and well-being. For example, when construction of a multimillion-dollar sports arena threatened the livelihood of a downtown community, residents spoke out and refused to yield. New alliances were formed along the way.
"They banded together, formed human chains, and slept there overnight," Salcido says. "You don't see the police out there trying to haul them off. You don't see people chastising them… That's involvement, and that's allowing people to speak their minds."
Learn more about our podcast and check out other episodes!