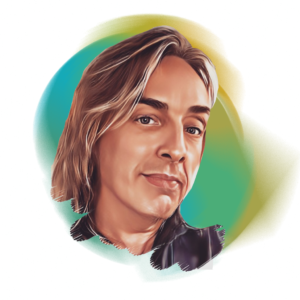 In the spring of 2022, the Hogg Foundation launched the New Voices Showcase. The goal of this project is to highlight talented writers and creatives who are living with or in recovery from mental health challenges. Throughout the coming weeks we will be featuring worthy submissions on this blog.
This blog post was authored by Ron McCracken and is one of the prize-winning entries of the New Voices Showcase. We thank Mr. McCracken for his submission.
The New Voices Showcase is a feature for voices from the community, whose views do not represent those of the Hogg Foundation.
Recovery is not a linear process. This is one of my favorite sayings about recovery from mental health conditions and addiction.
When the pandemic forced the shutdown of my job in March 2020 it wasn't the first time I faced major setbacks in my recovery journey. While running the 2013 Boston Marathon I learned how quickly life can change and outer resources can be lost. The bombings at the marathon that year ended the lives of three people, injured nearly 300 spectators, and forever changed the lives of thousands of other people, myself included.
Boston represented much more than a race to me. This was my 13th of 17 consecutive Boston Marathons. The race had become my sanctuary over the years, a source of stability and rejuvenation. I had suffered from depression and anxiety disorder since I was a child that went undiagnosed and untreated until 2016.
The race was always special to me but the sudden loss of my best friend James in 2005, my Mom in 2009, and my father in 2010 changed it from an athletic event into a sanctuary for my increasingly fragile and unstable psyche. The bombing nearly destroyed that outer resource for me. It threatened my yearly journey of redemption and renewal. It almost shattered my soul. But it also set me on the long path of seeking help for my existing mental health conditions and the PTSD that was added that awful day. I had to learn to focus more on my inner resources, knowing that a highly valued outer resource like the Boston Marathon can be taken away or at least threatened.
Fortunately for me, by the time the pandemic forced the shutdown of my job in March 2020, I had been seeing my current therapist for more than two and a half years. When we had our first video therapy session after the pandemic altered my life, she asked me what I was doing to cope with all the changes. I told her I was focusing more on my inner resources and using tools I learned in therapy, rather than outer resources like jobs, people, and events.Reframing and replacing, putting things in perspective, reminding myself of good things I had going for me.
The extra time on my hands presented creative opportunities for me, so I started making videos about mental health on my YouTube channel and I created a podcast in May 2020,"Running Ron's Marathon Journey to Mental Health." I wanted to help other people who might be struggling with mental health conditions and addictions by sharing my recovery journey. It helped that I had been sober since May 7, 2019. My main drug of choice was alcohol. Sobriety truly brings about clarity of thinking. I discovered that the videos and podcasts were cathartic. I didn't realize that in the moment at first, but it slowly dawned on me that this was helping me progress in my therapy as well.
I surprised myself a lot in the summer of 2020 when I forgave the surviving Boston Marathon bomber. This represented a huge step forward for me. Dropping that grudge felt like the weight of the universe falling off my shoulders. I had so much anger and hate towards him that I felt bad about it. But now those poisonous thoughts and feelings had departed.
My mental health advocacy and volunteering for NAMI (National Alliance on Mental Illness) North Texas opened up the opportunity of a lifetime for me in December 2020. Dr. Joseph Guillory, a psychiatrist at UT Southwestern Medical Center, emailed me and invited me to apply for a series of seminars he was organizing with Joe Powell, founder of Association of Persons Affected by Addiction (APAA). To my great surprise and delight, I was chosen to be a peer support specialist for their seminars, "Recovery 101: How to Become A ROCC Star."I've spoken at 10 of these so far and to say it has changed my life is an understatement.
I continued to volunteer for NAMI North Texas, and I served as a storyteller for NAMI Days of Action in Spring 2021, through which NAMI lobbies the Texas legislature to advocate for pro-mental health legislation. In those Zoom meetings with legislators and/or their staff members, I shared parts of my recovery journey to explain why and how these bills were so important to people like me who live with mental health conditions and addictions. We had some success in getting several of these bills passed, and that makes my soul soar.
We will likely present another seminar in May, which is also Mental Health Awareness month. Now the seminars are titled, "Recovery Workshop: ROCC Stars Unite." In Novemberof 2021 I was thrilled to present a workshop at the NAMI Texas state conference, "My PTSD Recovery Journey: How the Boston Marathon Bombing Saved My Life." My YouTube copy of my presentation currently has well over 1,000 views.
These successes were spurred on by the loss of my job at the beginning of the pandemic. While I would have started making my videos and podcast eventually, the sudden alteration of my daily routine certainly sped up the process. Who knows, maybe I would have postponed the process for years.
Focusing on my inner resources and finding, and using, my inner voice has helped me survive in times of crisis. It's also provided a glimpse of my potential that I might not have realized if I had not lived through those traumas and times of crisis. We all have that inner light somewhere inside of us. This is why I often end my podcasts and seminars by quoting Jedi master Yoda: "Luminous beings are we, not this crude matter."
Even in our darkest days, we can shine.
Ron McCracken lives in Dallas, Texas with Zeus, his best friend and emotional support dog. Ron serves as a peer support specialist several times a year at the "Recovery Workshop: ROCC Stars Unite" mental health seminars and volunteers for the National Alliance for Mental Illness North Texas. He creates mental health videos on his YouTube channel, "ronniemercury," and has an audio podcast on Anchor.FM and Spotify titled, "Running Ron's Marathon Journey to Mental Health."
---
Related content