September is National Recovery Month! All month long we will be celebrating recovery on the Hogg Blog, the Hogg Facebook page and our Twitter feed. We invite you to join us in the celebration and to learn more about this significant movement in mental health.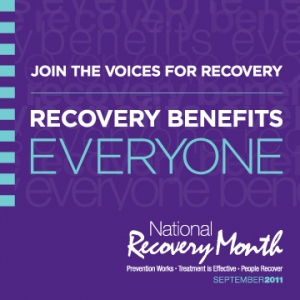 Recovery has been a critical development in mental health. The prior belief that mental illness was a permanent and disabling condition has changed. Now we know that people with mental health conditions can recover and lead full, productive and healthy lives. Recognizing that recovery is essential to the advancement of mental health in Texas, the Hogg Foundation has identified it as a top area of focus. It is our priority to encourage and support mental health consumers, youth and their families in their personal recovery and wellness journeys.
The Hogg Foundation is breaking new ground in the recovery movement. We are continuously thinking of new ways to be on the cutting edge of recovery by creating new organizations and initiatives, which include:We are dedicated to increasing opportunities for Texas consumers, youth and their families to participate in state and local policy making, grassroots advocacy, design and delivery of mental health services, and peer services and supports.
Throughout the month, we will be highlighting these initiatives and sharing real recovery stories so stay tuned all of September to learn more about the impact we are making in mental health!