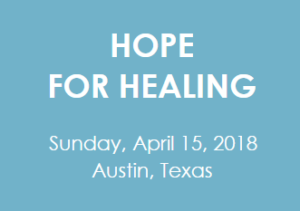 The Austin Area African American Behavioral Health Network (4ABHN), along with Austin Public Health and Counter Balance ATX, invites the local community to come together at Hope for Healing for dialogue, healing and connection following the recent bombings in Austin, Texas.
Sign up to attend. Austin area community members, including children, are welcome at the event.
About the Event
Date: Sunday, April 15, 2018
Time: 2:00 – 4:00 PM
Location: Conley-Guerrero Senior Activity Center (808 Nile Street, Austin, TX 78702)
Lite refreshments will be provided.
Speakers
Dr. Calvin Kelly
Dr. Jules Narcisse
Pastor Joseph Parker, Jr., Esq., D. Min.
Topics of Discussion
How to deal with stress after tragic events
How to tell when someone needs support
How to talk with your children
How faith can help
A list of affordable counseling and mental health supports will be available to attendees. We also encourage people in need of support to check out the 4ABHN Resource Directory for an overview of mental health providers, services and supports.
A note to mental health professionals: If you're able to offer counseling or other mental health resources for people seeking help following the bombings, please click the "JOIN OUR DIRECTORY" button on this webpage to be included in a list shared with Hope for Healing attendees. You'll also be added to the online 4ABHN Resource Directory, however, your willingness to provide free/reduced-cost services for people seeking help following the bombings won't be visible on the website. 
SaveSave